Criar Etiquetas – Estabeleça a sua Marca
Se tem produtos para vender ou doar, o criador de etiquetas VistaCreate é exatamente o que precisa. Escolha um modelo e personalize-o com tipos de letra, cores, nome da sua empresa e uma mensagem para criar um design único e profissional em minutos.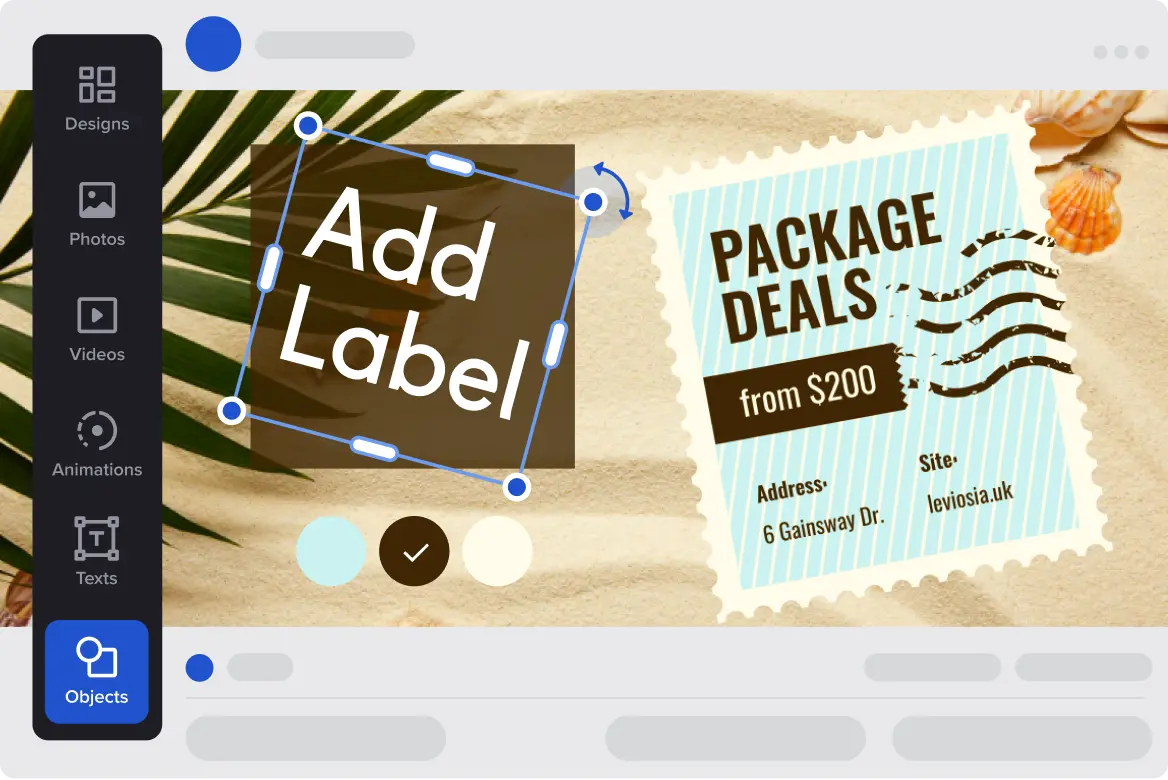 Explore as Funcionalidades Grátis da VistaCreate
Na VistaCreate, pode encontrar gratuitamente modelos profissionais e personalizar para qualquer finalidade.
Etiquetas Profissionais Online

Encontre uma grande seleção na nossa coleção. Dê aos seus produtos um look de designer distinto, quer esteja a acolher novos vizinhos com um delicioso cesto de muffins ou a lançar uma nova linha de produtos de cuidado da pele. Pessoais ou profissionais, os nossos designs ficam muito bem nos seus produtos!

Customize

You can quickly and easily change the size or color of any element, replace one shape with another, and embellish the creation with your own picture or logo. Personalizing is so easy that you'll be an expert in minutes. Unleash creativity to show off your business or product to its best advantage with an eye-catching label.

Change Your Backgrounds

Want to change up the background? Select a background from our library of royalty-free photos, or upload your own images or illustrations. Send the photo to the bottom layer to replace a plain background and add depth.

Color Your Creation

Click on any element of the design to pick a new color using a basic palette or any custom color. Change the colors of shapes, frames, fonts, and backgrounds. Click on any area of your design and make changes until it fits the ideal palette.

Edit Your Text

With VistaCreate, you have different text options. Choose large header text, subheader, or smaller body boxes. Make your text boxes pop by adding a transparent shadow layer to mute background graphics. With premium options, you can add extra excitement with video or photo text.

Font Choices Galore

With hundreds of fonts to choose from, you should have no trouble finding the perfect one for your project. But if you have your heart set on a specific font or an established font you use for your company materials, there is a possibility to upload your own fonts to use.
Onde pode usar etiquetas
Pense nisso

Algumas etiquetas de criativos têm apenas um logótipo ou nome do produto. Outras têm outras informações, como ingredientes ou instruções. A VistaCreate tem esquemas adequados para qualquer finalidade.

Cosmetics

— Create your line of skin creams or makeup products and give the brand a run for its money!

Jar

— Print two jar labels for jams, honey, and other jarred products—one for the front of the jar identifying its contents and showcasing your brand name, and one for the back with ingredients, instructions, or suggestions.

Food

— Label cookie tins, candy bags, or other food containers for giveaways or sales.

Clothing

— Have your design stitch for a sewn-in label, or print a tag to attach to clothing.

Fundraising sales

— Replace the paper on candy bars with your own version featuring your team logo or fundraising information. Drink bottles—stick cool promotional labels on drink bottles for outdoor promotional events.
Como Criar Uma Etiqueta
1

Escolha um estilo de modelo

Podia começar com uma página em branco, mas porquê? A VistaCreate tem centenas de modelos bonitos para escolher, concebidos profissionalmente por talentosos artistas gráficos.

2

Add your own text

Editing the text is easy. Just click on a text box and start typing in. It will display in the same style, and the text will adjust in size as you type.

3

Customize

Leave the color palette alone or change text or element colors to reflect your style or company colors. Upload the logo and resize, rotate, and place for the best visual impact.

4

Download your finished design

Choose the format you need and download the file as a PDF, PNG, or JPG. You're all set!
FAQ
Posso imprimir etiquetas em papel adesivo?

Sim, basta usar os nossos modelos e guias de tamanho do Word para criar um tamanho perfeito. Copie e cole tantas vezes quantas precisar para os seus materiais para impressão. Um papel deve vir com um verso adesivo e uma folha protetora para descolar.

Can I resize labels for different purposes?

Is designing a label hard to learn?

Can I change the design later?