Créez des étiquettes – Établissez votre marque
Si vous avez des produits à vendre ou à donner, le créateur d'étiquettes personnalisées de VistaCreate est exactement ce qu'il vous faut. Choisissez un modèle et personnalisez-le avec des polices, des couleurs, le nom de votre entreprise et un message pour créer un visuel unique et professionnel en quelques minutes.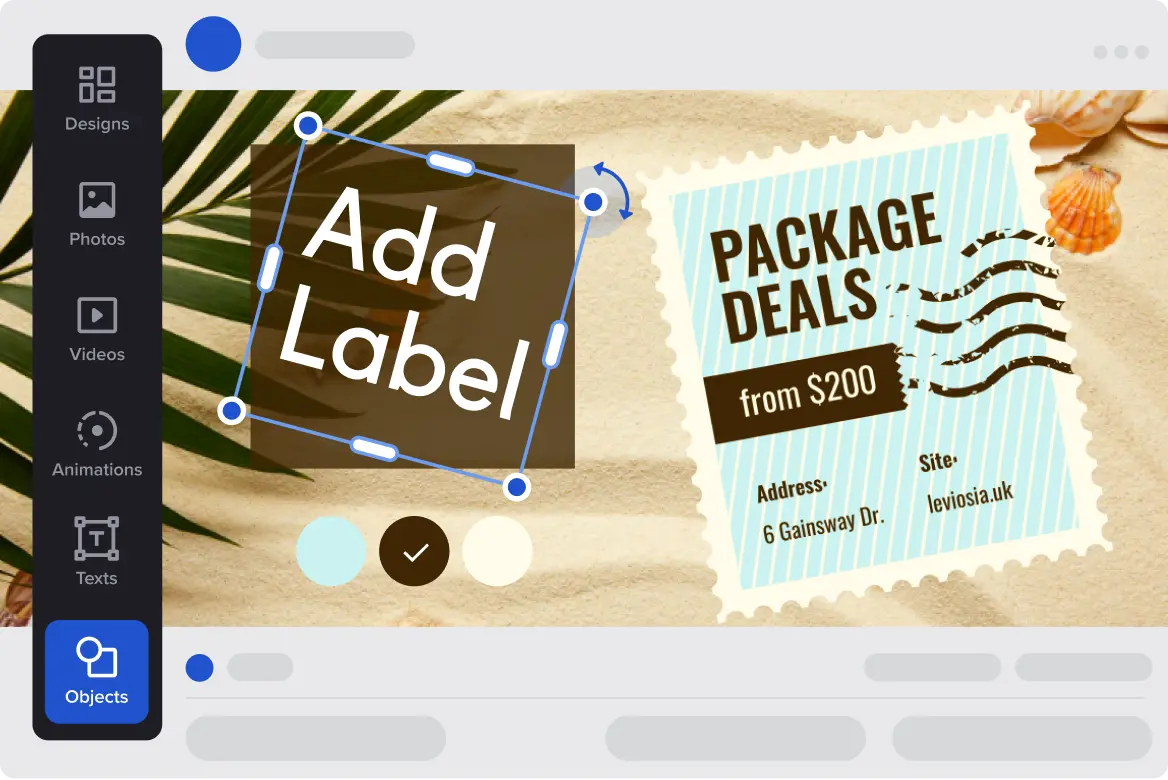 Où pouvez-vous utiliser les étiquettes
Explorez les fonctionnalités gratuites de VistaCreate
Dans VistaCreate, vous pouvez trouver des modèles professionnels gratuits à personnaliser pour n'importe quel usage.
Des étiquettes professionnelles en ligne

Retrouvez un vaste choix dans notre collection. Donnez à vos produits un look de création distinctif, que vous accueilliez de nouveaux voisins avec un délicieux panier de muffins ou que vous lanciez une nouvelle ligne de produits de soins de la peau. Perso ou pro, nos visuels seront parfaits sur vos produits !

Customize

You can quickly and easily change the size or color of any element, replace one shape with another, and embellish the creation with your own picture or logo. Personalizing is so easy that you'll be an expert in minutes. Unleash creativity to show off your business or product to its best advantage with an eye-catching label.

Change Your Backgrounds

Want to change up the background? Select a background from our library of royalty-free photos, or upload your own images or illustrations. Send the photo to the bottom layer to replace a plain background and add depth.

Color Your Creation

Click on any element of the design to pick a new color using a basic palette or any custom color. Change the colors of shapes, frames, fonts, and backgrounds. Click on any area of your design and make changes until it fits the ideal palette.

Edit Your Text

With VistaCreate, you have different text options. Choose large header text, subheader, or smaller body boxes. Make your text boxes pop by adding a transparent shadow layer to mute background graphics. With premium options, you can add extra excitement with video or photo text.

Font Choices Galore

With hundreds of fonts to choose from, you should have no trouble finding the perfect one for your project. But if you have your heart set on a specific font or an established font you use for your company materials, there is a possibility to upload your own fonts to use.
Où pouvez-vous utiliser les étiquettes
Pensez-y

Certaines étiquettes créatives n'ont qu'un logo ou un nom de produit, d'autres ont plus d'informations, comme des ingrédients ou instructions. VistaCreate propose des mises en page adaptées à tous les usages.

Cosmetics

— Create your line of skin creams or makeup products and give the brand a run for its money!

Jar

— Print two jar labels for jams, honey, and other jarred products—one for the front of the jar identifying its contents and showcasing your brand name, and one for the back with ingredients, instructions, or suggestions.

Food

— Label cookie tins, candy bags, or other food containers for giveaways or sales.

Clothing

— Have your design stitch for a sewn-in label, or print a tag to attach to clothing.

Fundraising sales

— Replace the paper on candy bars with your own version featuring your team logo or fundraising information. Drink bottles—stick cool promotional labels on drink bottles for outdoor promotional events.
Comment créer une étiquette
1

Choisissez un style de modèle

Vous pourriez commencer par une page blanche, mais pourquoi ? VistaCreate propose des centaines de magnifiques modèles, conçus professionnellement par des graphistes de talent.

2

Add your own text

Editing the text is easy. Just click on a text box and start typing in. It will display in the same style, and the text will adjust in size as you type.

3

Customize

Leave the color palette alone or change text or element colors to reflect your style or company colors. Upload the logo and resize, rotate, and place for the best visual impact.

4

Download your finished design

Choose the format you need and download the file as a PDF, PNG, or JPG. You're all set!
FAQ
Puis-je les imprimer sur du papier pour étiquettes collantes?

Oui, il suffit d'utiliser nos modèles et nos guides de taille Word pour créer une taille parfaite. Copiez et collez autant de fois que nécessaire pour vos imprimables. Le papier doit être fourni avec un dos collant et une feuille de protection détachable.

Can I resize labels for different purposes?

Is designing a label hard to learn?

Can I change the design later?