All-in-One Social Media Scheduler
Get everything you need to hit your marketing goals in one place with VistaCreate's free social media scheduler! Create engaging visuals for Facebook, Instagram, or Pinterest, schedule your content with your business accounts, and post it across several channels. Save time and boost your social media marketing with the scheduling tool in VistaCreate.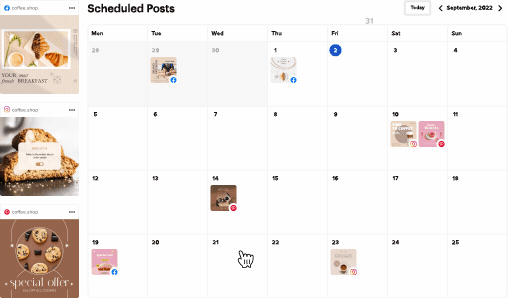 How to schedule posts with the VistaCreate content planner
1

Choose a template

Sign up or log in VistaCreate to get started. Choose the right format for your publishing channel (Instagram Post, Pinterest Graphic, or Facebook Post) and explore pre-made templates to choose the best one for your social media design.

2

Make your design

Choose the blank canvas to design from scratch or customize any template using various editing tools and design features. Upload your photos, change text and backgrounds, play with colors, and make other edits to create the desired visual.

3

Prepare to schedule

Set up access to your social media accounts and let VistaCreate post content to your business pages and groups on your behalf. This should be done only the first time. Note that you can connect and post only to business social media accounts.

4

Schedule and share

Click "Post", select the accounts you want to post on, and choose the date and time your post will be shared. Plus, you can quickly resize your design for another platform using VistaCreate's image resizer. Find your scheduled content in the Post Planner tab in the menu of My Projects.
Top perks of social media scheduling tools
Get the maximum reach using the VistaCreate scheduling tool. With the social media planner, you can schedule your post to publish it at the best possible time that works well for your audience. Plan your content for multiple channels and groups to reach even more audiences.
Get the maximum reach

Using a social media planner allows you to manage a posting schedule that enables the maximum engagement of your audience. Besides, you can quickly prepare designs for different social media with the easy-to-use resizing tool in the VistaCreate media planner. Schedule your post for various channels and groups at different times to get the maximum reach.

Save time

Why waste time on Instagram content planning and content creating in different places? Create standout visuals, plan your social media content, and share your posts in the same place! Besides, schedule your posts ahead and save more time for more important business activities than the content routine.

Post regularly

Plan your content in VistaCreate and easily stick to the right social media posting schedule for your marketing strategy. No need to squeeze out creative ideas every time you need to publish a post. Make as many designs as you can and schedule them in VistaCreate's content planner to cover your future content needs. Increase the engagement rate and elevate your social media marketing with regular posting.
4 reasons to love the VistaCreate social media planner
Streamline your creative flow with VistaCreate's social media scheduler. No need for a complicated social media planner calendar. No extra software either. Create, plan, and publish right in VistaCreate. Save your time for making more visuals for your feed and boost your social media marketing with custom designs.
Design it your way
Have a better idea for your scheduled post? Don't worry — there is no need to unschedule your publications! In the VistaCreate social media scheduler, you can easily edit the already planned posts. Go to the Post Planner tab, choose the project you need to edit, and polish your content. Besides, if you've scheduled your post for multiple groups, all the changes can be automatically applied everywhere if necessary.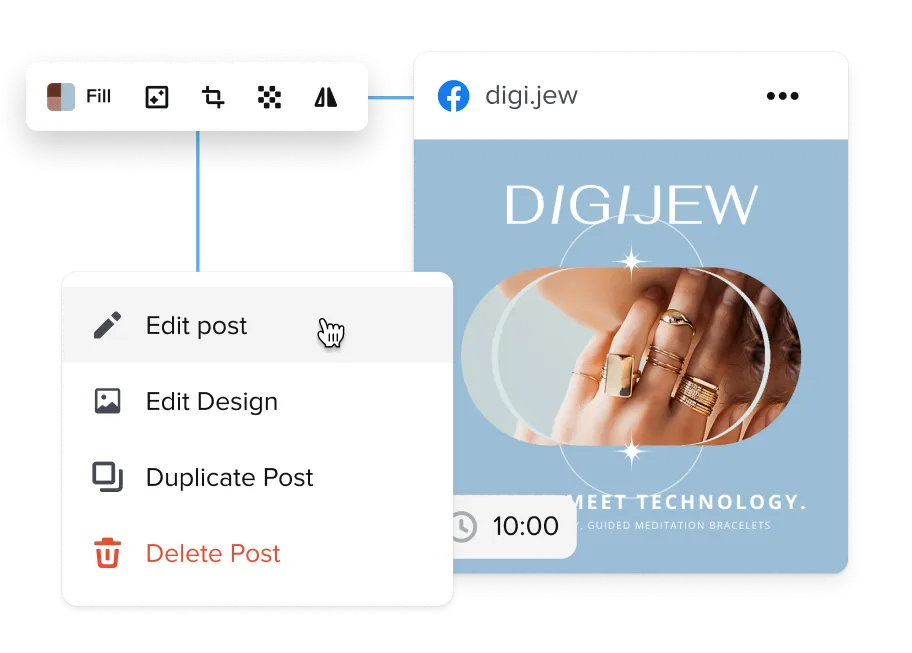 Everything at your fingertips
No need to waste time scheduling social media posts in a different media planning tool! Create your visuals and manage their publication in the same place! VistaCreate offers thousands of pre-made social media templates and powerful editing features for custom designs. Create, edit, and plan your content for socials in the free social media scheduler.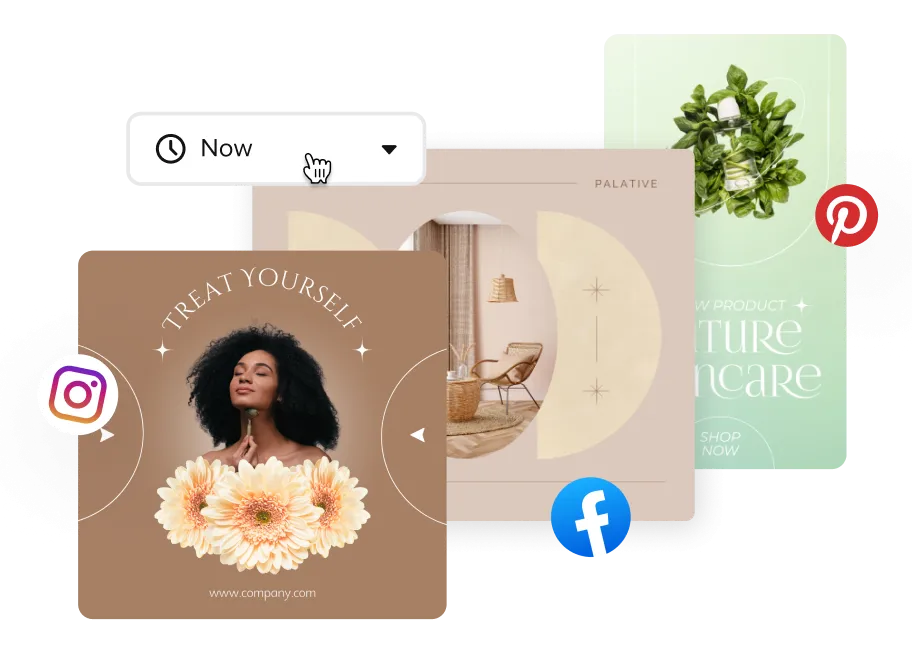 Design for all social media
Schedule your posts to various social media platforms in one media planner! Connect the VistaCreate social media planner to your business accounts on Facebook, Instagram, or Pinterest and manage publications on all your channels. Save time by making one visual and resizing it for multiple social media platforms in VistaCreate. Make standout designs for all social media you need and plan your activities in the free social media post scheduler.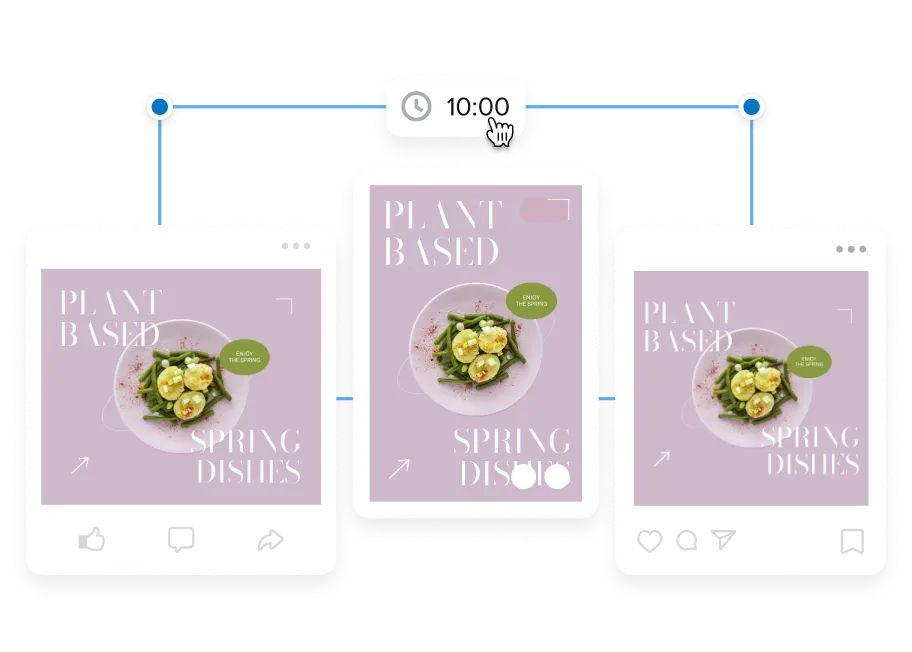 Enhance your visuals
Find millions of stock images and videos on any theme and topic in the VistaCreate content planner! Enhance your visual projects with amazing backgrounds, stunning design objects, and royalty-free images. You can also upload your own photos to the editor and add them to your designs for more personalized visuals.
FAQ
How do I schedule my social media design in VistaCreate?

First, you need to identify where you want to post your design. Then choose the right format for your social media (Instagram post, Facebook post, or Pinterest Graphic). But don't worry: if you've chosen the wrong format, you can easily edit your design to fit another media using VistaCreate's resizing tool and schedule it where you need. You can also use the "Share" option on the top panel of the editor and choose the platform you want to publish to. 

Can I edit my post after I've scheduled it?

Where can I schedule my posts?

Can I schedule my posts for multiple platforms?

Why do I need to schedule my posts?