The 3 Ps of sustainable project management in 2022
War of the Worlds. Armageddon. The Day After Tomorrow. What do these three classic films have in common? That's right, they're based on the ...
War of the Worlds. Armageddon. The Day After Tomorrow. 
What do these three classic films have in common? That's right, they're based on the world as we know it coming to an end. Pretty scary stuff right? 
But it's fun to watch these sorts of films, because we know that we're safe and sound in the cinema, or curled up on the sofa with a hot drink and more popcorn than you'd actually find in a cinema.
One of the things that keeps us calm while we're watching these spooky flicks is knowing that it's just a film — the monsters are just CGI and the people are just actors — these things just wouldn't happen in real life. 
War of the Worlds? 
Big scary space aliens coming to destroy the world. 
Probably won't happen.
2/10 scary rating. 
Armageddon? 
Big scary space asteroid hurtling towards Earth. 
Could happen, doesn't seem too likely at the moment. 
5/10 scary rating. 
The Day After Tomorrow?
Big scary global superstorm due to climate change bringing on a new ice age. 
Uhh… 
10/10 scary rating. 
In your average day-to-day, you won't go too long without hearing about the need for the business world, as well as the rest of the world, to become more sustainable. And in the world of project management, there's a lot to take into consideration. 
Being a successful project manager is already difficult enough, but when you start adding in extra aspects such as sustainability, things really become tricky. Or do they?
At VistaCreate, we place sustainability high on our priority list, and that's why our tools and features can be used to help you reach your sustainability goals. But what exactly is sustainable project management? And how can you weave small (or large) changes into your processes to become more sustainable? 
Let's take a look.
What is sustainability in project management?
Sustainability has become a primary focus for businesses across the globe. With growing environmental concerns, on top of economic and social downturns, there is a clear need for widespread change. 
Whenever sustainability is mentioned, the mind will instinctively jump to the environment. And yes, that's a big part of sustainability — but on a larger scale, sustainability can be broken down into three main parts: social, environmental, and economic. 
As always, we like to mix it up a bit; that's why we like to call these the 3 "Ps" of sustainability:
Let's take a look at how you can incorporate each of these three aspects of sustainability into your business, and into your project management.
People
Stakeholders vs. shareholders
The first aspect of sustainability concerns both the positive and negative societal impacts that an organization or project has. In this case, "society" can include the impact on employees, customers, suppliers, communities, the C-suite, or any other person that can be brought into the equation. 
These people are what can be considered a company's stakeholders. 
And as companies have started to embrace sustainability, their focus has shifted away from their shareholders — who are more concerned with financial success — and toward creating value for these stakeholders.
It's clear to see that keeping your stakeholders happy is key to success. For example, companies that have a highly engaged workforce are up to 21% more profitable. And 69% of employees say that they'd work harder if they were better appreciated.
So how do you make your business and projects more sustainable for your people?
Put your focus on your people
There are a number of ways that companies can focus on societal sustainability. It could be through more of a micro-lens, by ensuring fair and equal hiring processes, promoting flexible working schedules, and creating a positive, welcoming team mentality. 
Or it could also be by looking outward, and trying to effect change on a much larger scale. For example, by forming partnerships with nonprofit organizations and driving toward a common goal, or doing more outreach work in the local community. 
One of the best ways to become more sustainable in both your project management and your overall business is to enact a "people before profit" mentality. 
That's not to say you should throw your budget out the window, along with your top clients and — hey, why not — even your CFO. It's more about basing your decisions on what is best for your people, not for your bottom line. 
For example, let's say that you're working on a project and the client wants to change the scope. This may mean a higher profit margin, but it could also mean that your team will have to work more hours, be more stressed, and be more likely to experience burnout. 
With a people-before-profit mentality, you can weigh up the options and decide that your team's happiness and well-being trump the extra income. 
How can VistaCreate help your people processes?
Project management is all about collaboration and communication. By eliminating a back-and-forth process, you can make your team's experience far easier and more cohesive, and save everyone a lot of stress and misunderstanding. 
VistaCreate allows you to create individual teams and invite up to 10 members to join you to work on your project. You can collaborate together on your project designs, make edits, and approve changes at each stage of your project design lifecycle. 
So no matter where you and your team are, whether that's all in an office together or dotted around the globe, you can work on the same project and see changes in real-time.
Planet
Tick tock goes the environmental clock
The second, and perhaps the most important "P" in the current climate, is all about how you can make a positive impact on the planet. 
Since the Industrial Revolution, businesses have produced uncountable levels of pollution. And while things are slightly (and we mean slightly) getting better, with greenhouse gas emissions down by 11% in Q1 of 2022, there is still an awful long way to go.
Businesses are finally taking notice of the impending doom by making greener high-level decisions, with 21% of major companies committing to hit net zero by 2050. And this affects corporations from head to toe, including project management. 
Green project management
There are a number of ways to alter your processes and projects in order to make them greener. 
Take paper, for example. 
The US makes up less than 5% of the world's population, yet it consumes more than 30% of the world's paper, with the average office worker estimated to use 10,000 sheets of copy paper each year. 
That's a lot of trees.
Think about it: every contract, every order form, every copy — paper, paper, paper. 
Even in the design industry, every first, second, and third draft is done on paper. And each one is scrapped as minute details evolve and change. 
One of the most common ways that small to medium-sized companies are cutting down on their carbon footprint is by digitizing their processes. So if we take our paper example, by using online forms, online documents, or online digital design software, you can effectively eliminate paper from your day-to-day activities. 
This allows you to cut both your costs and your environmental footprint. And if that's not a win-win, then we don't know what is. 
Go greener with VistaCreate
The VistaCreate platform has everything you'll ever need for your creative processes. 
With easy access to an ever-growing library of photos, videos, animations, illustrations, and templates for your designs, you have everything you need to create quality designs on a single online platform. 
With the ability for up to 10 people to work on the same design, there's no more paper waste, no more confusion about which draft is the latest, and everyone can stay up to date and clued in. 
Give the planet a breather, and create your designs with VistaCreate.
Profit
Becoming a sustainable seller
In the world of capitalism, there is a huge focus on the profitability and financial performance of a business. Every decision from strategic planning initiatives down to specific hirings is meticulously scrutinized and carefully taken in order to increase profit margins and reduce costs — all whilst mitigating risk. 
Before the focus on sustainability, a company's profits were the be-all and end-all. Nowadays, companies are realizing that they have the chance to make real positive changes in the world without having to damage their financial performance. 
In fact, some companies are actually seeing increased financial performance due to focusing on sustainability, with one report revealing that 81% of people would prefer to buy from sustainable sellers.
The link between sustainability and profit
Branding and advertising play a huge role in portraying your brand's values.
To give an (honestly quite extreme) example, American outdoor clothing brand Patagonia recently announced that they were "going purpose" instead of "going public" by actually giving away the entire company to Planet Earth in order to help fight climate change:
Hey, friends, we just gave our company to planet Earth. OK, it's more nuanced than that, but we're closed today to celebrate this new plan to save our one and only home. We'll be back online tomorrow.https://t.co/fvRFDgOzVZ

— Patagonia (@patagonia) September 14, 2022
Now we're not saying you need to follow suit and give away your company, but the lesson here is the huge publicity that Patagonia received and the upturn in sales since their huge announcement. 
Another good example to take note of is the supermarket chain Whole Foods. Their whole brand is based on their view of sustainability, clean and healthy eating, and eco-friendly growing and farming. 
Just from a glance at the design of their logo and their overall advertising, you can see what they stand for: freshness and sustainability: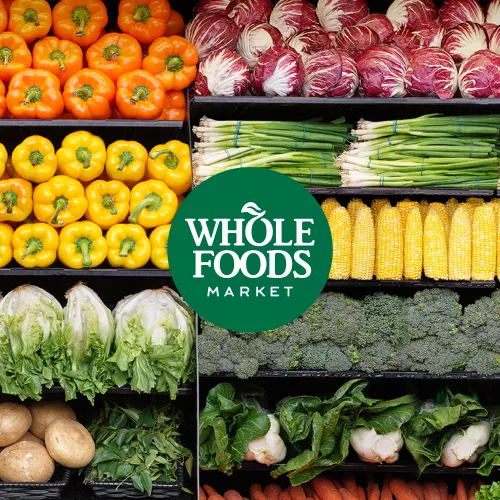 And it's these values that resonate with their target audience — with a lot of vegetarian, vegan, or just food-conscious people wanting to purchase their products from a company that has the planet in mind. 
Even if it comes at a higher price point. 
It's these approaches to project management that can quickly turn a sustainable, eco-friendly business model into one providing increased profitability and better visibility.
Sing your sustainability success out loud with VistaCreate
It's one thing to practice sustainability, but a whole other thing to benefit commercially from it. When it comes to increasing your financial performance through sustainability, it's all about letting your audience know. 
With VistaCreate's wide range of "Sustainability" templates, you can show off your brand's sustainable business model that dictates everything from your major decision-making to the way you manage your various projects on a day-to-day level.
And while we're on the topic of profitability and cutting costs, VistaCreate's pricing plan can fit anyone's budget. 
With our free starter plan, you can gain access to a wide range of benefits, such as our 75,000+ design templates; over 1 million photos, videos, and vectors; and 10 GB of storage for your files and projects. Meaning you'll be able to knock out quality designs in minutes — for free. 
For those pro designers out there, our paid Pro plan allows you to get the full VistaCreate experience. With background-removing features, unlimited brand kits, and unlimited storage just a few of the various benefits.
Sustainable designs for sustainable project management
It would be fair to say that project managers have a lot on their plate — with most managers doing everything from organizing the project team to overseeing the project delivery and support processes. 
That's why anything that can improve their processes and make their teams happier and their jobs easier would be welcomed with open arms. 
By embracing the 3 Ps of sustainable project management, you can fully take into consideration how your resources are used, keep a healthy bottom line, reduce your waste and carbon footprint, and ensure that your team is as happy as possible.
What more could you possibly want?