Read our latest article in a series of shining the spotlight on small business owners with great stories to share. This time, we had a chat with Rick Blyth, the founder of his own brand and business that helps software developers get started building their own profitable Micro SaaS apps. In a world where many are stuck in cubicles, Rick broke the shackles and took off on a journey with a noble cause to help others in his shoes. 
My name is Rick Blyth and I'm a software developer at heart. I spent 20 years in the corporate world, working my way up from Junior Programmer all the way up to Technical Director.
I quit my day job a few years ago after building several profitable bootstrapped Micro SaaS (Software as a Service) apps. I was able to resign with confidence and focus on scaling up my Micro SaaS apps.
After a few years of scaling up the apps, I sold them for a lump-sum payment and exited my app business. I then had some time to reflect on my journey and contemplate the big question … 
"What should I do next?"
I decided that I'd share my story and help other programmers start their own Micro SaaS apps as side projects. Perhaps it could be their ticket out of the rat race, just like it was for me.
I'm making it my mission to help other software developers do what I've done and unlock the potential they have inside them.
As such, I've compiled all my learnings into my free 100-page Micro SaaS Handbook, which is available to download on my website, and I've also started a YouTube Channel to help other software developers get started building their own subscription apps.
Leaving the crappy (but well paid) 9-5 to start a business
I was a 20-year corporate career software developer, rising up through the ranks from Junior Developer to Tech Director. However, when I reached the "pinnacle" it wasn't everything I hoped it would be. It was chaotic, stressful and I was unhappy.
In my spare time, I started reading self-improvement books and one, in particular, would change my life forever – Rich Dad Poor Dad by Robert Kiyosaki. After I read that book, I started looking for ways to make passive income outside of my full-time job.
I discovered a newly launched platform within Amazon called Merch by Amazon. This platform lets creators upload a design and list it on Print On Demand products across multiple Amazon marketplaces. Each time a product sells with their design on it, the creator receives a royalty payment. I started off creating multiple Merch designs myself and received some small monthly royalties.
As it was the early days of Merch, the user interface was very clunky and frustrating to use. It was time-consuming and cumbersome to navigate and nigh on impossible to manage a portfolio of products and designs across the various marketplaces.
It was at that point that I realized I could use my programming skills to create some chrome extensions to make the lives of Merch creators better. After offering a few free chrome extensions to the community I launched my flagship app, Merch Wizard!
Fuelled by a strong desire to quit my job, I worked on growing Merch Wizard relentlessly in my evenings and weekends, until I had built it up to a point where I was finally able to hand in my resignation.
Once I was free of the shackles of my day job, I was able to focus on Merch Wizard full time and set about growing the customer base.
I went on to earn $10k MRR (Monthly Recurring Revenue) in subscription income from both my apps before deciding that the time was right to sell and exit my Micro SaaS business.
The sale process went very smoothly thanks to the groundwork I'd put in to ensure the key SaaS metrics were trending in the right direction. That said, I was still shocked when the apps ended up selling at the full asking price within just 5 hours of going live!
Eventually, I will be diving back into building a bigger Micro SaaS app utilizing everything that I've learned and with a much bigger exit in mind.
For the time being though, my focus is on sharing the knowledge I've gained over the past few years of doing it alone and inspiring others to take their first steps.
VistaCreate is my go-to tool for creating compelling visuals for my content.
I used VistaCreate to create my Facebook Group Cover, starting with the template below, and customizing it in a couple of clicks to feature my personal brand's colors and imagery.
I also use VistaCreate to create my YouTube Channel's Thumbnails, as there's such a great selection of templates for me to start off with and customize easily using the rich online editor.
Finally, I also find VistaCreate useful to create Twitter posts, especially compelling quote card images.
Without graphic design, my content would be hard to digest. In today's modern world, everybody expects great-looking content, and with great value platforms such as VistaCreate, there's really no excuse to push out poor quality graphic design anymore.
There are several reasons why I love using VistaCreate for my content.
Firstly, whilst I'm fairly proficient in Photoshop, starting from a blank canvas is always challenging. VistaCreate gives me a wide variety of templates for inspiration and gives me a great platform to start from.
Secondly, it's so quick to create graphics using VistaCreate that it almost feels like cheating. As everything is fully customizable, I'm able to quickly create designs consistent with my brand very quickly.
Finally, I like the fact I don't have to keep up with each social media platform's latest image dimensions. I can just head to VistaCreate, select the appropriate templates and focus on creating the visuals, rather than searching for file dimensions and resizing images.
Ethos behind the business
I don't think many software developers will have read Rich Dad Poor Dad, or experienced that epiphany moment I had.  You might think you're just a coder that just codes away in the corner. But you could potentially be so much more and leave a legacy behind as the first person in your family to quit the 9-5. 
Once you're in charge of your own Micro SaaS, you have lots more freedom and can spend more time with your family, doing what you want to do. You can absolutely make an additional stream of passive income  instead of whittling away your spare time watching Netflix or playing games. You can leverage your existing skills, and raising awareness of the potential within each software developer  is something I'm passionate about. 
People have reached out to me on YouTube and private emails saying there's a big discrepancy between Software as a Service apps created in Silicon Valley, and the SaaS that a regular person can start as a side hustle whilst working their day job. 
On one side, you've got a multi-million series of funding rounds, taking on huge debt, assembling multiple teams, and many of these startups don't ever make it to profitability. The ones that do are simply not relatable to a normal 9-5 employee due to the eye-watering overheads and multi-series rounds of funding. 
And that's why people are saying to me, "I resonate with your story, I'm unhappy and thinking what I can do as a side hustle". And when you talk about earning a couple of hundred dollars a month to start with, they can visualize it and see it, and then build it up to support their family, it's much more tangible and realistic. That's where I feel like I'm filling the gap between Silicon Valley Saas and a solo developer's Micro SaaS.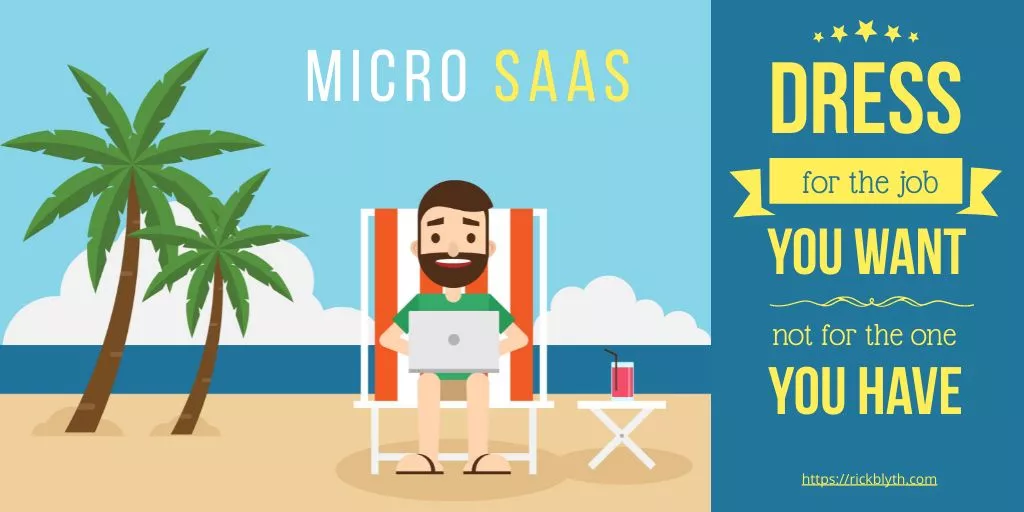 When it's time to go, you'll know it
I went from managing a team of about 15-20 people (and all the office politics, the chaos and the drama, the huge commutes) to basically working for myself. Obviously there are lots of benefits to working for yourself, for example, total control over your working day. I can actually set goals for each day and they're likely to be  achieved whereas in my day job it was full of interruptions and most days I felt like I hadn't moved the needle forward much. 
One of the drawbacks of having your own business would be the work in isolation, in terms of going from being an instrumental part of a team, to really just being on your own all day. Whilst this does enable laser focus, it does mean that you're relying on yourself for everything and there aren't many people to bounce ideas off. That said, I've got friends and hobbies outside of this and love the freedom of being able to go mountain biking midweek when the trails are very quiet so it's not all bad. 
I'm not very artsy or creative, so I'm glad there's VistaCreate!
I had an awareness of graphic design, and I know my way around the popular graphic design applications. But what changed with VistaCreate is the way you can create anything with the vast array of templates. You can have a video you want to create, an instagram post or whatever it might be. You could maybe start with 5 different templates,  adapt them, and see which one you like best. It's a lot easier than starting with a blank page.
As a software guy, I'm not very artsy and creative in that way. I'm a bit more of a functional person, but I still have an eye for good design. 
I don't have to wonder, "Am I going to put a circle in the top left or top right. Does that look weird?". So VistaCreate is great for me, I find an eye-catching template and I customize them super easily.
VistaCreate as inspiration
Sometimes, I just go on VIstaCreate and use it for inspiration, make quick tweaks, and away we go. It's really the content and the creative assets that I leverage more than anything. 
As for small successes, I have a video on a second channel about a road trip. I used a thumbnail from VistaCreate, amended that, and it has done far better than any videos on that channel. If it's the content of the video, the thumbnail, or both – I don't know, but the results were there. 
It would take me all day to create anything remotely good from a blank canvas. To have all the templates in the correct dimensions, to be able to go back and always know it's correct means I can get on with creating content. I can get 90% there with the existing templates.
One word that comes to mind when I think of VistaCreate is 'simplification'. Efficiency. I like to think of it as my "Creative Sidekick". That's VistaCreate.
My advice for anyone else looking to start their own business
Whilst it's difficult in the early days, try to ensure you're working on your business rather than working in your business. If you are the only asset in your business – you've only succeeded in creating a job for yourself, not a business.
Recruit a small team to help out with tasks that aren't your strength or that you don't enjoy, so you can make sure you're pulling the biggest levers in the business.
In addition to that, I'm a big believer in continuous self-development and discovery. You should always dedicate some part of each day to learning from others. Over time, this will compound and you should see great results in your efforts.
Without reading the self-development books I did all those years ago, it's likely I'd still be stuck in a cubicle, feeling unhappy and unfulfilled. Having enjoyed all the benefits of running my own bootstrapped SaaS apps, I can't imagine ever going back to corporate life!
Finally, and perhaps most importantly, there's no point in "waiting for a good time" to start.
It'll never come.
There'll always be an excuse, a small reason not to get started.
Just forget perfectionism, leave your ego at the door, and start right now. Start small, fail fast, but fail forward. It's the only way you'll truly learn. Eventually, with consistency, you'll achieve your goals!
If you're interested in taking your first steps to build your own profitable Micro SaaS then you can download my free 100-page Micro SaaS Handbook or head over to my YouTube Channel to learn more.
Read more stories about our power users from the series: