15 memes only social media marketers will understand
One does not simply start working as a social media marketer… But if you do, this article is for you and about you. The deadlines, strategie...
One does not simply start working as a social media marketer… But if you do, this article is for you and about you. 
The deadlines, strategies, comments, engagement rates, current digital trends — doesn't it all feel like an avalanche sometimes? We'll tell you this: there's no better way to deal with your job than… having a good laugh about it! 
In this article, we'll celebrate the highs and lows of the social media marketers with 15 brilliant memes. And it's not just about giggles — we'll try to derive some wisdom from them along the way. 
15 memes social media managers can relate to
There's a reason the internet is full of memes on social media marketers. Our jobs are tough! With that, some patterns you likely see with every job you've been on. Here are just some of the best memes on social media marketing we found that we'd love to share. Let's see if we can turn those laughs into insightful lessons along the way.
1. Always start with strategy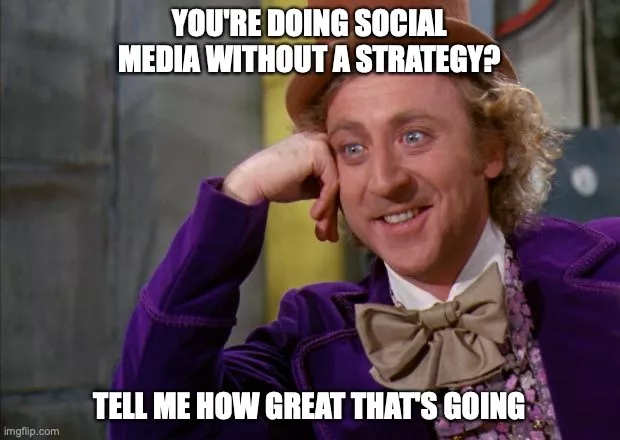 Source: The Isthmus
Indeed, many social media managers start off without a strategy in mind. But strategy is like your itinerary for a road trip: if you don't want to get lost, you have to thoroughly plan your way of getting from point A to point B. 
Always have a comprehensive strategy, listing your key goals, target audience, tone of voice, important policies, and other aspects. To succeed, you want to be doing everything in a coherent way, and strategy is the starting point.
2. Be bold about your job title
Source: Imgflip
Despite the stereotype, no, social media is not just about posting content. In fact, it takes planning, strategic thinking, and lots of analytical skills to keep up with current trends and keep your social media accounts alive, fun, and useful. So, next time someone tells you you're just posting content, stop them by explaining what you actually do.
3. Differentiate your content
Oh, the many faces of social media platforms… How do you create content that is successful on Twitter, Facebook, Instagram, and TikTok? We say: differentiate. Facebook and Twitter aren't similar and you want to repurpose your content so that it is well-accepted on every social media. On top of that, we hope you get to create content that goes viral everywhere!
4. Work on your engagement rings… oh, rates, of course
Sweet, sweet engagement… For social media managers, it's surely not about the wedding fuss in the first place. As a marketer, you want to think about ways of increasing engagement so your content is more relatable to your audience. And the terms like ER, CR, CPC, PPV are probably visiting you in your dreams. By the way, how is your ROI doing?
To achieve a growing number of likes and reposts, keep your content aligned with your strategy (you do have one, right?), on-brand, and make sure it touches the pain points of your audience. Invest your time and effort into creating your content — and you'll get the engagement you're craving.
5. Be patient 
True success on social media takes time. Though sometimes your posts go viral and you gain plenty of new followers in a day, most of the time it's just day-to-day work. Adhere to your strategy, do constant trends research, create A/B testing campaigns… And be patient knowing that success doesn't come overnight. 
Working with Instagram? Discover 6 proven growth tactics in our article.
6. Make space for current trends in your posting schedule
You all know this feeling: you've planned your content schedule for the week ahead, prepared the posts, and then… Boom! Something big happens and you just can't ignore the new trend. These could be worldwide trends, major cultural events, or even flashmobs. 
It pays to have a place in your weekly schedule for the unexpected. Instead of fearing the trends, hop on them!
7. Proofread your content BEFORE posting
So, you've posted a publication, taken a deep breath, and started seeing the likes rolling in. Well, turns out there's a spelling mistake in your post. Some social media will let you edit content after you've posted it, while some won't. So, make sure you're super attentive to both your copy and visual. You can use free online spell checkers for your content to be flawless. 
8. See what your competitors are up to 
You're not alone in your Instagram game: competitors are right behind you. Or, sometimes, you're behind your competitors. This meme calls for a crucial activity in your social media practice: competitor research. If done right, you'll find insight on what your competitors are communicating, what content they use, and how you can build on that. By the way, do you use Instagram hashtags to give your content a boost? 
9. Manage your time for mental health benefits 
Those who think a social media job is not stressful have never found themselves answering dozens of similar questions, handling raging clients, all while trying to keep up with current visual trends at the same time. 
From the entire VistaCreate team, we're asking you to not overwork yourself, as it can lead to negative consequences. Learn how to manage your time, allow yourself to relax in the workplace, and don't go too hard on yourself. Better head over to our next meme.
10. Keep researching your target audience 
This guy is a reminder for you to keep researching your audience on social media. For your campaigns to be effective, you need to know as much as possible about the people you are targeting. What do they like? What are their beliefs and aspirations? How do they communicate? Who are these people in real life?
Actually, joining online communities where your audience hangs out can give you a bunch of insight on their behavior. Be the big brother who is always (always!) watching.
11. Experiment with your content
As true as it gets, comments like these can both hurt and praise you as a social media marketer. But we'll tell you this: you can't be liked by everyone. Some will get the idea of your communication, while some will consider it trash. Just keep going: the more experimental you are, the more likely you are to achieve your goals on social media.
12. Drop the multitasking
Have you ever felt like you're a multitasking machine? With one hand on Facebook comments, while the other one is crafting reels… You might even need a third one to schedule your upcoming posts. Everybody's been there. 
But multitasking isn't the best way to arrange your working routine. It's better to focus on one thing at a time — and let VistaCreate help you with creating custom templates for your social media accounts.
13. Be careful with managing comments 
Feedback management can make or break your social media game. Have you ever just looked at a comment below your post and not know what to do? We feel you. But keep cool — in most cases, all you have to do is apply common sense. 
Differentiate between real people and bots. See which comments are to be answered and which are better left with no engagement from your side. On top of that, comments create engagement — and you can channel it in the right way.
14. Keep up with social media platform updates
Everyone thought that Instagram Reels would never become hot on the platform, until they did. Now, social media managers are trying to reformat their Instagram content strategies to include more reels in them. 
If you're also struggling with creating reels for your business — we've got you covered. Explore VistaCreate's library of Reel covers — we hope your engagement will skyrocket with them.
15. Go beyond your budget restrictions
"We want this to go viral! The budget is $0." As a social media manager, your second name should be breativity. And that's not a typo, it;s a mix of creative thinking and bravery to produce new, unconventional ideas. Indeed, sometimes you don't need a robust budget to create a post that stands out from the crowd. Know your audience well, build on current trends, have some patience — everything else will follow. 
Social media marketing tips and tricks for different industries
As a marketing manager, you must be constantly searching for new ideas on how to promote your business. We'll help you here. Discover our detailed guides on promoting niche businesses on social media:
---
At VistaCreate, we feel for and with every social media marketer whose job is to be a 24/7 idea generator. If you feel like your idea bank is scarce — don't stress out too much. In our library, you'll find thousands of readily available design templates, from Facebook covers to Twitter posts. We hope it will save you hours on design, so you can keep rocking your social media account.