Social media marketing for travel businesses: Best practices, tips, and ideas
As the travel industry recovers from a two-year coronavirus break, tourism social media marketing is becoming more and more competitive. If ...
As the travel industry recovers from a two-year coronavirus break, tourism social media marketing is becoming more and more competitive. 
If you want your travel business to stand out from the crowd, you need to make sure you master the art of social media marketing and develop a robust strategy. 
We've put together a list of the nine best ideas to diversify your travel agency's social media content plan, keep your engagement levels at an all-time high, and land more deals — with real-life examples from businesses that have already managed to do so! 
Read this article till the end to pick ideas that you like best and design a stunning visual to bring those ideas to life. 
Luckily for you, we can help with the latter, too. VistaCreate offers thousands of ready-made design solutions for your travel business — from Instagram Stories to Facebook Ads — that will boost your agency online.
Before you get started with travel social media marketing…
It's important that we cover the basics before jumping right in. 
First things first, you need to settle on your travel business social media marketing goals:
Do you want to improve your brand awareness?
Is it your brand image you want to fix?
Do you want to generate more leads?
Are you interested in converting leads into paying customers?
After that, you need to decide who will be managing your travel business's social media account:
How many people do you need for your company to successfully meet goals for sourcing and creating content, posting, managing comments and DMs, and keeping an eye out for complaints?
Are you a single-location or a multi-location company that caters to audiences in different time zones?
Do you have all the necessary skills to execute your travel business social media marketing yourself, or should you consider outsourcing it to a social media marketing agency?
Then, you need to get your budget in order:
Do you have all the software and equipment required to produce high-quality content for your social media?
How much money can you allocate to social media marketing?
How much money can you allocate to paid promotion on social media? 
Depending on the answers to these questions, you'll decide which social media platform (and how many of them) to invest your resources into, and whether or not to hire a professional social media manager.
If you're a small travel agency or an independent travel agent, you might want to consider using some DIY solutions to manage your travel business social media marketing. 
For example, VistaCreate allows you to create beautiful social media designs for free. You can choose from numerous ready-made design solutions for tourism businesses, customize them to fit your business, as well as schedule and publish your posts directly to Instagram, Facebook, or Pinterest.
How to promote your travel business online: 9 best travel business social media ideas and strategies
Now that you know all the basics of travel business social media marketing, it's time to shape your content calendar. 
The key to a successful and popular travel business social media profile is varied content. The more different types and formats of publications you share with your audience, the more exciting it is to follow you. And, as a rule of thumb, more followers equates to more brand exposure and, granted your travel business is a good one, more conversions. 
So, even if your audience enjoys a specific type of content, you shouldn't limit yourself to it. Experiment with different ideas, keep up with trends, and mix things up every now and then. 
Explore our guide on content marketing for small businesses. 
We know how hard the ideation process can be, so we've decided to take this weight off your shoulders and put together a list of top-8 post ideas for your social media content plan. 
Showcase your offers 
The very reason why travel agencies get involved with social media marketing is to generate leads and get more people to book tours with them. So, the first — and, perhaps, the most apparent — content idea for your travel business social media profile is publications that tell more about your travel offerings.
In fact, this should be the backbone of your social media marketing strategy; at least a third of all your social media publications should promote your business and the products you offer. Essentially, you want to promote your services in the majority of posts you publish, regardless of its type — either in the visual, in the caption, or elsewhere. 
Now, there are lots of different ways in which you can share information about your tours, current deals, and future destinations:
Keep it short and sweet by only sharing a few alluring pics from the destination and a CTA to learn more about the tour.
Share as much information about your tour as possible, including the itinerary, the highlights, all the available dates, and prices.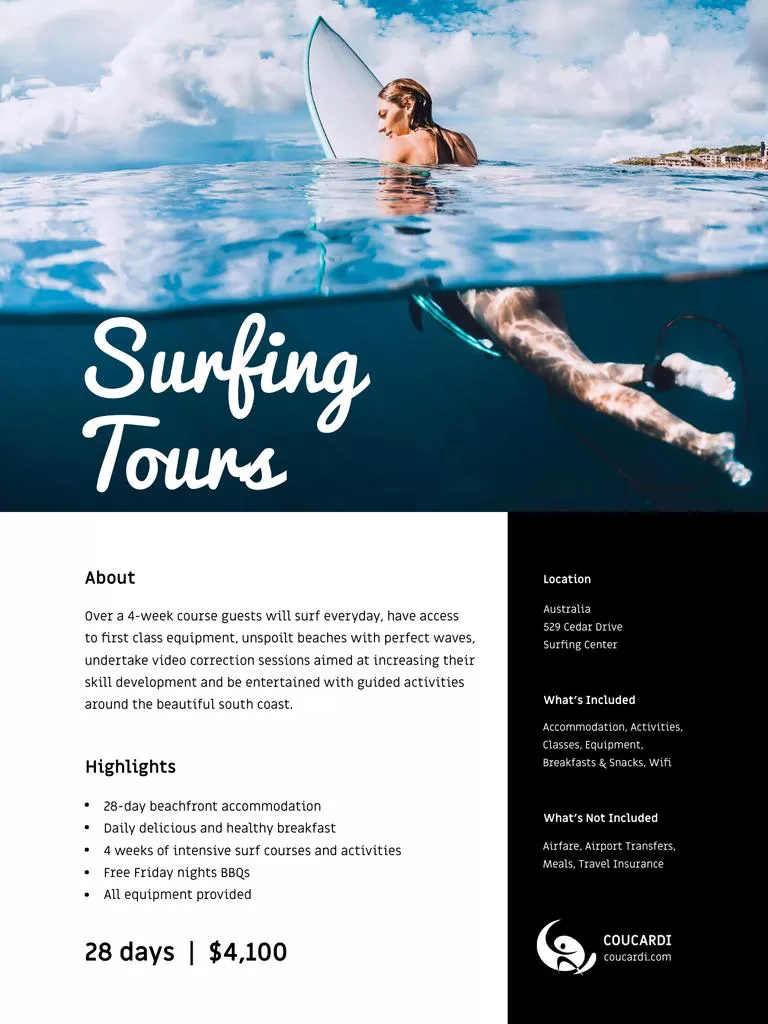 Start the countdown to the next big trip of yours. 
Explain the benefits of your travel package to make your travel offer impossible to turn down.
Inform your audience about any upcoming discounts or big sales.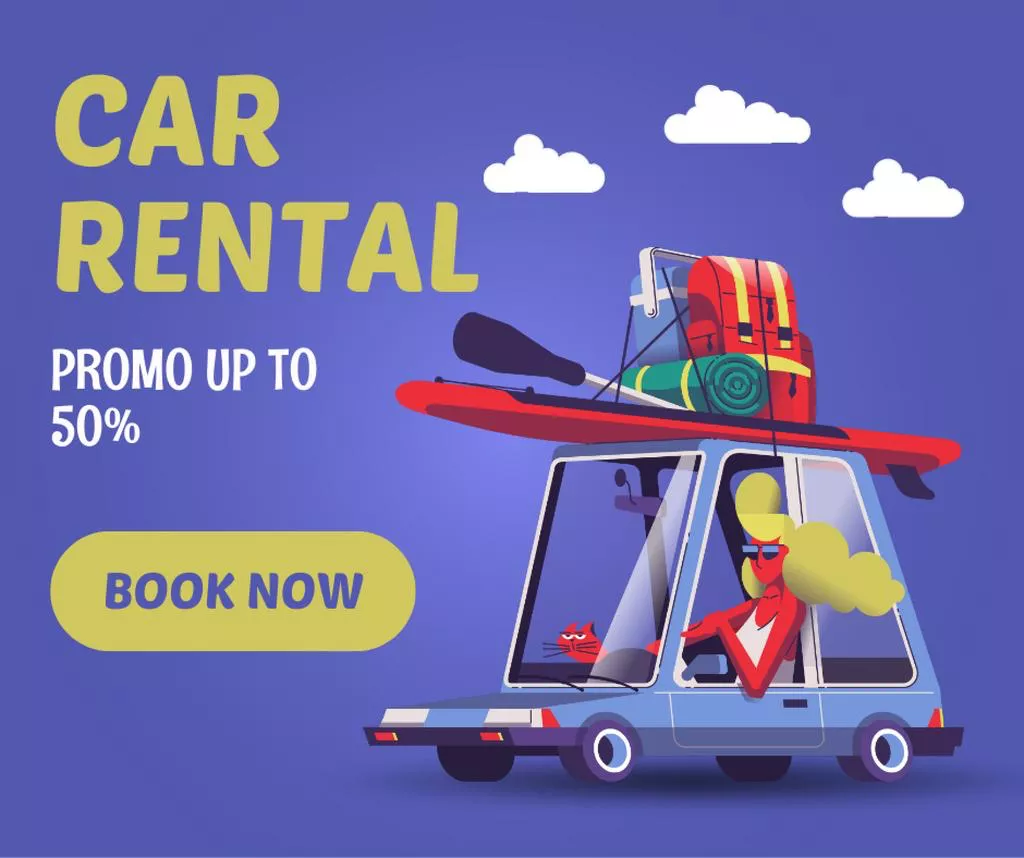 Show behind the scenes of your travel business
Sharing information about your tours and the other services you offer isn't the only way to put yourself in the spotlight and make your social media account all about your travel business. Another thing you can do to promote your agency online is create a personal connection with your audience by showing them behind the scenes of your travel business.
There are numerous benefits of putting a face to your brand:
It helps humanize your travel agency and, therefore, strengthen your credibility and build customer loyalty. When your leads and customers know that there are actual living people behind a social media account, they tend to relate to it and trust it more. 
It helps showcase your expertise. From improvised Q&As to interviews and "background checks"; this is where your team shares stories of how they entered the travel business and what they did prior to representing your travel agency. Behind-the-scenes content can prove to your audience that you know exactly what you're doing.
It can help you increase your brand exposure. People are naturally curious creatures — we want to know everything about everything! So, giving your audience a sneak peek into how things are being done at your company is a way to generate a lot of views for your profile. 
Here are some of the most effective ways to introduce behind the scenes of your travel agency and your team on social media…
For example, you could start a regular rubric where you share your guide's travel advice. It's up to you to decide how you want to angle these tips. For instance, you could go in one of the following directions: 
must-know travel secrets;
best hidden gems;
low-key bars and restaurants only locals know about;
"what I can't live without on a trip"; etc.
On top of that, you can also decide on how detailed these publications should be. It can either be a short designed visual or a full-blown multi-paragraph post. 
The best thing about this format is that it doubles as unique, evergreen content that — granted you optimize your posts well — can get you lots of traffic. 
Alternatively, you can introduce your team and let them tell more about themselves and their travel business experience in a series of short publications or Stories. Here's a brilliant example of how a travel agency can do it from Liberty Travel:
Or you could show your office where all the magic happens. Show how and where all the majestic tours get planned:
Finally, you can make the experience a bit more interactive and let your audience ask the questions they want to know. Depending on the social media platform you use, you can either leverage the benefits of the Instagram Story Questions Sticker and get your followers to ask you anything by leaving their questions in the designated window, host a live AMA session where people can ask you questions in real-time, or encourage your audience to leave questions in your DMs and publish your answers in bulk, either as a post or as a Story. 
Here's an example of a cruise vendor, Carnival Cruise Line, doing just that. On their Instagram page, Carnival Cruise Line shares a Story highlight with the cruise director, Matt Mitcham, answering the most frequently asked questions about his business life and cruises:
Video content is at the heart of travel social media marketing
No matter whether you're an experienced social media marketer or just a regular social media user, you must have noticed that video format is taking over social media platforms by storm. Ever since the astonishing success of TikTok back in 2019, other platforms have been trying to replicate it. Hence, now you can see why every popular social media prioritizes the video format over anything else. 
You should take this into consideration when planning your travel business social media content — incorporate as many video clips into it as possible! TikToks, Reels, and animated designs should all be a part of your content marketing strategy. 
The good news is that there are lots of ways to do this. In fact, all previous ideas can exist in the video format. Here are some more easy-to-create video ideas for your travel agency:
Create a promo video for your company.
Create a short video about your past tours to give your audience a taste of what they're missing out on by not traveling with you.
Share short clips of breathtaking views at your destinations.
Give your followers virtual tours of the hotels or amenities included in your travel packages. 
VistaCreate Pro Tip: To leverage the benefits of video marketing, your videos don't have to be too professional-looking or well-edited. You just need to keep tabs on TikTok and Reels trends (and adjust them well to your industry), and use trending sounds. 
Here's an example of a small travel agency that hopped on the "show what your small business sells in 7 seconds" trend to promote its services:
Share educational content about traveling
Even though we previously said to focus on your brand and travel offers, you can't only post self-promotional content. Every now and then, you need to dilute it with neutral posts that can get you a lot of exposure.
The easiest way to increase your engagement rate is to publish educational content. Evergreen content about traveling is timeless; it gets liked, saved, and shared; and it can be great for filler posts.
Here are some ideas for educational content:
Interesting facts about X destination
X Instagrammable places in [country]
X things to do in [country]
X best destinations for honeymoon/Christmas/4th of July/etc
If you ever run out of topics to cover on your social media page, you can tap into topics adjacent to traveling. For example, you can talk about the following: 
The benefits of booking a holiday with a traveling agency
Key points for first-time travelers
How to beat sea-sickness 
How to pack light for a long trip
The importance of travel insurance
How to save money for traveling
X top travel hacks everyone should know about
What is eco tourism
VistaCreate Pro Tip: No matter which topic you decide to cover, make sure you design a high quality visual for your post.
Traveling is fun — so your travel business social media marketing should be as well
At the same time, you need to remember that your social media content plan can't only focus on content that is helpful and educational. It's important to leave room for entertainment, too. At the end of the day, this is exactly what people look for when they log onto a social media platform — a fun way to spend their time. 
The easiest way to mix things up and make your travel agency account a bit more laid back is to publish memes. Beware, though! Memes can seem like a quick fix and an easy way out, but they're actually quite tricky — you need to keep tabs on all the latest trends so that you don't post something cringe. Posting something that's dated won't give you any likeability points. 
However, if you do see a hot trend, a fresh joke format that is going viral, by all means go ahead and adjust it to the travel industry. For example, here's Touch Down Earth's variation of the "he's a 10 but" joke: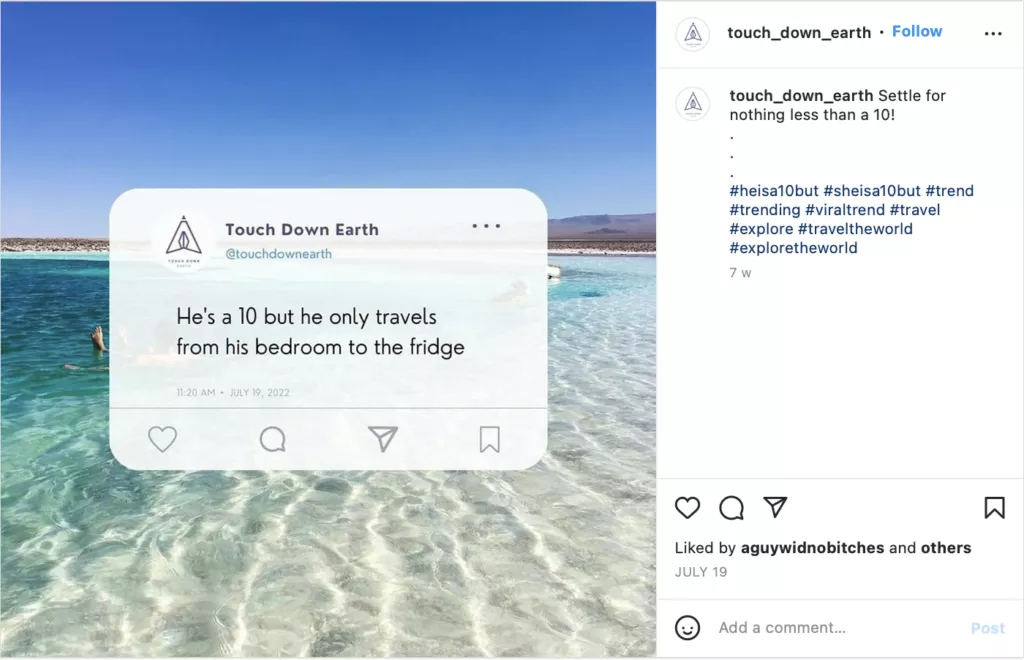 If you want fun content to be your social media profile's unique selling point that differentiates you from your competition, publishing a meme every now and then won't cut it. You need something more engaging. 
For maximum fun, you can gamify your travel business social media marketing and incorporate some of the following ideas in your content plan:
This or that Instagram poll where you give your audience a chance to build their perfect destination by choosing between different options.
Your next travel destination based on your date of birth/last digit of likes/battery percentage/etc.
Find the difference. Edit a photo of one of your top destinations so that it looks slightly different, put it side to side to the original, and invite your followers to spot the difference between the two. 
A maze. Create a maze and offer your followers to find the right exit (for example, from the office to a holiday destination).
An honorary mention goes to Carnival Cruise Line and their Fun Slider Stories. These stories don't have any purpose other than to get followers to interact with the account and, therefore, improve engagement rates for visibility. Yet, this activity looks fun and welcoming — we couldn't help but slide all the sliders!
Run contests and giveaways
If you come up with a particularly challenging social media game, you can encourage people to participate in it by offering some sort of incentive and turn it into a competition.
A lot of travel agencies like the trivia format. They post questions on their social media pages and offer a small cash gift for the person that gets the question right first:
If you like this format, you can try the following question topics:
Fun facts about your top destinations
Unusual laws in different countries of the world
Fun facts about your travel business
Fun facts about traveling
Alternatively, you can give out prizes to tap&hold/screenshot game contestants. Animate an element on your visual so that it moves sporadically and only appears in the right position once. Then, invite your followers to screenshot the post, or tap and hold the Story so that the object is in the right place. Whoever succeeds first gets a small prize:
The aforementioned, however, can only give you a short-termed boost. If you want your travel business to enjoy all the benefits of social media contest marketing, you can run a big one or launch a giveaway. 
They're always a popular thing, especially if you offer the winner a sizeable prize. Besides, with a long-term contest, you can build anticipation and buzz by posting regular updates:
Talk about the prizes (video would be appropriate here, too)
Highlight funny or noteworthy entries
Count down days until the winner is announced
Some contest ideas for a travel agency on social media include:
"What's the funniest thing that happened to you while traveling?"
"Describe your first traveling experience in one sentence/with a film name"
"Share a video of your summer [year] travel experience"
"Share your best picture from a local travel experience"
"Share your dream travel itinerary"
"Share your experience traveling with pets"
VistaCreate Pro Tip: Make sure you make your contests as inclusive and easy to participate in as possible. Otherwise you risk getting less entries. 
Make use of User-Generated Content 
If you regularly run contests, you should have loads of user-generated content. Make sure it doesn't go to waste — incorporate it into your content plant! This will take the strain off you (you won't have to worry about not having enough content to post), strengthen your bond with the audience, and encourage them to partake in the future contents.  
But even if you aren't an avid contest runner, you can still get your hands on plenty of UGC. Go through your tags on social media, pick photos and videos that look good, and repost them to your profile (don't forget to tag the creator!). 
Alternatively, you can launch challenges and get people to tap into their nostalgia (post a throwback to their summer travels, a throwback to their first mountain trip, etc) all while promoting your travel brand. 
Respond to reviews and comments
We can't stress how important feedback management is for your travel business social media marketing. 
Since the travel industry sells intangible goods, experiences, and its customers are significantly more influenced by reviews and feedback they read online. 
So, it's important to promptly react to all mentions of your travel business on social media and respond to comments. If you come across negative comments, put effort into mediating the conflict. 
If there are positive comments, use those testimonials to market your travel business on social media:
Not only will responding to comments make you seem way more approachable, but it will also increase your chances of getting more eyes on your travel agency social media profile. 
The thing is, for many social media platforms, the number of comments is one of the most telling signs of user engagement. The more comments a publication gets, the more relevant, interesting, and noteworthy it is in the eyes of the almighty social media algorithm. So, by responding to every single comment you receive, you essentially double the number of comments and, subsequently, your chances of landing on the Explore page. 
And, since we've already touched on the topic of comments and how important they are for your social media growth, let's look at the most popular and effective ways of stimulating social media engagement (likes, comments, shares, and saves):
Ask about your followers' favorite memory from their trips
Ask for a restaurant/cafe/bar recommendation in a certain location
Discuss an piece of news that impacts the travel industry (don't get too political unless it's on-brand for you)
Tap into other people's and brands' following bases 
The quickest way to grow your travel business account on social media is to borrow someone else's following base. 
Now, there are several options you can try: 
Partner with a local business, e.g. a local winery, restaurant, pub, bar, museum, or gallery. Then, add several "local gastronomic tours" or "local art tours" that would be exclusive to social media. Make sure both you and your partner advertise it well and a steady influx of new social media followers is guaranteed.
Partner with a tech company to develop a VR tour — the Metaverse is one of the hottest social trends these days, and you need to take advantage of that. 
Organize influencer travel events and cover them in real-time. In fact, you can even invite influencers to take over your social media account and use it as their travel diary. 
---
When it comes to travel business social media marketing, you can either implement all of the aforementioned ideas into your content plan, or mix and match them until you find the perfect combination that works best for you. 
The only thing you need to remember is that regardless of what you post, it should look professional and visually appealing. 
Maintain the quality of your visuals with VistaCreate's design solutions for travel businesses.