How to choose a Zoom background for your Christmas weekend calls
Christmas weekend is almost here, and many of us have a plan if not to visit, then at least call our family, friends. Someone will still have mee...
Christmas weekend is almost here, and many of us have a plan if not to visit, then at least call our family, friends. Someone will still have meetings with colleagues. Anyway, it's never been so easy to decorate a home for Christmas as it is in 2020! All you need to do is put a festive Zoom background for your calls and no one will ever notice the real mess you have in your house.
How to create a Zoom background
To find out how to change the background on Zoom or get more advice on how to use Zoom in general, visit their Help Center.
And now, let's move on to the fun part. Creating the coolest background for your Zoom video calls is easier than doing a high-five to your friend. Not that it's possible these days anyway.
Go to VistaCreate and choose a Zoom Background format.
Pick a template or start from scratch with a blank canvas.
Browse millions of images in the Photos tab or in the Backgrounds tab and pick one
Drag the edges of an image so that it fits or covers the edges of a canvas.
Or you can make a solid-colored background and then drag-and-drop everything you want from the Objects tab.
Download your design and set it as a virtual background on your Zoom calls!
Custom Christmas backgrounds
Since you can pick literally any image from our library and make it a background, you have millions of choices. Create a custom Christmas background in a couple of clicks!
© Copyright. Get this image via Depositphotos or find it in the VistaCreate library.
© Copyright. Get this image via Depositphotos or find it in the VistaCreate library.
If you're new to VistaCreate, check out our Christmas designs for all major social media too. Add more festive designs to your feed! Promote your personal blog or a brand with unique designs or create an adorable invitation to your home party.
You can create anything you want! Browse through thousands of design objects, animations, and millions of images. We don't mind you having everything your way, so upload your own files, fonts, photos, illustrations, and videos too!
Isn't it just nice to invite guests for your Christmas dinner with such a chic and style? 💃
Zoom virtual backgrounds for every taste
We can't show you VistaCreate's millions of photos and design objects in this article, but we can list a couple of design ideas for your future video calls. Or you can go straight to VistaCreate and create whatever.
Fun 

live backgrounds
Pick a template or create a custom animated design with the elements and characters you like! Find tons of goodies in the Objects tab. We even made a separate selection of elements there and placed it in a Christmas & New Year section.
Festive glitter backgrounds
Welcome your Zoom friends into the dreamy world of sparkles, glitter, and a bright color palette. Impress callers with what seems like decorations for a unicorn party, that you've always dreamed of but never managed to throw in real life.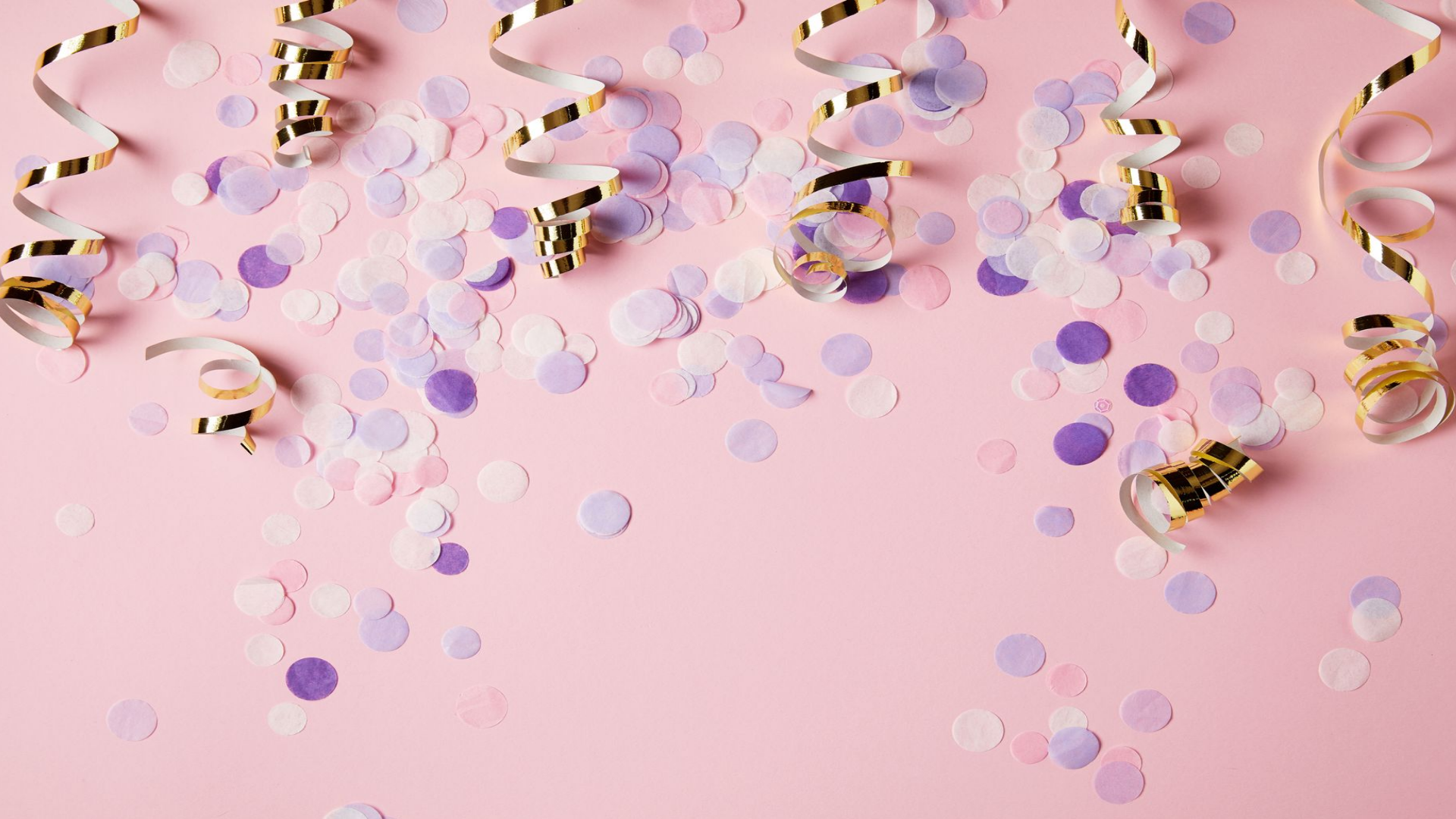 Magical gradient backgrounds
Have fun with the whole range of free-moving colors! Create your own custom gradients in minutes. You can make them using shapes, or just fill in the whole canvas with splashes of color. This type of Zoom virtual background goes with every mood and occasion.
Winter virtual backgrounds
Welcome to the winter wonderland! Browse thousands of winter-related photos and images in the VistaCreate media library. Use keywords like winter or Christmas to narrow down the search results. It's your chance to be close to nature, while you actually can't thanks to all the Zoom calls.
Futuristic backgrounds
Dream of spending Christmas with colleagues as a sci-fi movie character? Who doesn't? But also, who cares? And this is why you can put anything you want as a Zoom meeting background. Especially for the sake of hiding the mess behind you.
Funky patterns
Everything you could literally draw if you wanted to. But who needs drawing when you can just come to VistaCreate and get these cute abstract backgrounds without a fuss?
Location backgrounds
Who said you can't travel? You have access to any location in the world with a huge selection of photos we have in VistaCreate. Austria? France? Sweden? You name it!
The streets of New York, for example, are believed to be the most festive at this time of the year. Give your friends a reason to be jealous! At least for a couple of seconds until they realize it's fake.
If you had plans to fly somewhere right on Christmas eve, but your plans have changed because of you-know-what-virus, simply put clouds as a background for your calls. At least you can dream about it!
Spending Christmas in the tropics but want to stay private about that? Just turn this all into a joke. Say that you've bought a private island and then put the background inspired by the near 90's Bounty commercial. Nobody will believe you anyway, so why not laugh about it?
Wrapping up
During Christmas, you will do everything you could literally do every day at home in 2020. But don't forget to say words of love and gratitude to your beloved ones and share a couple of laughs with them while chatting on Zoom. You now have a stockpile of all kinds of backgrounds for many years ahead! 💫