An ultimate guide to guerrilla marketing: How to stand out from your competitors
There are millions of registered businesses around the world (334 million, to be precise). With mass layoffs happening in the tech industry ...
There are millions of registered businesses around the world (334 million, to be precise). 
With mass layoffs happening in the tech industry at the moment, we can expect yet another peak in solopreneurship, meaning the number of businesses will only continue to grow in the future.
That's a lot of competition. 
If you want to win the hearts and minds of your customers, you need to be different from all the other options in the market. Your brand message needs to be loud and clear, your marketing campaigns need to be creative and memorable, and your communication with your target audience needs to be relevant and personalized. 
For more detailed instructions on how to stand out from your competitors — check out our free e-book.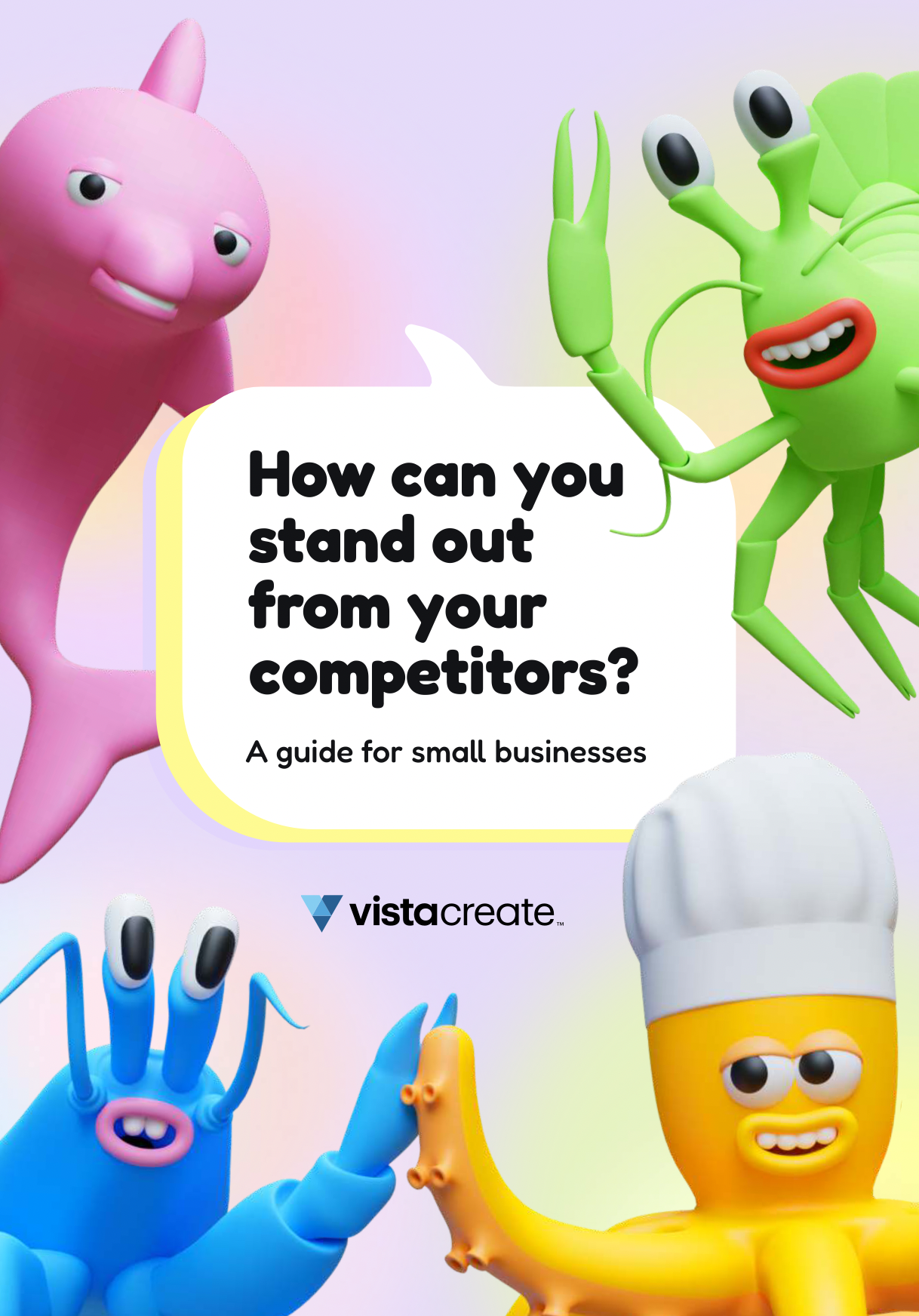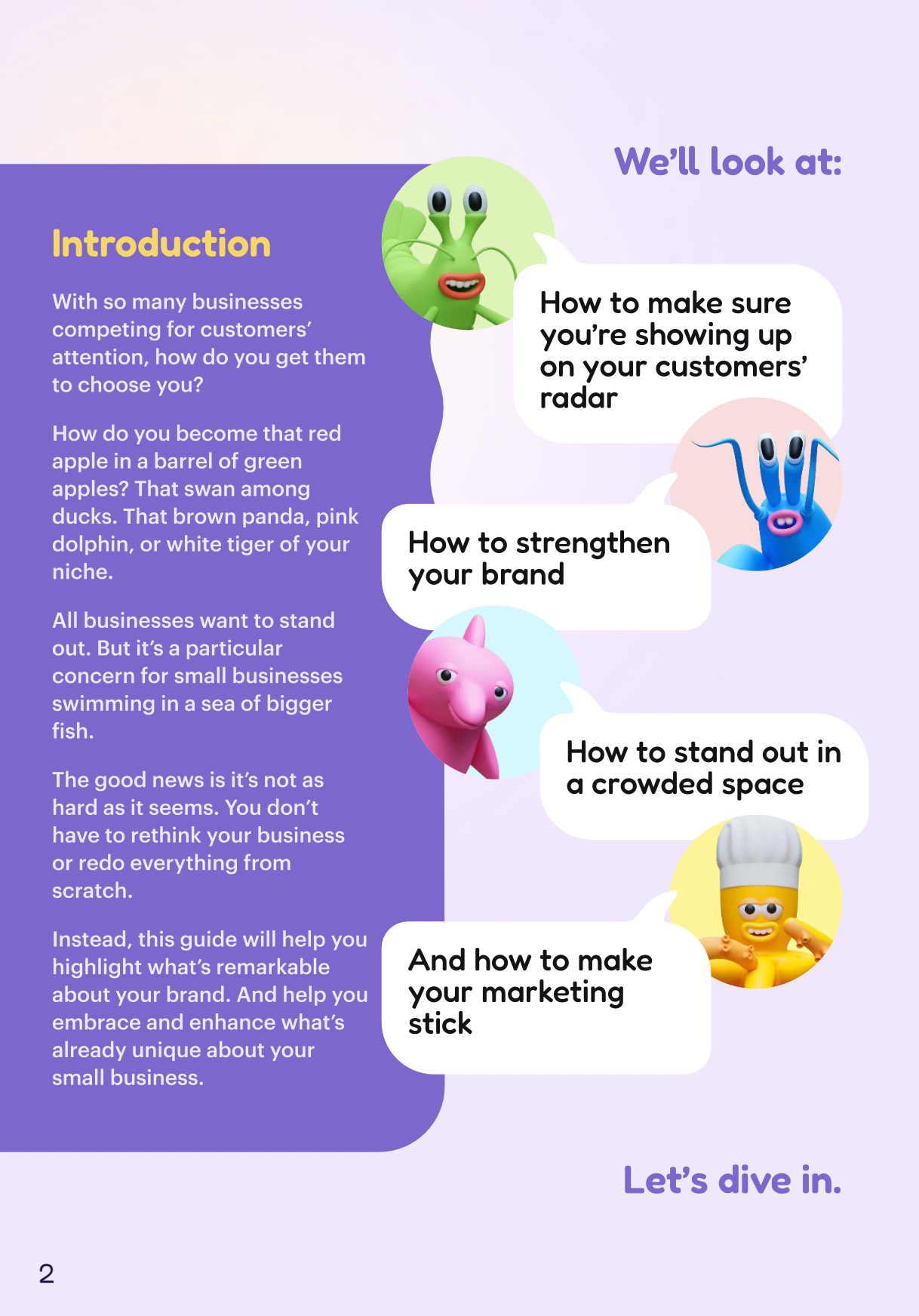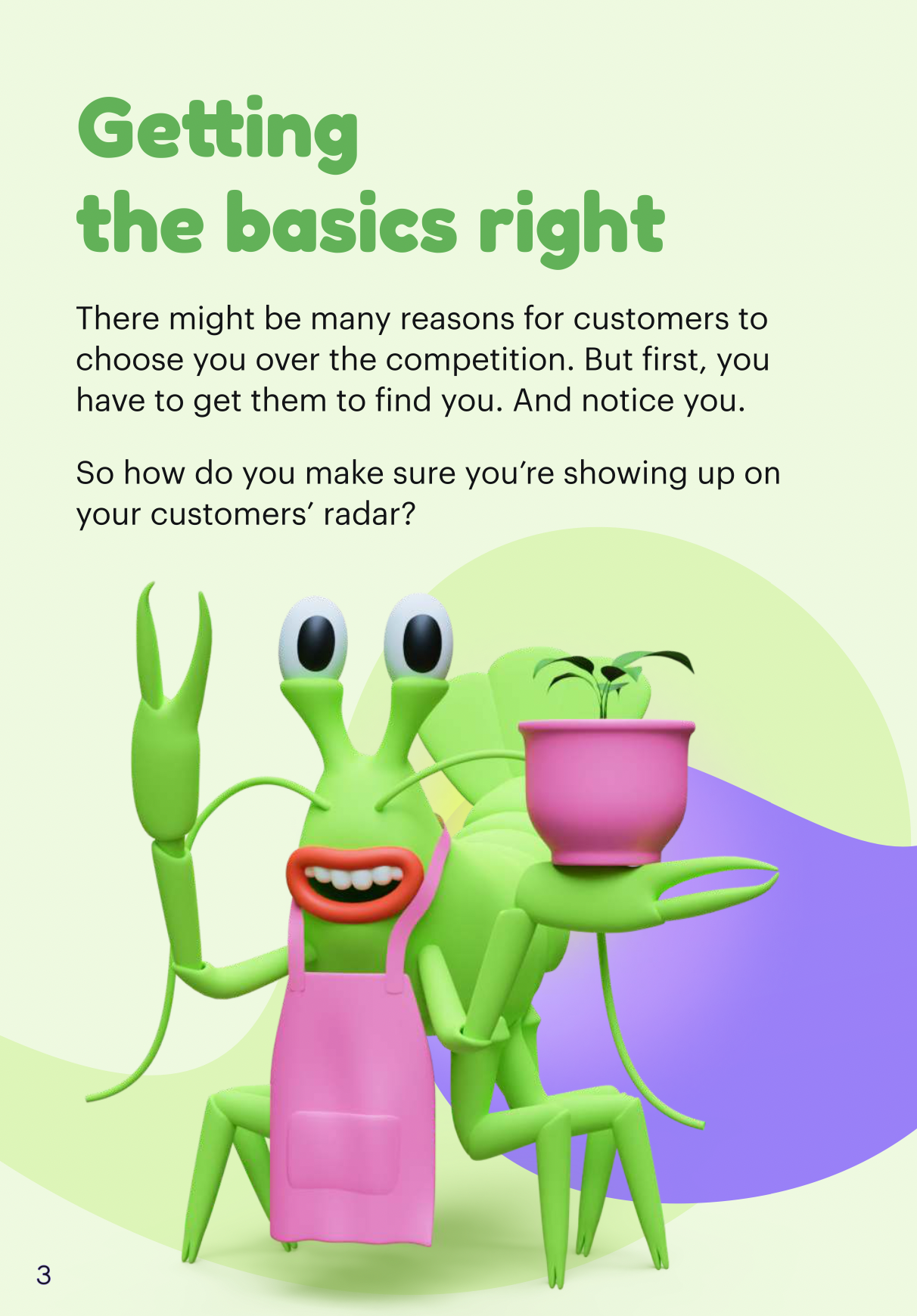 One of the ways you could make your marketing efforts outstanding is by resorting to unconventional marketing strategies. For example, guerrilla marketing. 
Read this article to learn the guerrilla marketing definition, the different types of guerrilla marketing, its pros and cons, the best practices for launching a guerrilla marketing campaign, and take a look at plenty of examples of successful ads. 
Stay till the end to find out what must-have brand elements aid in standing out from competitors.
What is guerrilla marketing?
Guerrilla marketing is an unconventional way of promoting a brand or product by using low-cost, creative, and inventive methods to reach a target audience. 
It involves taking advantage of everyday situations to surprise customers and generate buzz for a brand. 
Just like guerrilla warfare (guerrilla marketing meaning stems from there), this type of advertising uses unconventional tactics such as surprise performances, stunts, interactive activities, and other non-traditional tactics to make an impact on the audience. 
Guerrilla advertising can be used both online (such as viral campaigns) and offline (such as street art). The goal is to create a memorable impression in the minds of consumers.
Depending on the guerrilla marketing techniques advertisers use in campaigns, it's possible to differentiate between…
Ambient marketing. The process of placing ads in unusual locations where the audience doesn't expect to see them. 
Ambush marketing. The process of advertising a product or a service by linking it to another marketing campaign without paying for the cameo. 
Buzz marketing. The process of creating extreme public stunts that generate online and offline discussions, raising the brand awareness of the advertiser.
Experiential marketing (engaging marketing). The process of creating real-life experiences that invite people to interact with a product or service, an idea, and become a part of the campaign.
Stealth marketing. The process of advertising a product or a service without driving direct attention to it, e.g. product placement. 
What are the benefits of guerrilla marketing? What are the drawbacks?
Guerrilla marketing has many benefits for both large and small businesses that decide to include the guerrilla marketing strategy into their broader marketing strategy. Let's look at the most prominent of them…
Creative guerrilla marketing helps to increase brand awareness. A unique guerrilla marketing campaign can get people to notice your brand and make them discuss it with their friends and family. With the right execution, guerrilla marketing can generate conversations around your brand both online and offline. 
It helps your brand to stand out from the crowd. Guerrilla marketing is unexpected, hence, memorable. It cuts through the clutter, leaving an impression on the target audience. This is why the best guerilla marketing campaigns help businesses to differentiate themselves from their competitors. 
It helps to reach a wider audience. Unlike many traditional marketing tactics, guerrilla advertising isn't limited to just a chunk of the audience it can target. Usually, guerrilla efforts receive a lot of media coverage and have a better chance of going viral, so your brand can reach people outside your usual target market. 
It's cost-effective. As a rule of thumb, guerrilla marketing tactics for small businesses are less expensive than traditional marketing tactics. According to research, using unconventional approaches allows guerrilla marketers to spend 90% less on advertising. At the same time, the ROI of these campaigns remains high. 
It helps to establish an emotional connection between a brand and its audience. Guerrilla marketing allows brands to connect with consumers emotionally — these ads get people to smile or laugh, get slightly frightened or surprised, etc. Emotions are a strong motivator for purchasing decisions and generate a lot of word of mouth. 
It acts as a perfect base for building business partnerships. To execute the best guerilla marketing ideas and launch your campaign in the public space, you often need to forge relationships with city officials, retailers, and other organizations.
However, guerrilla advertising has a few notable drawbacks, too. Here are the most prominent disadvantages of this marketing approach that you need to consider when finalizing your guerilla marketing plan…
It might create misunderstandings. There are plenty of lousy guerilla advertising examples where advertisers had the best intentions, yet ended up getting in trouble for their campaigns. You must understand that your guerrilla ad needs to be timely, on-brand, and aligned with your target audience. Otherwise, you risk producing a controversial campaign and getting booed by a crowd that doesn't click with your idea. 
It's difficult to measure the effectiveness of a guerrilla marketing campaign. You'll surely notice if your brand goes viral and becomes a hot topic for the next couple of weeks. The same way, you won't be able to miss your campaign becoming a failure and getting scary amounts of backlash. However, if your guerrilla campaign isn't digital and gets stuck somewhere in the middle — not exceptionally good and not awful — it'll be challenging to measure its effectiveness accurately. 
It generates unpredictable results. When it comes to guerrilla marketing, there are lots of variables you can control, but there are even more that you can't. You need to rely on luck and a fortunate turn of events for your campaign to go viral. Besides, even if your guerrilla campaign instantly produces lots of buzz, the impact on sales can take longer than traditional marketing.  
It's affected by external factors. Bad weather, problems with the venue, or other unpredictable situations can impede your campaign. 
How to launch a guerrilla marketing campaign: A step-by-step guide
As mentioned above, not all guerrilla marketing campaigns are equally effective. 
If you want yours to be a success, you need to approach the process with the utmost responsibility and carefully plan every step of the campaign.
This section will cover the best practices for launching a fruitful campaign. 
Step #1: Define the main goal of your guerrilla marketing campaign 
Just like any other marketing campaign, your guerrilla marketing campaign should have a clear purpose. You need to think about what goals you want to achieve through your marketing activities. 
Answer the following questions…
Why are you executing this guerrilla campaign?
Who do you want to target with your campaign?
What do you want to accomplish?
What would you consider to be a success?
Some potential goals and objectives of a guerrilla marketing campaign are…
Position your business as an "edgy", "trendy" brand
Increase brand awareness
Differentiate your business from competitors
Build a strong brand image
Some other goals may include to acquire new leads and increase sales, but you need to remember that guerrilla marketing tactics rarely have an immediate effect. Therefore, it might be difficult to measure the effectiveness of your campaign. 
Remember, regardless of the goals you set, they need to be SMART — specific, measurable, attainable, relevant, and time-bound. 
Step #2: Study your target audience
At Step #1, when setting the goal for your campaign, you should've defined the audience you want to target with your guerrilla tactics. 
Now, it's time to develop an even clearer and more profound understanding of who they are. 
There are several reasons why you need to study your target audience in detail:
You want to know what they're most responsive to, what they're most likely to connect with on an emotional level.
You want to know what their routine looks like and what can potentially surprise them.
The better you understand your target audience, the easier it will be to craft a unique campaign that appeals to them directly and leaves a lasting impression.
Some things to consider to narrow down your ICP:
How old are they?
Where do they live?
Where do they hang out?
How do they spend their leisure time?
What do they like? What don't they like?
And remember: you're creating a campaign to wow your target audience, not stroke your ego. So, even if you feel like you came up with a genius guerrilla marketing idea, you need to test it on a focus group, first. That way, you can be sure that it resonates with the target audience and brings expected results. 
Speaking of guerrilla marketing ideas…
Step #3: Brainstorm guerrilla marketing ideas 
Coming up with the campaign idea is, by far, the most important and the most challenging part of guerrilla marketing.
However, when you have a specific goal you want to achieve and you have gotten to the bottom of your target audience, it can also be the most fun step!
Gather all your company brains at a round table and get your creative juices flowing. Here are just a few guerrilla marketing ideas to get you started:
Fly drones to create dynamic images in the sky: QR codes, words, cartoons, etc
Fly airplane banners
Skywrite 
Use projections to place your visuals on buildings, out in the wild, or elsewhere
Create unique photo opportunities for customers to take pics
Execute extreme publicity stunts
Create chalk art on the sidewalks
Place your logo (or anything else) on sidewalks with the help of stencils and powerwash 
Plan a public space takeover
Organize a flash mob
Hire actors to do something bizarre in public spaces
Participate in social movements
Start a viral challenge on social media (Instagram, Twitter, or TikTok)
Break a Guinness world record
➡️ Read our unconventional guide to generating unconventional ideas for more inspiration. And make sure you structure all your ideas with the help of dedicated tools — you don't want any details to slip through the cracks, do you? 
Regardless of what you settle on doing, you need to remember that the best performing guerrilla marketing campaigns are those that are…
Authentic. Make sure your campaign reflects the nature of your brand. It's important that the people that see it don't have any trouble connecting their experience with your brand. 
Original. The last thing you want to do is be someone's copycat. Even if the campaign was successful the first time, it's not going to have the same effect the second time — simply because it's not new and surprising anymore. Remember, each and every guerilla marketing campaign is a one-time wonder.
Clever. The more "aha 💡" moments your campaign manages to generate, the higher chance of getting remembered it'll have. Take a moment to think about what kind of campaign would make you stop, think, and share with the network, and roll with it. 
Well-timed. The timing of your campaign matters, too. You need to make sure you launch it at the most suitable moment to yield the best results. 
Engaging. The more time people spend interacting with your guerrilla experience, the better it'll stick in their memory. 
Step #4: Prepare for the execution of your guerrilla campaign
Once you have the idea ready, it's time to plan its execution. Even though the whole vibe of guerrilla marketing is fun, spontaneous, and unexpected, its successful execution requires a lot of preparation.
If you're running a social media guerilla marketing campaign, make sure you've picked the right social media platforms, prepared your social media profiles, designed all your visuals, and written your copy.
If you're running an Out-Of-Home campaign, make sure you've received all permissions from the parties involved (government, local authorities etc. — you don't want your activities to be illegal), designed and printed all the materials, and hired the people to place them at the venue.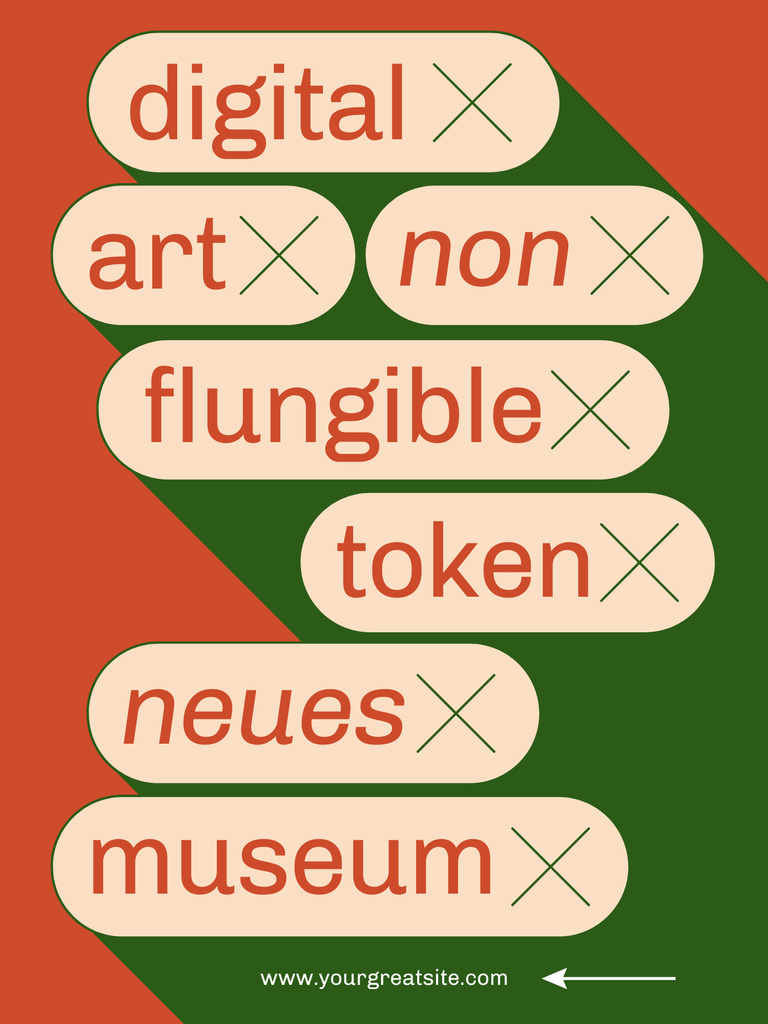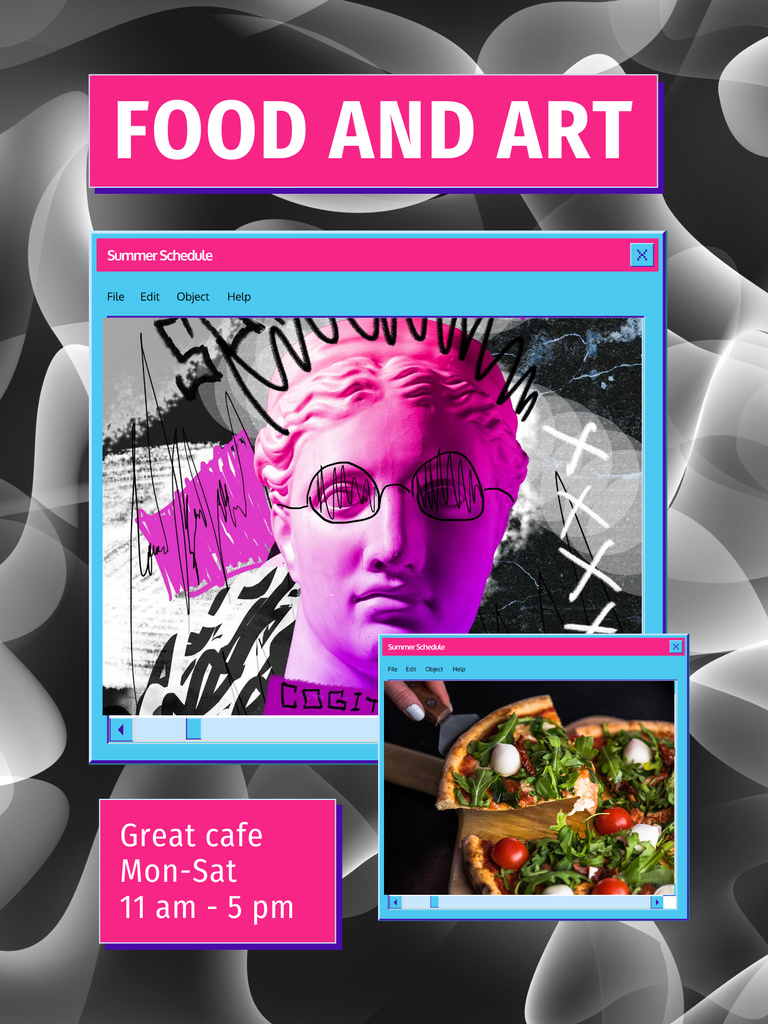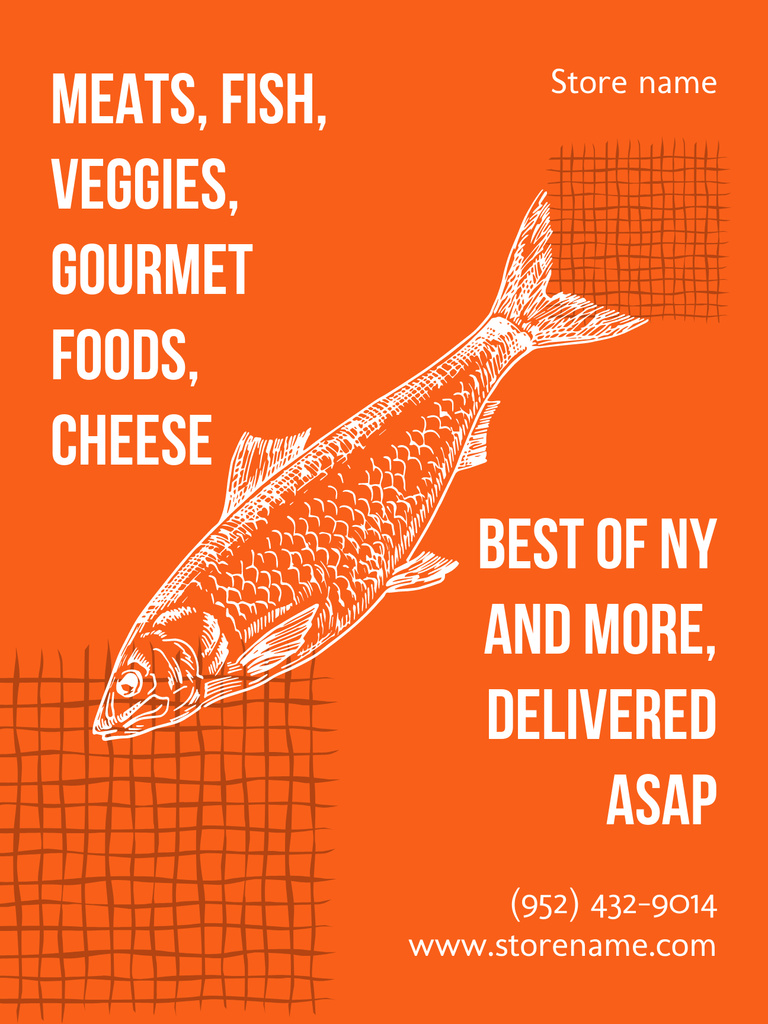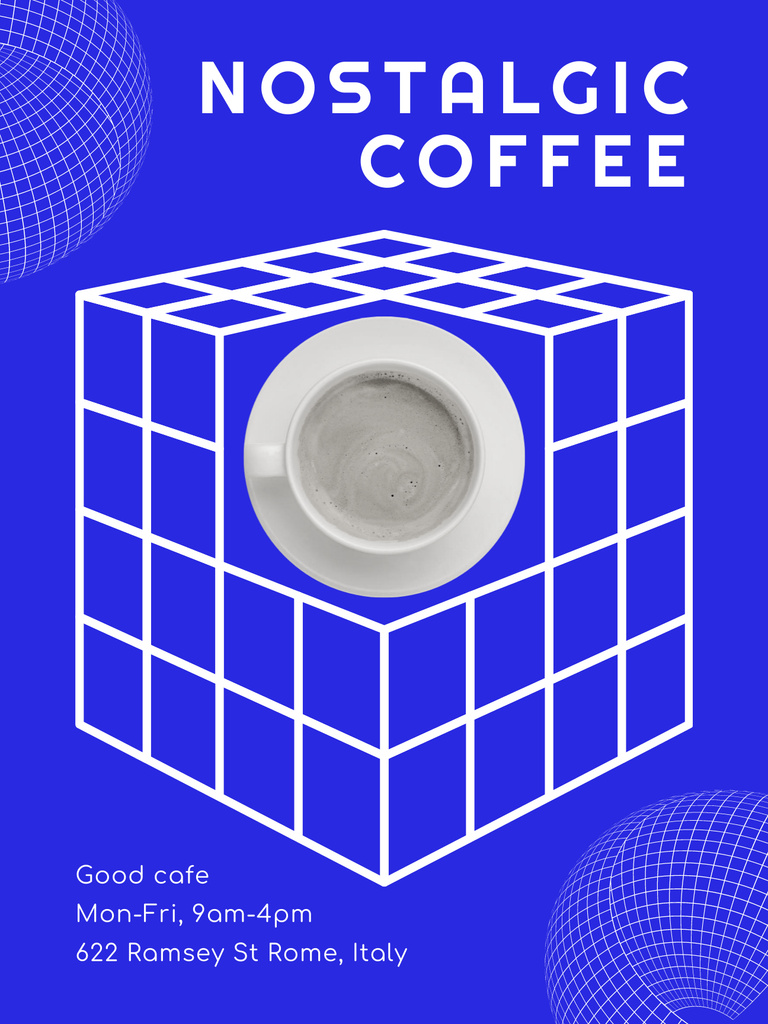 Browse more creative poster design templates
➡️ Read our article about project management red flags to manage your projects better.
Step #5: Measure the results 
Finally, after your campaign goes live, it's time to analyze its effectiveness. 
If it's a digital guerilla marketing campaign, measuring the results is nothing out of the ordinary — you look at the engagement rate, check the number of clicks and opens, and all the other important metrics you've collected with the help of UTMs. 
If it's an offline campaign, the process of measuring campaign results can be a bit less straightforward. Pay attention to media coverage, social media tags and mentions, and other brand awareness metrics. 
The best guerrilla marketing examples to draw inspiration from 
The very point of running guerrilla ads is to create a unique, memorable experience that will get people talking about your brand. 
So, when brainstorming guerrilla marketing ideas, you should unleash all the creative juices you have in you and come up with a genuinely never-done-before campaign.
However, this doesn't mean you can't refer to the best guerilla marketing campaigns for inspiration. 
Below, we've compiled a list of the 12 most successful, head-turning guerilla marketing examples and their key takeaways for small businesses. Enjoy! 
3M Safety Glass: The $3 million bus stop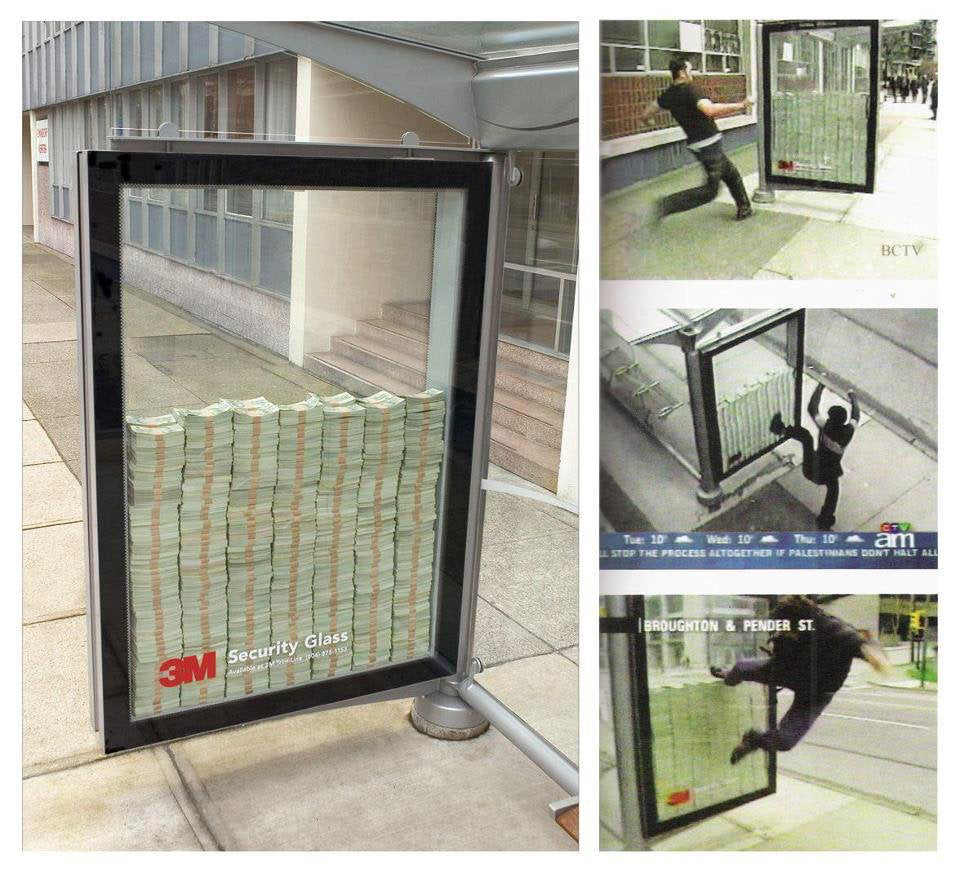 If you were to Google "what is guerilla advertising?", the 3M security glass stunt would be among the first things to show up. And there's a good reason for that — the $3 million bus stop is truly an iconic example of a successful guerrilla marketing campaign.
In 2005, 3M decided to show off their Scotchshield, a see-through film that, when applied, makes glass stronger. 
They placed 3 million Canadian dollars inside the advertising casing at a bus stop in Vancouver, Canada. Then, they challenged people to break the glass with their feet and promised cash to anyone who'd succeed. 
Not only was this campaign incredibly engaging — who wouldn't want to try and vandalize a bus stop for $3 million dollars — but it also repeatedly highlighted the strength of Scotchshield as no one managed to break the glass. 
Key takeaway: Kill two birds with one stone and make showing off your product's features and benefits a part of the guerilla marketing experience. It also helps if you get a large sum of money involved in the activity — cash tends to draw in people naturally 😃
Deadpool: Deadpool's Tinder profile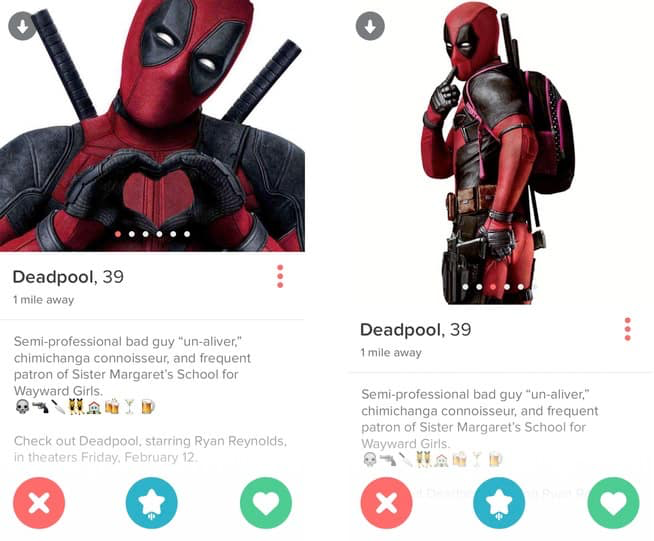 Fast forward to more recent days, we have a stunning guerrilla-style marketing move from the creators of Deadpool. 
To promote the release of the new movie, Marvel partnered with Tinder, an online dating platform, to plant Deadpool's profile among users' possible matches a few days before the premiere.
Tinder users got to see a few images of the masked Marvel superhero, read through his sassy bio, and get influenced to see the movie in cinemas on the upcoming Friday through a CTA "Check out Deadpool, starring Ryan Reynolds, in theaters Friday, February 12". 
Those that swiped right on Deadpool, were taken to a webpage where they could purchase cinema tickets. 
While it's difficult to say how big of a part this guerrilla stunt had in the movie's success — the range of marketing activities to promote Deadpool were truly vast, — Deadpool became the sixth most successful R-rated movie of all time. 
Key takeaway: Humanize your brand in your guerrilla marketing campaign. And don't neglect unconventional digital spaces — the digital realm isn't capped by social media.
NASA: Send your name to Mars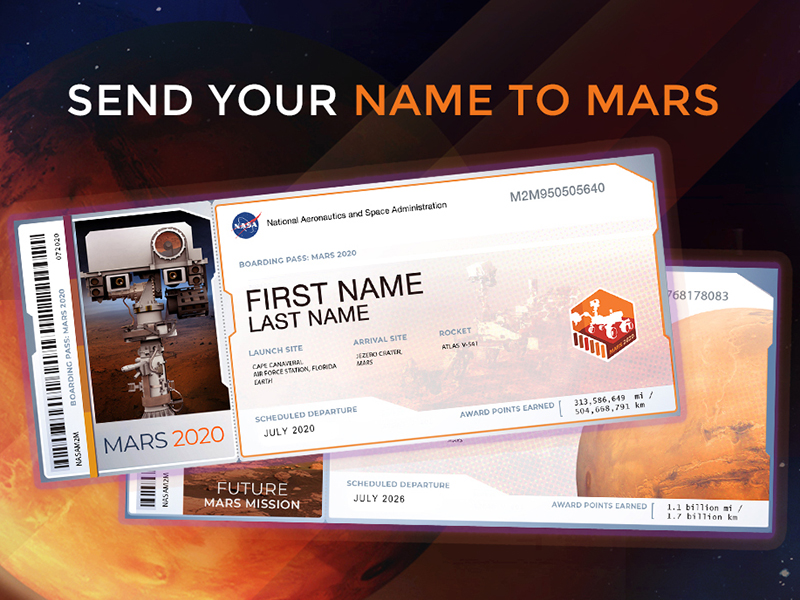 In 2019, NASA launched a huge brand awareness campaign and invited people to send their names to Mars. Anyone could register on the website and get their "boarding pass". 
The campaign quickly went viral on social media and millions of people from all over the world flocked to the website to submit the form. Some would abide by the rules, and some wanted to commemorate their relationships and would add two names at once. 
Overall, exactly 10,932,295 names got etched onto a microchip that was placed aboard the Mars 2020 rover. 
What's particularly cool about this guerrilla campaign is that the hype around the idea didn't die when the rover took off. Every now and again, social media platforms (especially Twitter) see an increase in campaign mentions as people randomly remember this initiative.
Key takeaway: Give your audience a chance to be a part of your campaign. While you probably can't send their name to a different planet like NASA did, you can still write it down in a notebook, place it on a website, or elsewhere. 
And if you want to incorporate tickets into your guerrilla campaign, make sure to check out our collection of free ticket design templates!



Sky: The Rising haunted lake campaign
To promote its new supernatural crime thriller, The Rising, Sky conjured up a ghost on the banks of Derwentwater in the Lake District. 
Programmed to appear in the early hours of the morning, when people walk to work or go on their morning runs, the life-sized figure would rise from the water and mouth "come to me".
We wanted to do something to mark the launch of this brand new series, and so we looked at how we could create something that stayed true to the show's premise. Given that the series takes a fresh, modern look at how the afterlife could interact with the real world, this ghostly figure felt very in keeping with the series' premise.

Serena Thompson, executive producer at Sky Studios
The guerrilla campaign was a success as lots of bypassers stopped to take a picture of the "ghost" and share it. 
Key takeaway: Make sure your guerrilla marketing is always on-brand and connected to you. 
Corona: Made from the natural world
If guerrilla marketing is meant to stun the audience, this Corona activation in Brighton, UK did a great job.
To remind their target audience that Corona beer is made entirely from natural ingredients, Corona decided to create a 100% natural ad.
From the first sight, the billboard looks like a simple Corona logo placed on a yellow background. However, as the sun begins to set and the bushes start to throw a shadow, the phrase "Made from the Natural World" appears.
The fleeting appearance of the message is designed to dramatise the naturally occurring magic moments orchestrated by the natural world, encouraging those around it to take a moment to disconnect from their fast-paced lives for a second.
Key takeaway: Give experiences that are only available for a limited time a try. That way, they'll feel more exclusive and, therefore, generate more interest among the target audience. Also, make sure the setting of your campaign and the props you use work towards conveying your campaign message. 
King Kong: Beach footsteps
It seems like movie companies have a soft spot for guerrilla marketing. The next example of a stellar guerrilla campaign is the massive footsteps that appeared at Dockweiler Beach, a popular destination in LA.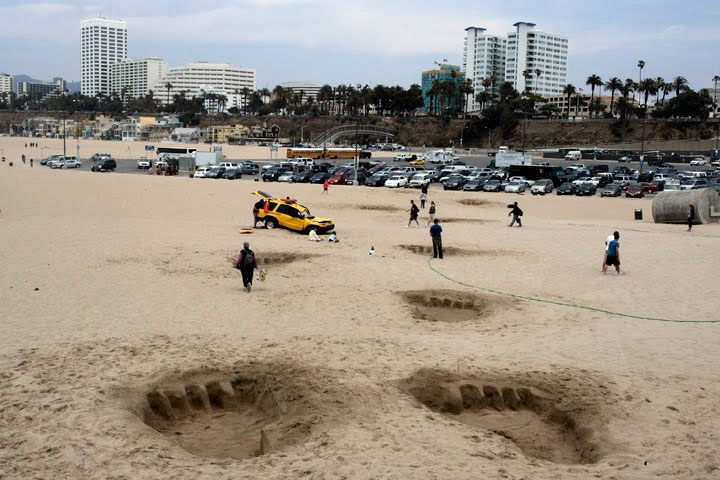 Using sculpted sand, contractors working for the agency designed and built the colossal footprints, which measured 25 feet long by 12 feet across.
The publicity stunt was clever not only in its intended concept, but also in its application. There is no "promotional activity" allowed on Dockweiler Beach, but the Kong: Skull Island footprints were so unique that they didn't fall under such a category.
Key takeaway: Go big or go home. Literally. 
Or actually… It's fine if you come up with a subtle guerrilla marketing idea. As long as it's clever, it'll do — take after Axe! 
AXE: Exit symbol with a twist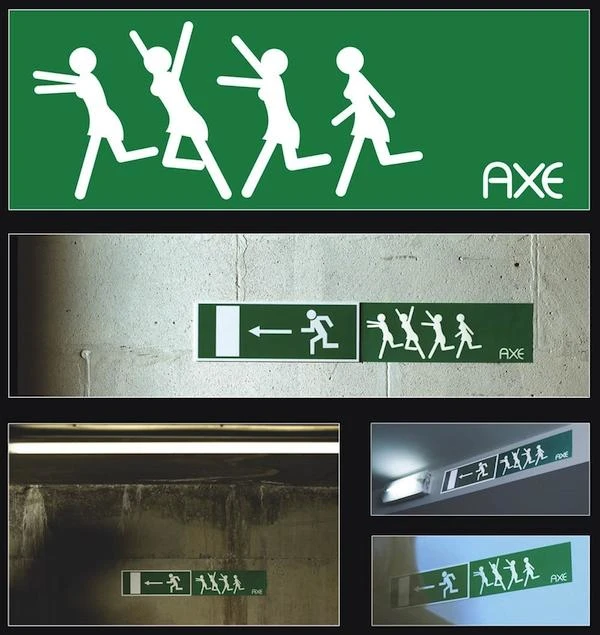 In 2006, Axe Body Spray customized the "exit man" stickers around New York City by adding symbols of women chasing the man in question, the Axe logo, and the tagline "The smarter way out."
The message of the campaign was bold and clear: use Axe and have a crowd of women run after you because of how good you smell. 
Would this work in 2023? Probably not — the campaign is a tad too sexist for the modern consumer. But back in the day, it was a huge success. So — just like we said — be timely with your guerrilla marketing efforts. 
Key takeaway: Know exactly what your audience wants.
Volkswagen: Speed up your life
In 2010, Volkswagen launched an experiential marketing campaign titled "Speed up your life – Take the slide!"
To bring awareness to their brand, celebrate their brand values, and promote their vehicles, Volkswagen mounted a large, playground-style slide in the Alexanderplatz train station in Berlin. 
Instead of taking the stairs or escalator down to the train, commuters could take what Volkswagen labeled as, 'the fast lane' by hopping on the slide and zooming down to the train level.
After the campaign was over, Volkswagen made a YouTube video showing commuters of all ages enjoying the slide. The video helped the campaign go viral and garner millions of views online. 
Key takeaway: Create a fun, memorable, and engaging experience — both customers and media love it! Then, show off the joy you've brought to the audience online to double your chances of going viral.
Paramount: Creepy smiles to promote Smile (2022)
Your guerrilla marketing should always evoke emotions. But nobody said that you could only leverage positive emotions. If negative emotions are more your cup of tea and you manage to startle your audience, frighten them, or make them uncomfortable enough they share it with their friends, that'll work, too. 
Paramount's Smile guerrilla-style promo is a living proof of that. 
A few days prior to the movie release, Paramount hired "smilers" to show up at random events, like the Today Show and a Yankees v. Red Sox game, and deliver their most unsettling smile.
People who noticed the haunting smirks were quick to capture them and publish online, allowing the campaign to quickly reach virality on the internet. 
Key takeaway: Always aim to evoke emotions with your guerrilla marketing activities — no matter positive or negative.
Chipotle: #ChipotleLidFlip
Another example of highly successful social media guerrilla marketing is Chipotle's Lid Flip challenge on TikTok. 
Based on a real Chipotle employee who had a gift for packing Chipotle orders, the challenge called for all TikTok users to repeat the stunt (flip the lid) and share it on social media. The goal behind the campaign was to spread awareness of free delivery for digital orders for Cinco de Mayo
Then, the brand partnered with a YouTube star and a Chipotle superfan, David Dobrik, to spread the word. And it worked! In just the first 6 days of the Lid Flip Challenge, over 110 thousand videos were posted under the #ChipotleLidFlip hashtag. It created a record-breaking digital guerrilla sales day driving app downloads and delivery among the key Gen Z audience.
Key takeaway: Partner with influencers to reach an even wider audience. 
Judging from the aforementioned guerrilla marketing campaign examples, you might think that guerrilla marketing tactics only work for large corporations that can invest a small fortune into wowing their target audience. 
But this isn't true. Guerrilla tactics were initially used by small businesses that couldn't compete with large enterprises via conventional advertising and resorted to more unusual forms of marketing. 
Therefore, there are plenty of small business Guerilla Marketing examples. Let's take a closer look at a few of them…
A dental clinic: A Guerrilla poster ad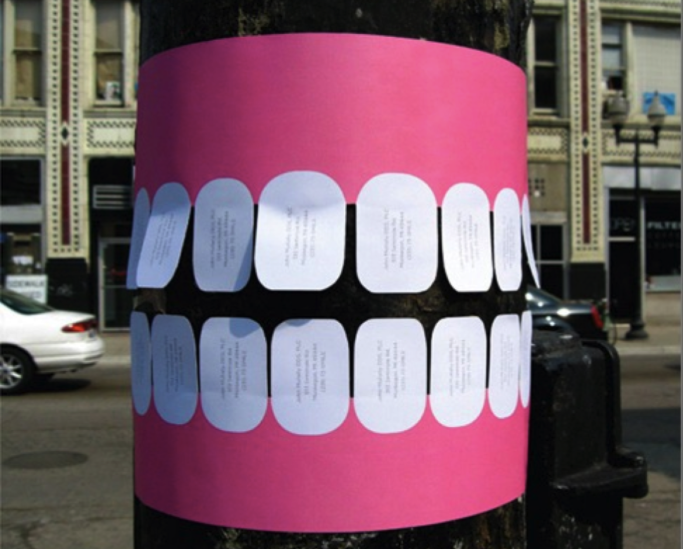 It's simple. It's creative. It's effective.
This dental clinic created a series of prints that resembled human smiles and placed contact info on the "teeth". 
Key takeaway: Guerrilla marketing can be both cheap and effective — all you need is a notable creative. 
Felix Homes: A toilet paper pyramid
To announce their opening, a Nashville-based company, Felix Homes, decided to come up with an unconventional giveaway:
As a new company launching in Nashville, we knew we had to do something unique to stand out and get people talking about us. We decided to custom order over 10,000 rolls of toilet paper to hand out in the middle of downtown Nashville. The rolls included our logo, slogan, website, and phone number.

Tyler Forte, Co-Founder & CEO of Felix Homes
The campaign was a success — Felix Homes received lots of press coverage and increased its brand awareness as people were taking pictures with the toilet paper tower. 
While we couldn't track if the guerilla marketing stunt led to any listings, it absolutely helped us make a splash in the market and get some free local press!

Tyler Forte, Co-Founder & CEO of Felix Homes
Key takeaway: A freebie is always nice, even if it's a roll of toilet paper. Especially if it's a roll of toilet paper!
How to make sure your guerrilla marketing campaign helps you stand out from the competition
As we've already mentioned, guerrilla style marketing is only a part of the formula. 
While a well-executed guerrilla ad is enough to put your brand on your target audience's radar, more is needed to build a memorable brand that stands out in an overcrowded market. 
No matter how one-of-a-kind, never-seen-before your guerilla marketing ideas are, if the rest of your branding strategy isn't aligned, you'll have a hard time creating a brand that stays front and center. 
Let's talk about other must-have strategic and tactical decisions you need to make to complement and amplify your guerrilla marketing strategy:
Build a strong online presence
Use your website to give customers an experience
Promote good customer reviews
Laser in on your target market
Make a strong visual impression
Think outside of the box
Position yourself as an expert
Build a community of fans
Be active in your local community
Stick to the SUCCESS framework when designing marketing campaigns
To learn more about the SUCCESS framework and the rest of the tactics, download our e-book on how to stand out from the crowd. It's filled with practical tips, real-life examples, and ready-to-use frameworks.