Get a free consultation with Neil Patel and 1 year of VistaCreate Pro
VistaCreate is determined to be the best design and marketing partner to small and medium businesses from all around the world. Since day on...
VistaCreate is determined to be the best design and marketing partner to small and medium businesses from all around the world. 
Since day one, we've been working on making high-quality design and marketing easy and accessible to businesses, regardless of their size and budget. 
But today, with the launch of a new contest, we're raising the stakes. 
We're thrilled to announce that we've partnered with Neil Patel and his digital marketing agency, NP Digital, to host a contest that can give your business a kickstart and set it light years apart from the competition. 
Who is Neil Patel?
Neil Patel is one of the world's leading digital marketers who helps companies grow their revenue.
According to Forbes, he's one of the top 10 marketing professionals in the world, who has also been recognized as a top 100 entrepreneur under the age of 30 by President Obama.
His areas of expertise include SEO, Content Marketing, Paid Search Marketing, Social Media, Analytics, and Programmatic Advertising. 
Apart from being a serial entrepreneur and a highly skilled digital marketing specialist, Neil Patel is also the author behind one of the best resources on digital marketing, Neilpatel.com, which receives over 6 million visitors per month in traffic. And he's a New York Times best-selling author, too!
Because of all these achievements, Neil's calendar is almost always booked, and his services sell for an average of $25K per consultation. 
So, winning a free consultation with him is definitely an opportunity for your business that you don't want to miss!
What is VistaCreate Pro? 
VistaCreate is an online graphic editing tool that allows you to create professional designs for all kinds of purposes — social media marketing, advertising, blogging, event marketing, print marketing, and more.
VistaCreate offers an extensive library of ready-made design templates, creative assets, and graphic editing functionality that you can use to customize templates or create designs from scratch (background remover, Brand Kits, Styles, resize, and more!). 
While a lot of VistaCreate's basic functionality is free, VistaCreate Pro users get access to the whole Starter Plan, plus…
Background removal feature
70M+ photos, videos, and vectors
Team account
Unlimited Brand Kits
Unlimited storage
Resize feature
Sticker Maker
Version history
➡️ Learn more about everything you can do with a free VistaCreate account and the extra features VistaCreate Pro users enjoy in our articles.
How do you enter the contest? 
It takes little to no time or effort for you to enter the contest and get a chance to change your business forever. 
All you need to do is complete three simple steps:
Step 1. Head over to the contest page on NP Digital's website and fill out the application form between now and November 16, 2022.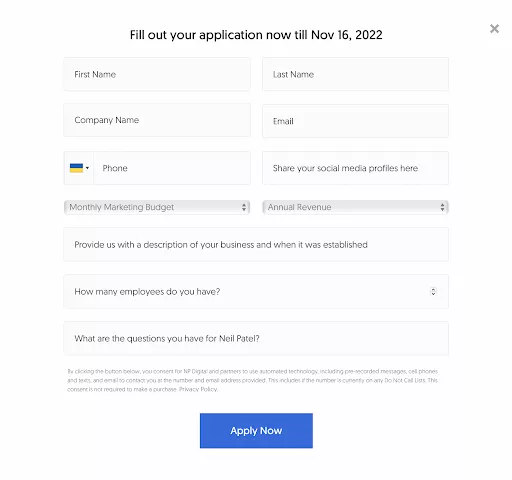 Step 2. Follow @VistaCreate and @npdigital_us on Instagram. 
Step 3. Share the contest page on your Instagram or Facebook with the #BoostYourBusiness hashtag, inviting other entrepreneurs to participate. 
Et voila! You're in! 
All the submitted forms will be evaluated by Neil Patel himself and his colleagues from the NP Digital agency between November 16-29. On November 30, 2022, we'll announce the winners on our blog and social media. 
What are the prizes?
Overall, there will be 6 contest winners, each of which will win one of the following prizes:
One 1st place winner: 1-hour virtual consultation from Neil Patel + annual VistaCreate Pro plan. 
Two 2nd place winners: 30-minute virtual consultation from Neil Patel + annual VistaCreate Pro plan. 
Three 3rd place winners: A virtual consultation with a strategist from Neil's digital marketing agency, NP Digital, + 50% off the annual VistaCreate Pro plan. 
Within 2 months after the results are announced, winners will be contacted directly to find a time that fits their schedule. 
By the way, if you're already a VistaCreate Pro user and happen to win the contest, don't worry — your prize won't go to waste. 
Your Pro subscription will be extended —  you'll get an additional year for free, or an additional 6 months if you come in 2nd or 3rd place.
---
Make sure you don't rob yourself of a chance to boost your business — apply now to join this unique opportunity to truly boost your business.