How to excel your email marketing as a small business
To be reading this article, there's a great chance you are somehow involved in a small or medium-sized business - and you're most probably wondering:...
To be reading this article, there's a great chance you are somehow involved in a small or medium-sized business – and you're most probably wondering: "Are we still interested in email marketing?". The answer is straightforward and affirmative. The reason behind it is equally simple; it's working: 
(Source)
But let us take it from the beginning. We call email marketing the use of emails in order to conduct marketing activities, especially attracting and converting new customers as well as retaining existing ones. 
Email marketing has proven to work wonders for any brand's return on investment (ROI) and fortunately, this doesn't include the big players only. Small business owners can also build a successful email marketing strategy and enjoy its lucrative results.And while it's undoubtful that small businesses face the challenge of lack of resources and time shortage, leveraging affordable email marketing solutions will take some of the pressure off your efforts to acquire and nurture prospects.
Why is email marketing essential for SMBs?
There are innumerable reasons why email marketing serves your business goals: it enables you to expand your customer base, enhance sales and conversions, understand your target audience, increase brand awareness and build customer loyalty.
This is a twofold process that bears gifts for subscribers too, as they are informed about new products, upcoming events, limited offers or discounts, or tips regarding the industry your brand represents. 
In addition to these benefits, small businesses have one more advantage over larger companies: they can use email marketing to promote their brand as an expert within a region, showcasing their authority in their niche at a local level. 
By their very nature, small businesses have a more flexible identity and consistency in their business proposition. This translates into building trust and lasting relationships with local consumers easily and rapidly. All you have to do is tell them your story.
A step-by-step guide to a successful email marketing strategy
Before digging into the email marketing must-haves for small businesses, we must define the steps to create an engaging email marketing strategy that hits the target. 
Step 1: Determine your goals                                                                                                                                                         
No marketing effort will ever make sense if you don't set a specific goal first. Discover your email marketing objectives and plan beforehand to set a clear path towards their achievement. 
Is it generating sales? Do you aim for bringing in new customers or understanding your current audience? Is building brand awareness your top priority?
Whatever the answer, setting your targets and aligning them with your prospects' desires is key to your email marketing success.
Step 2: Build your email list  
To align your goals with your target audience, you first need to build an active email list, meaning a list of contacts who have given their consent to receive email marketing content from your business. The keyword here being 'consent'. Never fall into the trap of buying email lists online since it can seriously damage your deliverability.
You can collect these email addresses through various methods:
Signup forms or pop-ups 
Social media competitions or special events
Call-to-actions 
Setting a signup process will get you so far; making sure that it's simple and contains information on your brand's value is what will get your leads to subscribe to your email marketing list.                                                                                                                                      
Step 3: Select your email types  
So, you have your email list ready and awaiting; now it's time to decide on the type of emails you're going to send. These may vary depending on the type of business you are running, its size and needs, your audience, and your resources. 
If you want to start off the basics, opt for a monthly informative newsletter to maintain consistent contact with your recipients – email frequency is another factor to consider beforehand, always based on your goals. Given that you won't settle with the basics, we're here to list some of the most effective email sequences to meet your brand's needs:
Promotional emails for discounts, offers, and benefits
Welcome emails for new subscribers
Transactional emails after certain user actions
Loyalty emails for most dedicated customers
Seasonal emails for holidays or special events
(Source)
Step 4: Craft the perfect email
We hope this doesn't come as a shock, but readers usually go through your emails without reading the whole message. So, selecting an eye-catching design with engaging subject lines and consistent email content, clear and visible CTAs, and appealing visuals is crucial in getting your recipients to open your email.  
Your message must be clear as to its purpose and the action you want your readers to take. And let's not forget: it has to be amazing. Also, you need to make sure that your email design and content reflect your brand and resonate with your audience. And why not outperform your competitors by leveraging personalization as well? But we'll get there in a bit.
Remember, you should brand any link in your emails. A branded link is a short URL that incorporates your domain name. This will highly increase the deliverability and boost the click-trough rate. The algorithm of anti-spam engines checks the domain name reputation and people are more likely to click on domain names they know and they trust.
The quickest and most reliable way to create a branded link is to use a custom URL shortener.
Step 5: Analyze the performance 
Let's take one thing for granted as regards your email marketing efforts: you will make mistakes. No need to get disappointed, though; monitoring your email marketing metrics can work wonders for your campaigns. 
Once you press that send button, you can start tracking your results and analyzing your campaign performance. Crucial metrics such as open rates, click-through rates, recipient engagement, bounce and unsubscribe rates have all the answers. 
Study the most important metrics and act upon them depending on your needs. If you observe that your emails perform poorly and don't meet your email marketing KPIs, go over the entire process and tweak your email marketing strategy to generate the desired results. You can check below some of the most useful metrics to monitor your email campaign performance: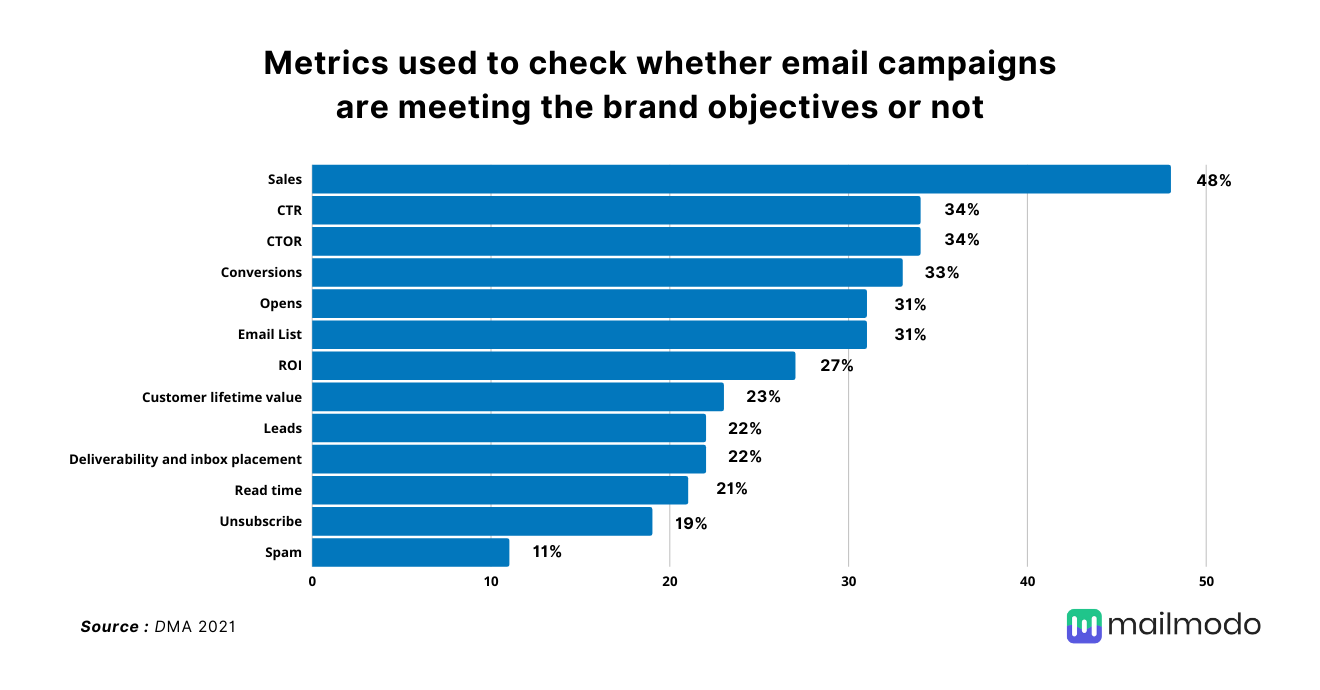 (Source)
Email marketing offers you a unique opportunity to learn from your mistakes – and your customers' responses to your messaging. Analyzing relevant data shows you what's working and what's not; that way you avoid wasting valuable time on tactics that don't pay off.
Tricks for mastering your SMB email marketing
Email marketing, like any other marketing channel, goes through constant change. As a consequence, keeping track of the latest small business email marketing tactics and successfully implementing them is an absolute necessity. Without further ado, let's dive into the most up-to-date email marketing tips together. 
Choose your email marketing software
As a small business owner, you're under the double mission of getting the best out of your email campaigns and saving time and effort while getting there. To achieve it, you must do your research before choosing the email marketing software that will help you reach your objectives.         

Each email marketing platform provides you with certain features and possibilities. All you must do is ask yourself what your priorities are and fulfill them through the ideal email marketing tool. Let's look at the right questions to ask in order to get you started:
Is it a cost-effective tool that saves you money?
Does it provide a mobile-optimization process for your emails?
Can you segment your email lists and personalize your emails?
Does it include a drag and drop email builder?
Can you send automated emails?
How are the customer support reviews?
Know your audience
With the proper email marketing tool at your service, now would be the time to target your emails at the consumers most likely to purchase your products or services and engage with your brand. To do so, you first need to create your ideal buyer persona and focus on the characteristics of the people you want to reach out to.

The way to define the target audience for each newsletter passes through list segmentation. Divide your audience into segments according to different segmentation criteria to create various buyers' profiles. These criteria may vary from demographic data like age, gender, or location to behavioral and purchase ones. To gather all necessary data, use an omnichannel approach to reach your target audience right where they prefer to hang out.
Remember not to go after anyone on your email list; focusing on the ideal segment ensures that your email marketing efforts will target subscribers most likely to convert to actual customers. Congratulations! You just saved resources and time to invest in other marketing activities.
Personalization 
Segmentation goes hand in hand with personalization. Sending generic and bulk emails is way outdated, to say the least. 
On the other hand, messages that are customized and relevant to each audience segment's needs make recipients feel unique – and show them you've done your homework. Recipients' engagement rate is directly proportional to personalized content, especially when it comes to small businesses. So, make it personal — and thank us later.
(Source)
You can analyze the data gathered through segmentation to provide tailored content and grab your recipients' attention in a stuffed inbox. For instance, you may include a customized piece of content based on your subscribers' location data and the weather forecast. Is it going to rain? Tell them to get an umbrella. Is it going to be sunny? Remind them of their sunglasses. 
Another example would be to send them information about a new product launch or a special offer by looking through their purchase history. 
The list is long. Find the elements most important to your business goals and employ them to research your ideal target audience and get the most out of your personalized email marketing: higher engagement rates, building customer loyalty, more conversions, and sales generation.
Catchy subject lines
Speaking of elements that are directly proportional to each other, let us introduce subject lines and open rates. That's right – the action of a recipient opening your email is seriously affected by your subject line copy. It's all about the first impression.
Your carefully crafted email deserves a subject line that will be compelling and clear as to how opening your email benefits your reader. Go for concise and attractive subject lines that spark urgency and clarity, while also intriguing curiosity. Make it direct and short, but long enough to include all the information showing your email value. 
For example, if you have a special offer just for them or plan to organize a giveaway that will only last a few days, this should be crystal clear in your subject line.
If possible, add personalized elements that match your recipients' demands and communicate a compelling message. Also, don't be afraid to show emotion. All these tactics not only urge your audience to open your emails, but also motivate them to click through your brand's content.
Mobile-optimized emails
We're sure the last thing you want is people turning away from your content because they face difficulties reading it on their devices. Keep in mind that almost half of your audience will be reading your email on their mobile. So, not optimizing your emails for mobile devices is just poor marketing on your end and leads to your readers giving up on your emails. 
Mobile optimization boosts your email visibility reach and engagement rates, while also improving the overall user experience. Are you thinking that it's too much to take on as a small business? 
No need to trouble yourself; rather than spending valuable time on building the ideal mobile-friendly design from scratch, just go ahead and select between the most amazing free email marketing templates. Responsive email templates are customized to be displayed perfectly on whichever device they are viewed on.
When your email design 'responds' to the type of screen your recipients are using, you make their life easier. Don't forget that they not only use their mobiles to open and click through your emails but also to perform purchases. You don't want these potential conversions to go down the drain, do you? 
The golden rule of the unsubscribe link
Having recipients unsubscribing from your emails is really frustrating, we get that. But does the alternative of your emails ending up in the spam folder sound better? Because that's exactly what's going to happen if you don't provide your subscribers with an unsubscribe option. 
The biggest mistake you can make is not letting go of customers who want out. We understand the fear of losing leads, but hiding your unsubscribe link will only cause irritation. Trust us when we say that they're going to leave either way. 
Placing an unsubscribe link or button somewhere within your email copy actually protects your brand's deliverability. Make it clear and visible so that people detect and click on it easily in case they wish to stop receiving your business news.
When you give the people less interested in engaging with your email content the option to unsubscribe, you have an extra benefit of filtering out your email lists and retaining the recipients that are truly interested in your email marketing material. Those will be the ones spreading your brand news, after all. 
Make your text readable and leverage image alt tags
Hoping that your subscribers will read every email you send out is an unrealistic goal, as the majority tends to scroll through your content. In order to catch their eye instantly, make sure your text is easy to read and leverage appealing images. 
Your emails must be structured in a way that your readers can effortlessly skim through your email design and catch your message's key points. Adopt good formatting practices such as:
Use small paragraphs, bullet points, and clear headings to unclutter your email
Highlight important text by bolding or italicizing it 
Simplify your content
Add alt text for your images
As regards the last part, alt text or alternative text is a short description of an image in your email, displayed when a user is unable to access images. This might occur either because some email clients don't show images by default or your recipients have deactivated images in their email clients. 
Alt text offers readers some context over the image value for your overall message. You may think of it as something insignificant – we reassure you that it makes a difference, though. 
Especially since it enhances email accessibility, giving your visually impaired subscribers and people using screen readers a chance to know the information your image provides and read your entire message. Just think about how this little detail gets you steps ahead of your competitors by applying equity and inclusion for all your recipients.  
Be brief, be honest, be human
Let's face it, your subscribers are busy, more or less. Creating brief email content is vital for getting your message across. Long emails usually result in lower click-through rates, so keep your texts short to win over as many readers as you can. 
Determine which are your key points and highlight them through bullet points, bold text, and keywords to catch your customers' attention at once. It's the perfect way to strengthen customer loyalty and entice new prospects at the same time.
Leading risks for small enterprise companies worldwide:
When using email marketing as s small business, honesty is your secret weapon. Inform your recipients of the kind of information they should expect from you and how often. Then, do just that and don't send them what they didn't sign up for. 
The message you dispatch has to be precise and transparent. By all means, sell your content but ensure you don't sell false promises too. It's one of the most harmful tactics a small business could employ, given that you'll lose prospects the minute they see right through it. 
Talking about honesty, there's another powerful tool in your possession that big corporations rarely benefit from and that's the human factor. There's no replacement for adding a human voice to your emails and building an honest relationship with your audience. 
Instead of just focusing on heavy sales content, try to figure out who your recipients are, identify their needs, and how your emails could hit a soft spot. Here's where customer database software helps you acquire and handle all your recipients' data. Through the information collected, you are able to show them that your products or services genuinely fulfill their needs, building a trusting, long-term relationship.

Encourage signups for your emails at every chance
Most businesses still use links to urge their website visitors to subscribe to their newsletters. Our advice is to opt for a signup form instead; it's practical and far more effective. What's more, replacing a link with a signup form on your website can increase your subscription rates by 20-50%. 
It goes without saying that you should also add a similar form inside your newsletters. Make sure that it's noticeably placed and straightforward so that your readers know what action to perform. Also, don't forget to present to them the reasons why they should signup for your newsletters – and deliver on your promise.
However, don't limit yourself to that. Give your recipients as many chances as you can to signup for your email campaigns by including subscription forms on your homepage and contact page, your blog, your social media, or anywhere you deem appropriate. Just bear in mind that your signup process must always be as accessible and simple as it gets.

Wrapping up
There's one thing you have to be certain of and that's that email marketing isn't going anywhere any time soon. As it comes to small businesses, it's one of the most direct and authentic communication channels since it allows you to be transparent about your products and services, as well as your overall business proposition. 
Targeted email marketing urges your audience to trust you. The more your subscribers believe they are exchanging their time and money for valuable content that actually solves a problem, the more likely they will interact with your emails. Not only that but they will end up being your most loyal advertisers, sharing your information and building brand recognition for your small business in the most substantial way.
---
About the author
Maria Fintanidou works as a Copywriter for email marketing automation software Moosend, having created the Help Articles (FAQs) and overseen the platform's translations in Greek and Spanish. She loves exploring new cultures and ways of thinking through traveling, reading, and language learning.