[Free report] These 5 forward-thinking marketing trends will help guide you through 2023
How do you get people's attention? When we were babies, it was easy. You just started crying and waving your little baby limbs everywhere, and peo...
How do you get people's attention?
When we were babies, it was easy. You just started crying and waving your little baby limbs everywhere, and people would come rushing over with a comforting "coo" and your favorite pacifier. 
Toddlers have it just as easy. High-pitched screams and full-blown tantrums will have people turning their heads as you make a scene and gain as much attention as humanly possible with your outlandish outbursts. 
Even teenagers have their own way of being noticed – which is mainly skulking around, playing loud music, and sneering at people. But it still works! 
But unfortunately, (or fortunately, depending on how you look at it) businesses in a crowded market won't get too far by crying, throwing a strop, or being mean to the people they like. 
In today's world of oversaturation, businesses have to be far savvier to grab the attention of their audiences. They have to outsmart their competition by thinking outside of the box and coming up with engaging, immersive, and eye-catching marketing campaigns that can quickly and effectively snatch their customers' attention.
Simple enough, right?
But how exactly are businesses doing this? 
VistaCreate has teamed up with TrendHunter to try and find the answer to this question. 
Our dynamic duo of creativity mixed with facts aims to help you (you sensational small business owner, you) stay on top of the current trends and be prepared for the future – whatever weird and wonderful things it may bring. 
So strap in and buckle up as we take a deep dive into the latest forward-thinking marketing trends for 2023.
The 5 forward-thinking 2023 marketing trends
1. Augmented reality
Check your pockets. 
We're going to go out on a limb here and say that there's a smartphone in there. Hey, you might not have pockets, but we're willing to go out on another limb here and say that there's a smartphone somewhere in a five-meter radius around you.
And with almost everyone having access to a top-of-the-line piece of technology in their pocket (or within reach), companies have been able to take advantage of that and go out on a limb of their own with their marketing efforts. 
One way they are doing this is by becoming more creative with packaging that incorporates AR-based games for customers to interact with and enjoy. Brands that are able to merge interactive digital and physical experiences are becoming increasingly popular as more consumers expect brands to add some creative flair to their approach. 
Let's take a look at a couple of examples…
Pac-Man pizza
Nostalgia has been trending in the past few years. 
Whether it's Hollywood rereleasing and rebooting old classics, or the fashion industry bringing back bell-bottom jeans, it's clear to see that people are enjoying thinking about "the good ol' days." 
Some of you may remember heading down to the arcade, ordering a nice hot slice of pizza, and playing some games while you waited for it to be ready. Restaurant chain Pizza Hut is tapping into that "newstalgia" by using an augmented reality pizza box that allows people to use their smart devices to play a custom game of the 1980s classic "Pac-Man", and promoting it on social media with the hashtag #PizzaHutARcade.
Yes, that's right, you can play Pac-Man on your pizza box. Pretty wild, right?
Suppose you could say this idea really gives you food for thought…
Connected Cannabis
With the new laws surrounding the legalization or decriminalization of cannabis across the US, companies have a whole new product they can advertise creatively. 
Colorado-based cannabis brand Wana Brands recently announced a partnership with August Allen, a specialized augmented reality development company. Together, they're launching a new type of packaging for their next edible line.
The packaging is going to offer web-based AR experiences that will allow users to interact with their gummies in a gamified, virtual world. Users will be able to see the floating gummies around them and play a game where they collect the edibles to earn points.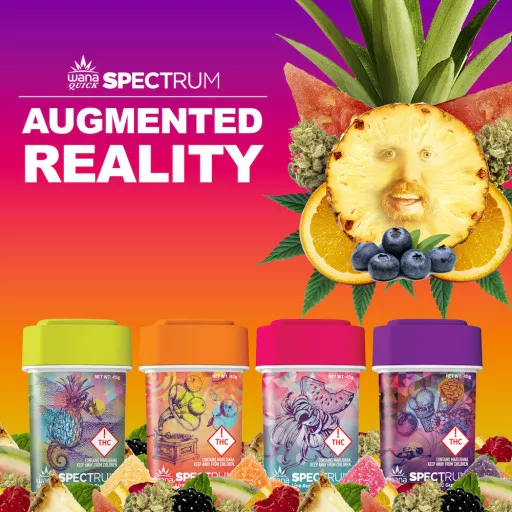 How can I embrace augmented reality?
With the current state of accessible technology, even small businesses can take part in something that would otherwise seem out of reach. 
AR is becoming increasingly popular with consumers who enjoy the sheer novelty of it all. And with seemingly endless possibilities, the potential of AR would appear to be limited only by your imagination.
➡️ Learn more about AR in marketing in our article.
2. Interactive branding
We all know just how important branding is to a company. But how can you use your branding to separate yourself from the competition and draw people in?
Brands across a number of different industries are asking themselves that exact same question. And there are some businesses that believe one way to make the most of your brand is through interactive experiences and product workshops. 
These are events that aim to make new products less daunting and more accessible to consumers as they provide product knowledge and a higher level of transparency through hands-on learning. 
The trend suggests that consumers are looking for brands that offer a more detailed description of their products, so that they can be sure that they understand every aspect of the item before committing to the purchase. 
In response to this demand for information, companies are hosting these interactive branding events to increase awareness, accessibility, and product and brand knowledge.
Really milking it
Milk Future is a virtual reality pop-up museum that combines the trend of healthy living and veganism, and the trend of mixing months of the year with other words – with their coining of the phrase "Februdairy"… OK, not so sure about that one. 
With the rise of VR technology and the creative freedom and expression that brings, virtual reality museums are becoming a big thing. Normally you would associate museums with art, but these VR museums give the user a hyper-focused experience by allowing them to explore a virtual space to learn about plant-based milk. 
The experience includes its own guidebook, exhibits, and even a gift shop. It also gives you access to inspiring cooking workshops that use vegan, dairy-free products to create delicious meals.
The high life of wellness
Our next example of interactive branding dips back into the world of cannabis. 
Toronto-based Superette held a series of "Edibles & Wellness" workshops in early 2022 with the aim of helping new cannabis users to better understand the wonderful world of edibles, oils, topicals, and infused bath bombs. 
Consumers were engaged through a workshop that was split into two parts. One half was focused on edibles, and the other half was focused on wellness. They then received a goody bag filled with materials to enable their edible and wellness journeys.
How can I embrace interactive branding?
As people slowly gravitate toward products that provide them with a rich, engaging experience, how can you integrate a better experience into your offerings?
Interactive branding gives you the opportunity to conceptualize a unique experience, either physical or virtual, that will help to increase awareness of your products and promote education for your brand. 
The sky is the limit when it comes to what workshops you can create to entice customers. And these can be held at a number of different festivals, expos, and other such events where potential consumers gather.
3. Anti-celebration
Do you ever feel like the anti-cupid when February 14th rolls around? And when you do feel like that, don't you just bubble up with rage when you see brands acting all lovey-dovey with the holiday?
Introducing the "anti-celebration." 
In a bid to infuse a bit of humor into their marketing campaigns and not seem out of touch, some brands are switching it up when it comes to their traditional Valentine's Day marketing promotions. 
By going against the grain of the classic sentimental aspects of the holiday, they are providing their customers with more relaxed, tongue-in-cheek promotions. It's important to note that these types of marketing approaches are mainly aimed at customers who have been proven to have less patience and optimism when it comes to brand marketing attempts, as well as consumers who aren't in the mood for love.
Prickly partners
Hard seltzer brand Topo Chico really grabbed hold of the anti-Valentine's marketing ploy with their offer to send anyone's ex-partner a cactus for a Valentine's Day-inspired price of $2.14 (plus shipping).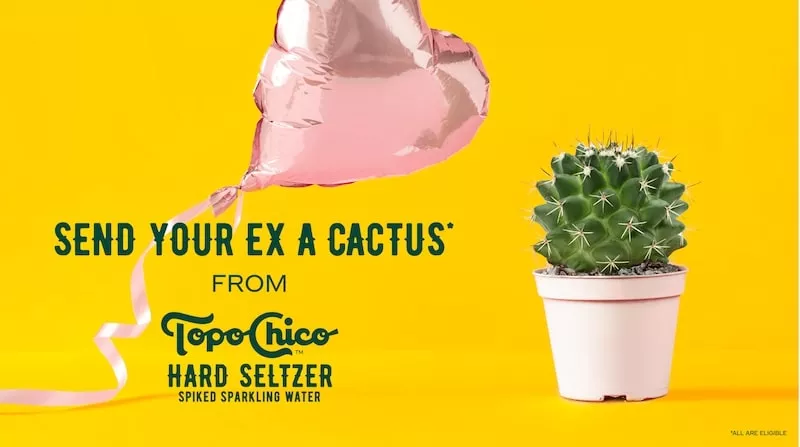 Not only was this a quite frankly hilarious marketing idea, but anyone who took advantage of this offer was given a 50% off discount voucher for a 12-pack of hard seltzer. Meaning they were both bringing people's attention to the offer and also turning those new leads into sales of their product.
An all-around marketing success.  
Wallow in whisky
While the previous idea is for the scorned lovers amongst us, this next idea is more aimed toward people who just don't like Valentine's Day.
Whenever you think of Valentine's Day presents, the immediate thought that goes through your mind is probably flowers and chocolates – with maybe a stuffed teddy bear or a heart-shaped cookie alongside them. 
Liquor brand Fireball kicked this trend when they created an anti-Valentine's "cupid is stupid" heart-shaped box filled with 10 mini Fireball Cinnamon Whisky bottles inside, which went along with the statement: "chocolate is for amateurs."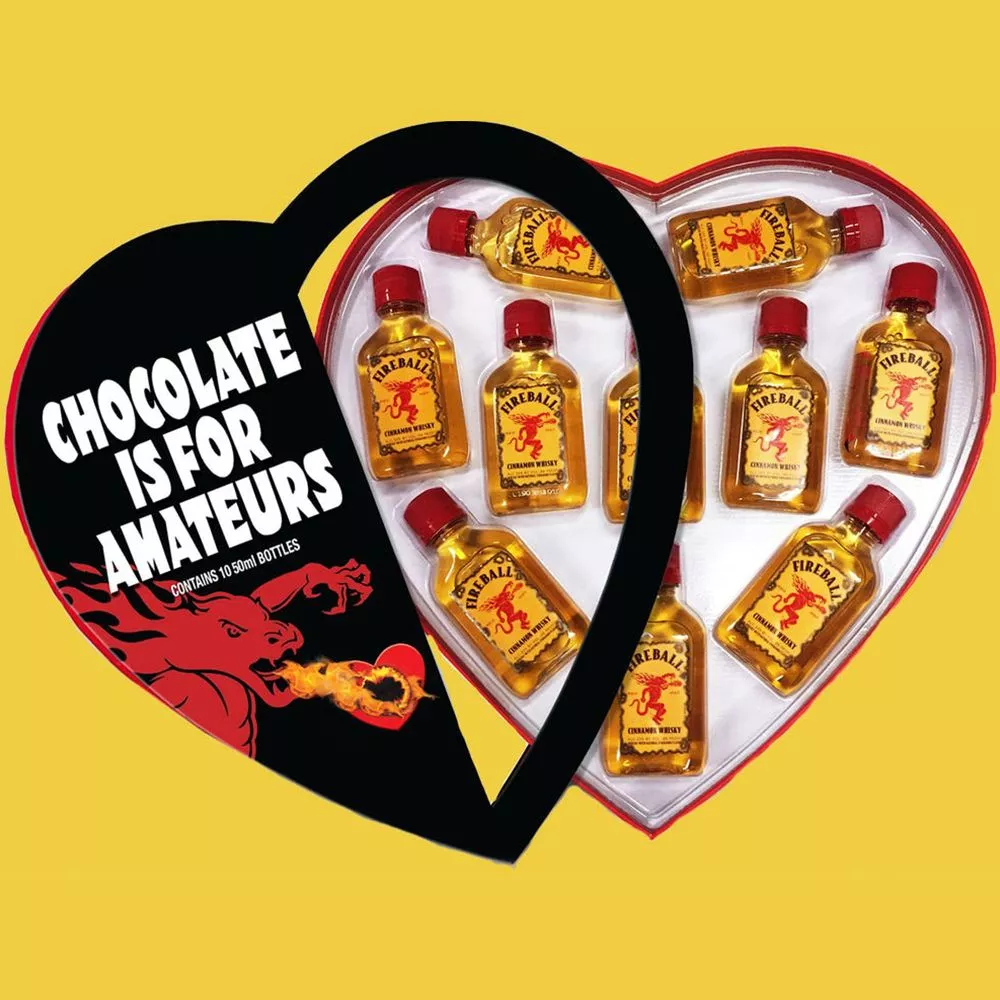 It's the perfect mix of anti-celebration and offering something that people still want to buy. 
How can I embrace anti-celebration?
Anti-celebration is a great way to acknowledge the apathy that so many people have toward yearly celebrations and represents an opportunity for you to challenge your consumers' expectations of you and your brand. 
When done right, you can find that lovely balance between attracting consumers who don't normally buy into the holiday, and not being offensive enough to dissuade the people who normally celebrate that particular holiday. 
And don't feel like you have to stick with the anti-Valentine's theme. Just think of all the Scrooge, Grinch, bah-humbug things you can do with Christmas. Or the many wicked anti-wiccan ways you can sneak "Halloween is dumb" into your marketing. 
The possibilities are truly endless.
4. NFT marketing
Cryptocurrencies were the first big internet-based, digital money trend when Bitcoin exploded. Then in 2017, the non-fungible token (NFT) development trend slowly started to creep in with the launch of CryptoKitties. 
But things didn't really take off until January 2021 when we saw a huge spike that led to NFTs exploding into the mainstream with the "Bored Ape" collections. For one reason or another, these sleepy primates were fully embraced in the virtual world and were being sold for huge amounts of money. 
Since early 2021, consumers have been swept up in the world of technology and the virtual world. And it can be argued that NFT collections have been coupled with a spike of entrepreneurial spirit and a sense of diving into the unknown to explore these new options and opportunities for financial gain. 
Mental health solutions
Enterprise NFT solutions provider "Sweet and Happy Jack" launched a series of NFTs that were centered around spreading awareness of mental health issues.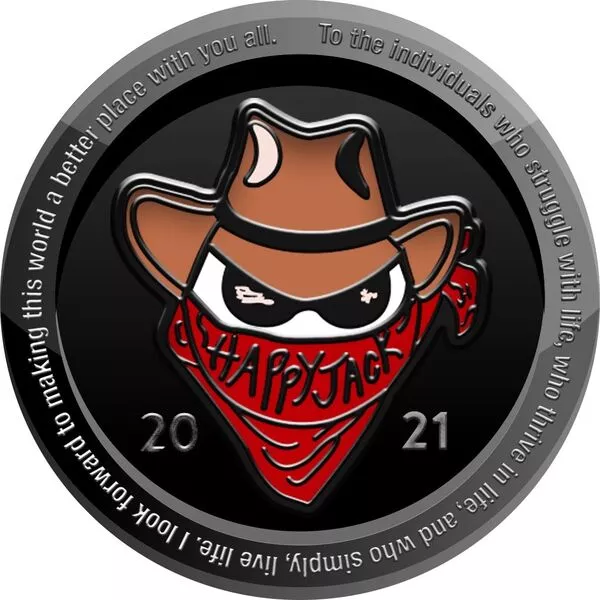 From this collection of unique and singular NFTs, they introduced the first known retail shop that had an integrated NFT experience whereby guests to the shop received an NFT from the collection when they scanned a QR code upon entering the store. 
Meme money
It's difficult to remember a time when memes weren't on trend. And one of the OG memes that we're sure most of you will have seen is Doge. 
In fact, Doge has a history in the crypto world, having inspired his own cryptocurrency in Dogecoin, a coin that Elon Musk famously tried and failed to get "to the moon." 
Well, now Doge is back – and he's on a banknote.
Malaysian artist Red Hong Yi created her own set of NFTs with her meme banknote aptly named "Doge the Moon." These NFTs are a mashup of traditional money which look similar to the Chinese yuan, and internet pop culture. 
The banknote will span different cultures and currencies including the British pound, the US dollar, and the Japanese yen — all with the faithful Doge in the figurehead section. 
How can I embrace NFT marketing?
The merits of creating your own NFTs are slightly difficult to comprehend, as the only value you can place on them is what people are willing to pay for them. But with the current popularity of NFTs, there's certainly little to lose by taking part. 
Many consumers are starting to break into and explore the world of digital currencies, so embracing NFTs for your brand could be a great way to strengthen your marketing efforts. 
Because even if there is no immediate intrinsic value in creating NFTs for your business, they can still be a good way to attract and entice your target audience and get them to engage with your brand.
5. In-game activation
Video games are an incredibly popular form of entertainment across the world. Take the US for example, where 65% of adults played video games on at least one platform in 2021. 
In a bid to reach these audiences, brands have started to branch out into what's known as in-game marketing. This means utilizing curated, pop-up experiences in collaboration with popular video game brands. These games can be used to market everything from fashion goods to ice cream. 
Due to the prevalence of social media, consumers are engaging with brands' online marketing initiatives more frequently. And through video games, brands can use a new avenue to reach consumers at home and draw in younger consumers in general. 
One of the most popular current games to do this with is Nintendo's social simulation game Animal Crossing. Here are a couple of examples of in-game activation at work using Animal Crossing.
Virtually vegan
Multinational clothing company H&M teamed up with Animal Crossing to market its newly launched PETA-approved vegan clothing collection "Co-Exist." This eco-friendly collection was made available to gamers to purchase for their in-game avatars, while H&M also ran their first-ever virtual fashion show. 
Gamers could watch this show by traveling to H&M's "Looop Island" in-game.
Online treats
Austin-based ice cream store Sweet Ritual has two shops. 
A real-life store that offers curbside pickup during select hours and days of the week in Austin, and a digital store that welcomes people to stop by, chill out at, and explore in Animal Crossing. 
Sweet Ritual's co-owner Amelia Raley found comfort in the game during the pandemic when she built an in-game ice cream shop just for the fun of it. But now she uses it to advertise her real-life store.
How can I embrace in-game activation?
For those gamers out there who want to make use of the medium of video games to market their business, it's certainly an interesting avenue that has plenty of potential. 
Social games such as Animal Crossing offer the perfect opportunity to get creative with your marketing efforts, as they offer you a whole world to mold to your liking. 
In-game activation also presents a great opportunity to showcase your brand to a slightly younger audience; the biggest demographic of Animal Crossing players, for example, is teens, and there is also a large proportion of players aged between 20 and 30. 
It's time to get creative
These forward-thinking marketing efforts all have one thing in common: The people who initiated them took a risk. 
And it would be true to say that not every risk pays off, but when you get it right the upsides can be tremendous. 
So when you're looking for new ways to market your small business, remember that you can either be reactive or proactive. You can either wait for other people to take a risk in their marketing and then follow suit if it works, or you can try something new for yourself. 
And who knows, maybe your idea will feature in our forward-thinking marketing report for 2024…
If you want to check out our full report with TrendHunter, make sure to click on the link below.