Building a Brand: How to build a brand from scratch in 2022
The fate of your business is in your hands. Every chess piece you move in terms of your strategy will determine the fate of your brand. Soun...
The fate of your business is in your hands. Every chess piece you move in terms of your strategy will determine the fate of your brand. 
Sounds intimidating? 
Because it is. 
Building a brand is a tall mountain to climb. 
The first thing you need to remember is that…
A brand is a voice and a product is a souvenir.

Lisa Gansky
Even the most cutting-edge, creative, and irreplaceable product is just an object unless you give it a backstory and the power to solve people's problems. And…
If you don't give the market the story to talk about, they'll define your brand's story for you. 

David Brier
Combine these two truths together, and you'll understand the importance of building a brand. But that's a TL;DR of this post. You came for the ultimate guide, and we've put sweat, blood, and tears into making one. 
So, keep reading — in this article, we're going to cover all things related to branding: explain what a brand is, discuss the importance of company branding, talk about how to brand your business, and share some examples of successful branding. 
Make sure you put your newly acquired branding knowledge into practice promptly — get started with designing your brand using VistaCreate.
What is a brand?
In a nutshell, your brand is the audience's perception of your overall business, your products or services, your employees, and the other people representing you in the business world. It also includes everything you do as a business entity. 
To quote Jeff Bezos, the CEO and founder of Amazon…
 Your brand is what other people say about you when you're not in the room.

Jeff Bezos
Some of the key elements of a brand include the following:
Brand compass or Brand DNA. Just like a compass guides a traveler, your brand compass guides your business by being a collection of all the fundamental truths about your company. It clearly reflects the essence of your business by outlining its purpose, key values, and vision. On top of that, it also contains your business mission and strategic goals, helping understand where your brand is headed. 
Brand archetype. A brand archetype is a way of presenting a brand and its attributes through a fictional persona and a collection of their experiences and characteristics; all in order to drive specific associations and make your brand more relatable to consumers. 
Brand personality. A selection of characteristics and behaviors that are unique to your brand and make it recognizable and memorable to your target audiences. 
Competitive advantage or Unique Selling Point (USP). A framework of traits that differentiate you among your competitors; something that you do better than other businesses in your niche or industry. 
Brand promise. Essentially, the pledge you make to your target audience; something of value that you plan on delivering to those who decide to commit to your brand. 
Visual identity. The visual representation of your brand that consists of your logo, brand colors, typography, photography, iconography, and all the other visual elements that make your brand distinctive. 
Verbal identity. Your brand's verbal identity starts with your name and touches upon the messages you translate into the world, the language you use to communicate with your target audience, including your tagline, slogan, etc. 
The combination of the aforementioned brand elements comprises the impression you make on the people that encounter your business. 
It's important to note that public opinion isn't formed exclusively based on the ideas you put out and the actions you take on behalf of your business. It's also impacted by what people from your audience say about your business and how they say it.  
And while there's only so much you can do to change the way people talk about your business, the way your company is perceived can be defined and redefined by your brand strategists and brand marketers. 
This is what brand building is all about.
What is brand building?
Perception is malleable; brand building — and subsequently brand management — can help you shape the desired image of your brand in the minds of your target audience.
Brand building consists of various processes and actions that brand marketers and the C-Suite of a company do to generate awareness of your brand, highlight the unique traits of your business, and, therefore, develop a positive image. 
When trying to establish a brand, brand specialists go through three key branding phases:
Brand strategy
Brand identity
Brand marketing
Let's look into each of these brand making stages in more detail. 
How to create a brand strategy 
When trying to build a brand from scratch (regardless of whether it's for an existing business or for a brand-new one), your brand strategy is the first thing you need to pay attention to. 
Essentially, your brand strategy defines everything your brand is and is not, including its key purpose, how it differentiates from the competition, what it can offer your target audience, and how it can solve their problems. 
It's the blueprint of how you want your target audience to perceive your brand in the future, along with a long-term plan for how you want to achieve this vision.
When putting together your brand strategy, you need to cover the following bases:
1. Develop the brand purpose
According to Business Strategy Insider, there are two approaches to defining the reason for starting a business: the functional and the intentional approach. 
The functional concept focuses on evaluating the success of a business based on immediate commercial reasons. Within the framework of this approach, the primary purpose of creating a business is to make money. 
The intentional concept defines business success as the ability to both make money and do good in the world. 
While a lot of for-profit organizations are, in fact, driven by monetary benefits, today, the strongest brands are the ones that strive to achieve goals other than profitability.
So, when defining your brand strategy, we recommend identifying the good your company aims to give back to the community. 
2. Form an understanding of your target audience
Before you can move onto deciding how to promote your brand, you need to understand who you're going to promote it to. Otherwise, your branding methods might not hit the right spot or do it for the people you want to reach. 
You need to dive deep into the minds of the people you're trying to brand your business for, so that you can understand what their pains, preferences, needs, and wants are. 
3. Research your competitors
One of the branding key goals is to make your brand memorable and recognizable. The best way to start building your own foundation is to have a solid understanding of everything that has been done before.
Instead of taking shots in the dark, attempting to do something that has never been done before, gather everything there is to know about your predecessors in the industry and identify potential gaps you can fill. 
4. Decide on your brand voice and brand personality
Come up with the characteristics you want to give your brand and develop the guidelines all your brand communication will follow. 
Note, these will largely depend on your brand purpose, the brand voice and personality your competitors have adopted, and what your target audience is most susceptible to.
5. Craft a brand message and brand story
Take all the findings you gathered during previous steps of the brand strategy phase. Then, wrap them nicely so they can be presented to the audience. 
Tie your brand purpose, brand mission, and the origins of your brand together in a neat narrative you can share with your customers. 
All in all, you need to prepare a strong foundation for your brand-building processes instead of jumping straight into designing a brand and marketing it. Otherwise, you risk ending up with a weak brand due to numerous inconsistencies.
How to create a brand identity
Your brand identity is a collection of all the elements you use to convey your brand message to the audience and create the right image of your brand in their minds. 
For your business to become instantly recognizable, your brand identity elements need to be used in all of your marketing activities across all channels:
Logo
Colors and fonts
Patterns and icons
Website design
Blog content 
Digital and print ads
Packaging
The looks of the aforementioned elements will stem from the brand strategy you outlined earlier.
Make sure you read further to find out how to build brand identity in detail. 
How to get started with brand marketing
Finally, once you nail your brand strategy and develop a strong brand identity, it's time to strengthen your newly built brand with brand marketing. 
Brand marketing is a series of activities to raise awareness of your business offers by delivering your message to the right people via strategic communication.
Brand marketing takes place on a variety of digital and real-world channels such as:
SEO and content marketing
Partnerships
Sponsorship 
Event marketing
Social media marketing
Why is building a brand important? 
Branding your might seem like a laborious process, but it does pay off in the long run. Here are some of the key benefits of building a strong brand, or the groundwork that is necessary before moving on to other aspects of launching a business:
It helps increase brand recognition and differentiate you from the competition. 
It improves customer loyalty to your brand and, as a result, increases repeating sales. 
It lowers price sensitivity as customers are interested in buying your products or services no matter how expensive they are, simply because they love your brand.
It helps create extra sales opportunities thanks to word of mouth marketing. 
It helps increase the effectiveness of your advertising as the audience likes your campaigns for being on-brand and continuing the brand story, regardless of how creative they really are. 
It strengthens your reputation as an employer — when more people know and love your brand, you get to attract better-skilled professionals. 
All in all, a well-developed brand helps you position yourself higher in the market and generate more sales. 
The only question left is: how do you start a brand that people know and love? 
Branding building 101: How to create a brand that will differentiate your business from the competition
As we've previously established, your brand is a crucial part of your business success, so you need to approach the process of brand building with the utmost responsibility. Ideally, you should develop a branding plan and break down the branding process into a series of key steps. 
Below, we've put together a list of must-have branding steps every business should take, along with some practical branding tips and tricks for you to try. 
Step 1 — Define your target audience
In the ideal world, every single person would be part of your target audience, be interested in whatever you have to offer and, subsequently, contribute towards your potential sales. 
But you can't possibly come up with a brand that pleases everyone. By trying to kill many birds with one stone, you risk getting none. 
So, you need to understand exactly who you're trying to reach with your brand and tailor your message to meet their needs and wants. Your goal is to be everything they want you to be, both by form and concept.  
The first step on the path to successful brand building is to get a detailed picture of who your brand is going to target. 
The key here is to be as specific as possible. You need to not only understand who your ideal customer is on a surface level, but also be aware of their lifestyle, preferences, behaviors, and the rest. 
Later in the brand building process, this will help you craft better-personalized brand messages that push the right buttons using the right language. 
To accurately identify your brand buyer persona, you need to learn the following:
Age
Gender
Location
Occupation
Income level
Education level
Motivations
Goals
Pain points
Influences
Fears
Desires
Document all of the aforementioned descriptors using a Buyer Persona template:
(Source)
Step 2 — Research your competition
The next step is discovering the businesses that target your potential customers, too. 
At the end of the day, the last thing you want is for your brand to be a copycat of other brands in your industry. 
By directly (or indirectly, for all it matters) imitating what your competitors have done, you strip yourself of the most significant benefit of having a strong brand — brand recognition that leads to increased sales. 
So, you need to make sure that you stand out from the crowd when creating your own brand, and give your brand unique traits. 
The only way to ensure this is to research all the competitor brands in your industry. Not only will this give you a better understanding of the market, but it will also show you what's already been done, whether or not certain branding methods have proven to be effective, and what branding opportunities are still out there available for you. 
To have better control over the competitor research process, we recommend creating a spreadsheet with all the competitor brands and benchmark brands, and the information you manage to dig on them.
For starters, answer the following questions to have a better understanding of who your competitors are and what they do with their branding:
What is the competitor's brand mission and vision?
Does the competitor have a brand story? What messages do they use to narrate it? 
What is the competitor's brand voice? 
What is the competitor's brand color, font, and logo? Is it consistent with their brand voice? 
What is the quality of the competitor's products or services?
What channels does the competitor use for brand marketing?
How does the brand market themselves online and offline?
Are there any mentions of the brand from customers online and offline?
Answers to some of these questions are a Google search away, but others might require additional research. Here are some of the most common ways of obtaining information about your competitor brands and how they are perceived by the target audience:
Check online communities (Reddit, Instagram, Facebook, Slack, LinkedIn) that relate to your customers and eavesdrop on their conversations regarding the product you offer and the market you operate in.
Arrange focus groups with the people that are a part of your target market and ask them all the aforementioned questions. 
Make use of social media mentions tracking tools. 
Step 3 — Define yourself: Describe your brand, its purpose, vision, mission, and values
Now that you're aware of the outside factors that impact your brand (your target audience and your brand competition), it's time to reflect on yourself. 
At this stage, it's essential to clearly understand what your business is, why it exists, what values it preaches, and what mission it has. 
When defining your brand purpose, answer the following questions:
Why does your business exist?
What differentiates you from the other businesses in the industry? What makes you special? 
What problem do your products or services help solve?
Why should people care about your brand?
To formulate the purpose behind your brand better, use the Golden Circle framework developed by a leadership expert Simon Sinek. 
People don't buy what you do; they buy why you do it. 

The goal is not to do business with everybody that needs what you have. 

The goal is to do business with people who believe what you believe.

Simon Sinek
This concept is particularly useful for product-oriented businesses as the circle diagram shows the relationship between the what and the why of the business:
(Source)
Once you have a solid understanding of your brand's purpose, it's time to put it into words in your brand mission statement and outline your brand vision.
Your brand mission statement is an explanation of why your business exists, the driving force that inspires you and makes you wake up every day. It communicates your brand's objectives and how you plan to serve your audience. It provides a perfect clarity between the "who", "what", and "why" of your company. 
When writing your brand mission statement, think of the following:
How does the brand add value to its audience?
What is the broader impact you want to have on the audience by offering your help?
Are these goals attainable?
Can the brand embody this mission in every aspect of the organization?
And remember, the best brand mission statements are:
Concise (they rarely exceed 100 words)
Clear (don't go after vague promises, keep it straight to the point)
Achievable (no fluff, don't make promises you can't act on)
An example of a great brand mission that is apparent in everything the brand does is Tesla's"To accelerate the world's transition to sustainable energy."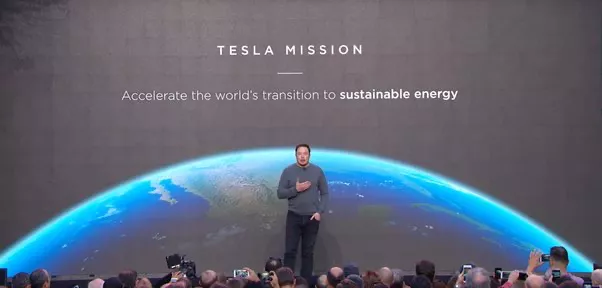 (Source)
This mission statement clearly reflects the purpose of Tesla as a brand: to provide clean energy electric cars to the public, while acknowledging the ongoing transition from fossil fuels to renewable energy. And it's punny, too — in the best traditions of an Elon Musk brand. 
➡️ Check out more mission statement examples in our article!
With a brand mission in mind, you can also jot down your brand's vision statement, which is the long-term impact your brand wants to make with its mission. 
Finally, before you can move on to giving your brand its own personality, you need to gain a good understanding of what your business is like. Try to personify it, identify its archetype — 
if it was a person or an animal, which characteristics would it have?
Ideally, you should also write down up to 10 adjectives that describe your brand and the audience it tries to appeal to: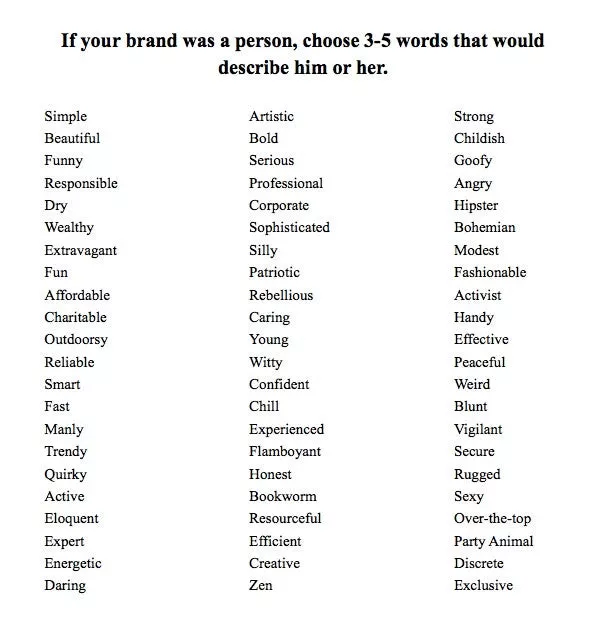 Step 4 — Settle on your brand voice
If your best friend were to call you, most likely, you'd know it's them straight away. Now, how would you recognize them?
Every person speaks differently — they have different intonation patterns, catchphrases, common phrases, sentence structures, and many other things that make it possible to tell them apart from others.
Even if you haven't met a person before and are chatting with a complete stranger, a couple of minutes into the conversation, you'll start getting a glimpse of their personality based on how they talk. In a brief intonation, you can make up your mind about them and deduce what kind of person they are — outgoing or shy, wise or a bit lightheaded, kind or rude. 
A person's voice is synonymous with their personality — and this is applicable to brands, too!
Your brand voice is the way you translate your brand messages to the world, regardless of who's taking care of the copy — a unified style of communication should be applied throughout your communications. 
The voice you choose to communicate your brand messages largely depends on your brand mission, the audience you target, and the industry your business operates in. It can be:
Professional
Friendly
Sassy
Edgy
Authoritative
Technical
Promotional
Conversational
A good example of a well-developed brand voice is Rhianna's FENTY Beauty.
The copy on the brand's page straightaway sets the tone for FENTY BEAUTY's communication on all the other channels: it's bold and sassy, yet friendly and casual. 
Step 5 — Write a brand slogan
Since we've already touched on your brand's verbal identity, let's dive deeper and discuss slogans and taglines. 
While the main verbal mark associated with your brand is, of course, your brand name, a slogan is a nice-to-have addition that can further define your brand and make it more memorable. 
At the end of the day, your brand name is not always indicative of what your brand is, what it stands for, and what it offers. A slogan helps fix this. 
A slogan is a short, catchy phrase that your brand can use to define itself, promote your products, or establish an emotional connection with the audience. 
Depending on what you want to highlight with the help of a brand slogan, you can adopt different approaches to writing one:
State your claim. Meow Mix: "So good, cats ask for it by name."
Come up with a metaphor that describes the benefits of your product. Redbull: "Redbull gives you wings." 
Say what you want your audience to think about your brand. McDonald's: "I'm lovin it."
Adopt your customers' attitude. Apple: "Think different."
Highlight your product's unique selling point. M&Ms: "Melts in Your Mouth, Not in Your Hands."
Describe it literally. Aritzia: "Women's fashion boutique."
Challenge your audience. Lay's: "Betcha Can't Eat Just One."
Just make sure that your slogan is in line with your brand voice. You don't want a boring brand motto if you position yourself as a fun, edgy brand. Likewise, you can't really go for a quirky slogan if you're a serious, professional brand. 
And remember, unlike your brand name, which is a major commitment your small business needs to make early on in the branding process, a slogan is something that you can change whenever you find a new angle for marketing. 
For instance, Pepsi has gone over 30 different slogans over the last couple of decades, experimenting with what they want to convey to their audience. 
Learn more about company slogans and taglines in our article!
Step 6 — Decide on the brand colors and fonts
Now that we're done with the verbal aspect of branding, it's time to move onto the visual aspect. 
The two important components of visual branding are the colors and the fonts you choose to represent your brand. 
Both don't just define the look of your brand, but also help convey your brand's message and evoke certain emotions. The reason behind this is the different meanings and connotations that every color and font carry.
(Source)
When picking the color palette and typography for your brand, you want to opt for something that reflects your brand's nature, works well for the industry your business operates in, and is liked by your target audience. 
VistaCreate hot tip: When choosing your brand colors and fonts, don't just go for the ones you like best (or even the ones that fit your brand best). You need to account for how they all work in combination with each other. 
On top of that, it's also to think strategically and take the channels where the majority of your brand communications will be taking place into consideration. 
For instance, if you came to this article asking how to build an online brand and already know that your brand will grow predominantly in the digital realm, you need to think about how different colors work with the most popular social media. At the end of the day, you don't want your marketing visuals to blend in with the backgrounds of various social media platforms. 
More articles that will help you with picking the right colors and fonts for your brand:
Step 7 — Design your brand logo
Name brand logos that you can remember off the top of your head. What do they all have in common? 
The most memorable, effective brand logos all follow the same rules:
They tell the story of the brand. 
They're unique.
They're instantly recognizable and memorable.
They're relevant to the brand and the industry it operates in.
They resonate with the target audience.
They're versatile.
They're timeless.
They utilize color and shape psychology.
Tick all the boxes when designing a logo for your brand to create one that leaves a lasting positive impression on your target audience! 
And if you need some help with designing your logo, give the Logomaker in VistaCreate a try. Simply fill out your business name, industry, some additional information, as well as keywords to get dozens of professional-looking logo design options.
And remember, your brand name and logo should go hand in hand, just like the rest of your brand identity.
Check out VistaCreate's brand logo templates:
Step 8 — Incorporate your branding into everything your business does
Once you have successfully developed your branding identity, it's time to continue building your brand by incorporating your branding into everything you do. 
Make sure all your business communications adhere to the branding guidelines, use a predefined tone of voice, go hand-in-hand with your brand mission and values, and are thoroughly enriched with the visuals you've chosen to represent your brand. 
According to VistaCreate's Brand Manager, Oksana Tunikova, the easiest way to ensure and protect consistency in your brand communication is to develop a brand book — a document that describes your brand's essence, all the elements that constitute your brand identity, and how they should be applied across different channels. 
Your brand book doesn't have to be long; a condensed 10-page version will do just fine as long as it clearly defines guidelines for both visual and verbal communication. 
While taking care of verbal communication is something only your in-house or outsourced copywriters can do, VistaCreate can help you take care of staying on-brand when creating visuals for your brand marketing activities. 
VistaCreate's Brand Kit feature allows you to brand your content in a matter of seconds. All you need to do is upload your brand logo, color palette, and fonts into the VistaCreate editor, and we will take care of the rest.
Once your branding elements are in the system, you can create branded content in a matter of clicks: simply go to the Brand Kits tab in the editor, and add your logo, brand colors, and brand fonts to the artboard by clicking on them.
And with the help of the Brand Kit as a Fast Style feature, you can quickly transfer your brand colors and fonts to any VistaCreate template you like:
More articles that will help you stay on brand and ensure brand consistency:
Step 9 — Evolve your brand as your business grows
The last thing you want to do is keep your brand unattended. 
If not taken care of, even the most well-developed, successful brands go out of date as time goes by. This happens for a variety of reasons:
The business has expanded and, therefore, outgrown the original brand 
The preferences of the target market have changed
The environment the brand exists in has changed
New marketing channels have appeared
So, you need to keep tabs on your brand strategy and adjust your brand to the realities your business exists in. 
This can include major alterations or minor tweaks — whatever the situation calls for. Just make sure your brand doesn't stand still in time, but evolves with it instead. 
And this is how to develop a brand that lasts. *Mic drop*