The most beautiful Twitter banners ever that you have to see today
It's time to reveal a huge secret: we love Twitter. If you do too, you've probably considered it to promote your business. Twitter is a great place f...
It's time to reveal a huge secret: we love Twitter. If you do too, you've probably considered it to promote your business. Twitter is a great place for advertising with over 4.65 billion active users, according to Kepios. With all those people Tweeting away around 500 million posts every day, one definitely needs to find a way to stand out in the feed. 
Twitter is all about short copy. Suppose you pair that with a thumb-stopping visual…
The question then becomes — how do you come up with a fascinating Twitter aesthetic that appeals to your customers and projects your brand identity? You can take the pressure off and start with a template, using an online graphic design editor. And you can start by simply creating your Twitter background image. 
But what about the inspiration for your next visual? In this article, we'll take a look at some of the best Twitter banners that please the eyes, and see how they can inspire your next designs.
The best Twitter banners from all over Twitter
Nike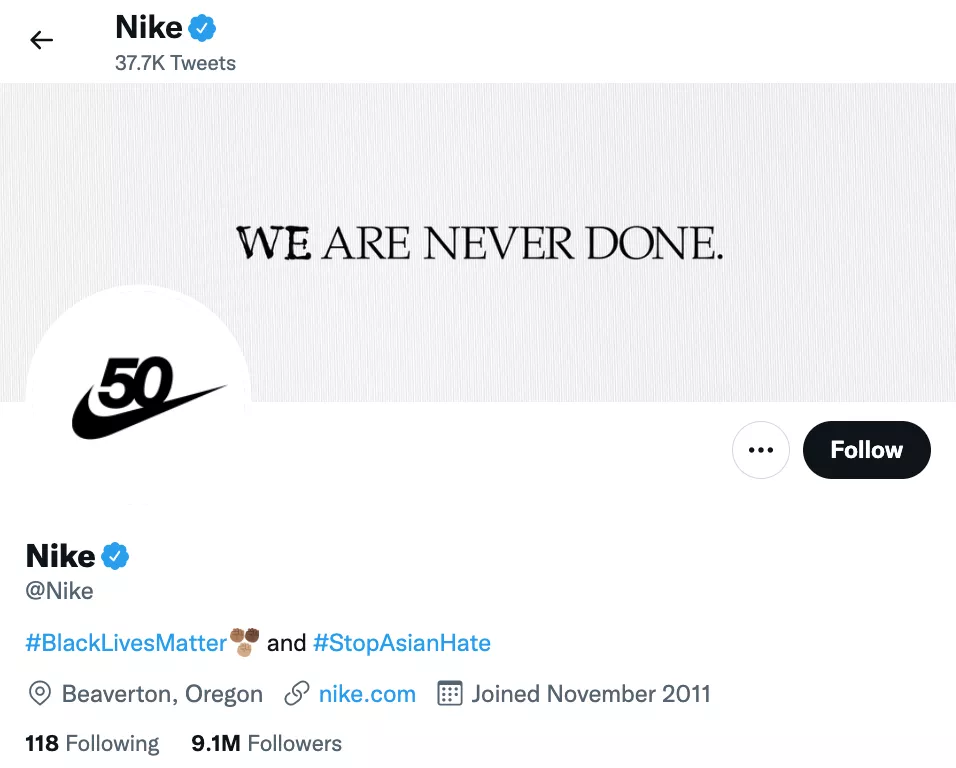 Some messages need no extra adornment. Nike, the king of advertising, is very bold with its background image. We love the simplicity of their minimalist black and gray header, which is easy to understand and used to project the core idea of their recent campaign.
Duolingo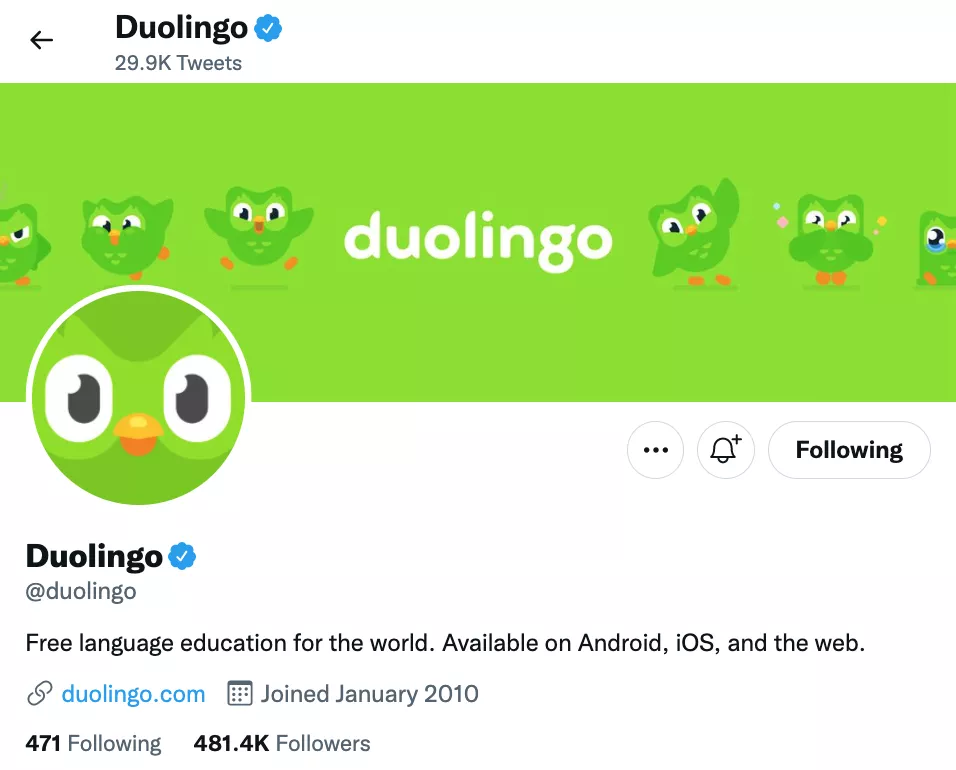 Duolingo's banner is among those cute Twitter headers that are just adorable. The brand's unaltered symbol, the green owl, is dancing and aligning with Duolingo's tone of voice — light, simple, and funny. Check out what we previously advised on using brand mascots. By the way, have you taken your Italian lesson today? 
Google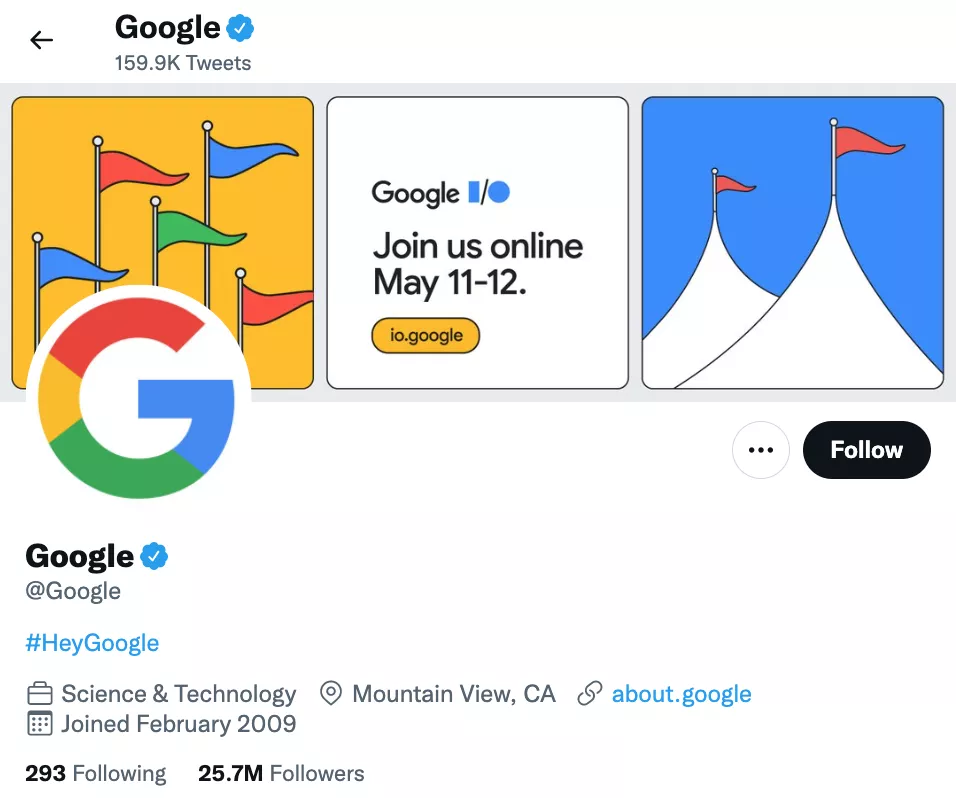 A Twitter header can be a good place to promote your upcoming events. And it's exactly what Google does, placing the details of their online conference on their background picture. Pack it with on-brand graphics — and you're all set. If you're running an eventful business, a good option can be listing a couple of them on your background image in a schedule.
Twitter
Subscribe to Twitter (on Twitter) — some of your funny Twitter banner ideas are likely to come from there. As dope as Twitter is, the website is well-known for using tons of user-generated content in its communication. With the adorable cat meme, this is one of the cutest profile banners we've seen.
Glovo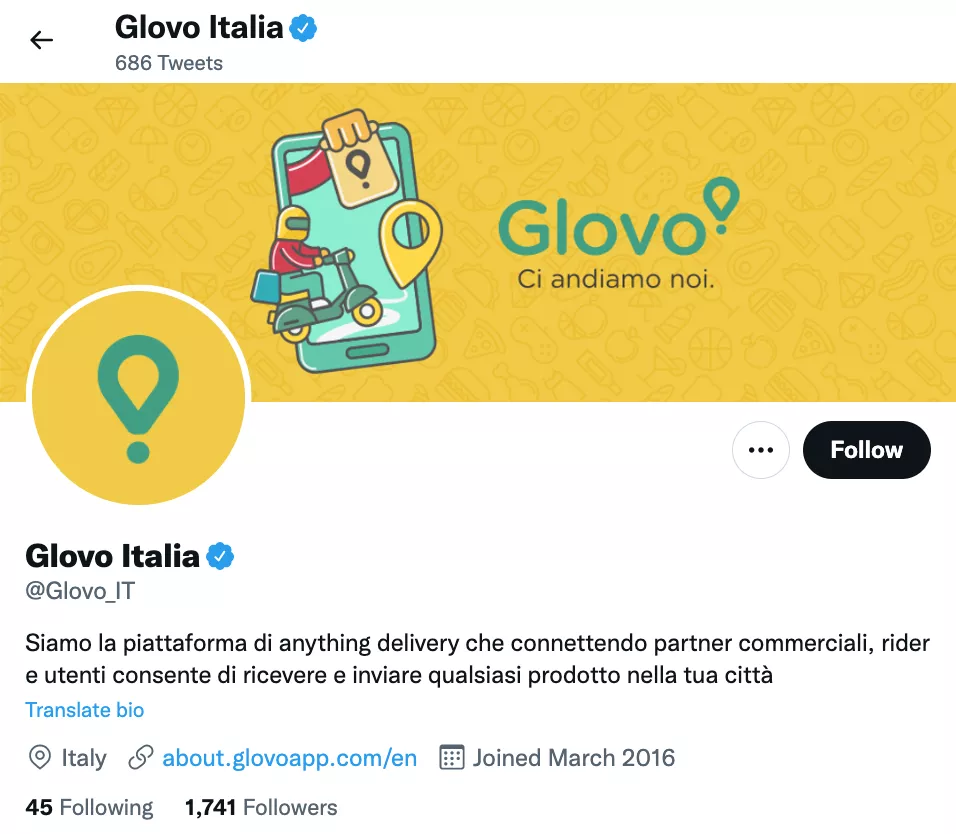 Patterns are everything. Many brands love them as they leave a lot of space for highlighting logos, important information, or mottos. 
Some of the best Twitter backgrounds using patterns we've seen are also Balmain and Slack.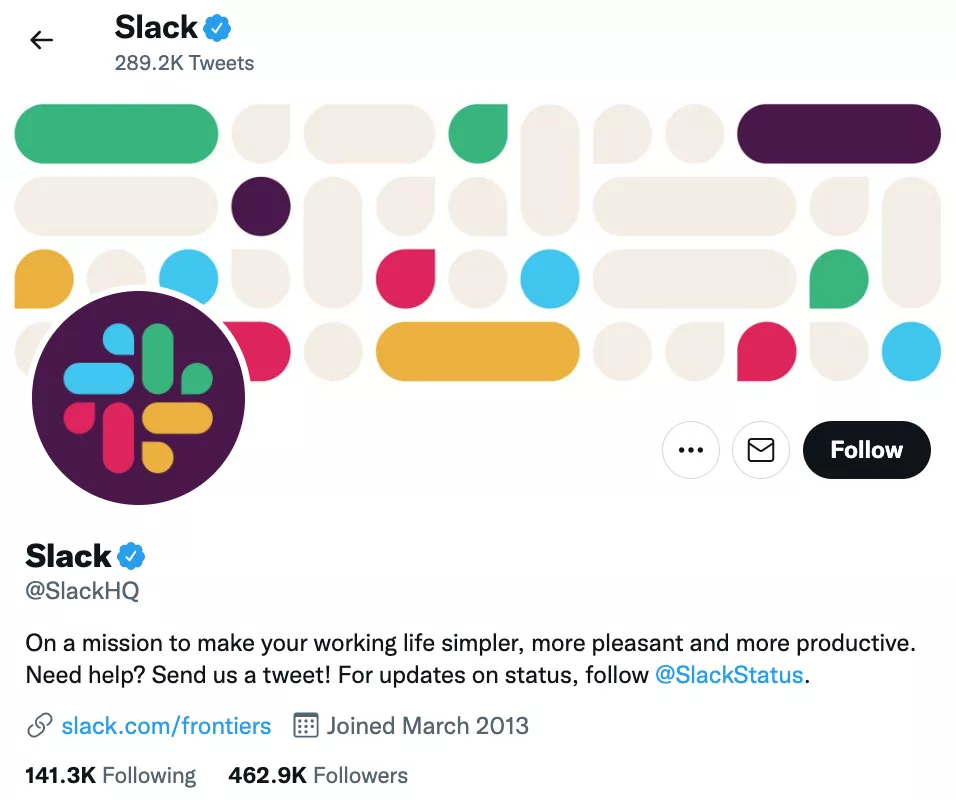 FutureLearn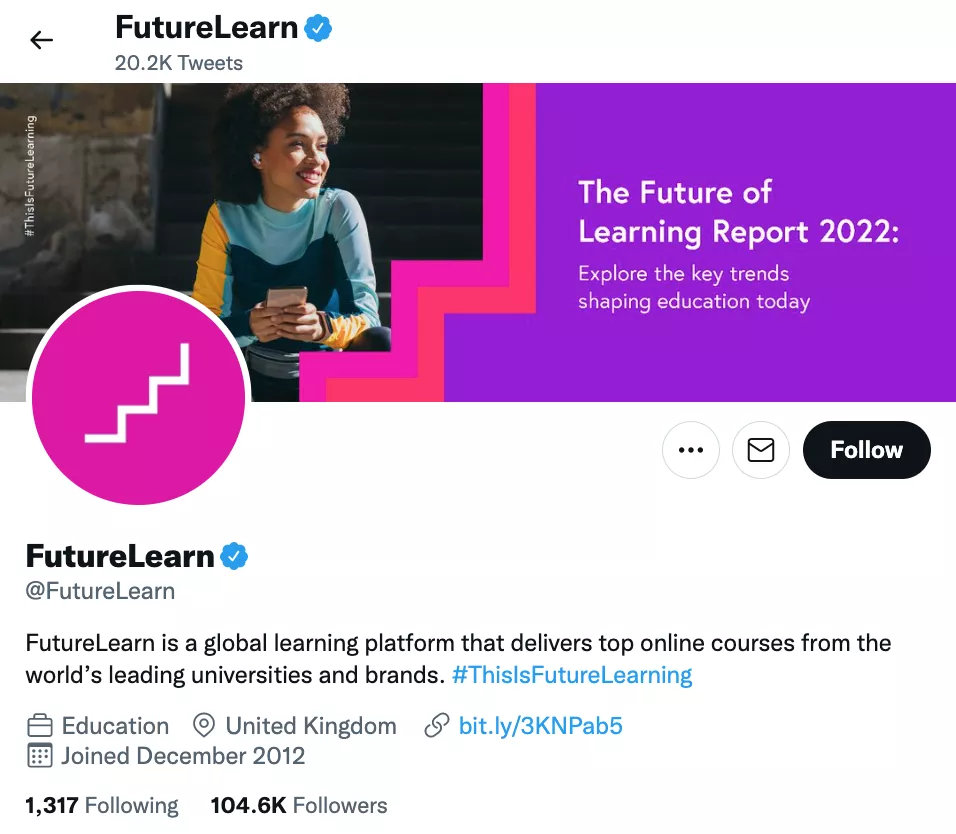 This platform's Twitter header mixes an image with graphic elements. Note how FutureLearn is using this space to promote their report on the Future of Learning 2022 — consider this idea for your business too. 
With VistaCreate, you can combine your own images with graphic elements to create your own unique Twitter background — give it a try now!
IKEA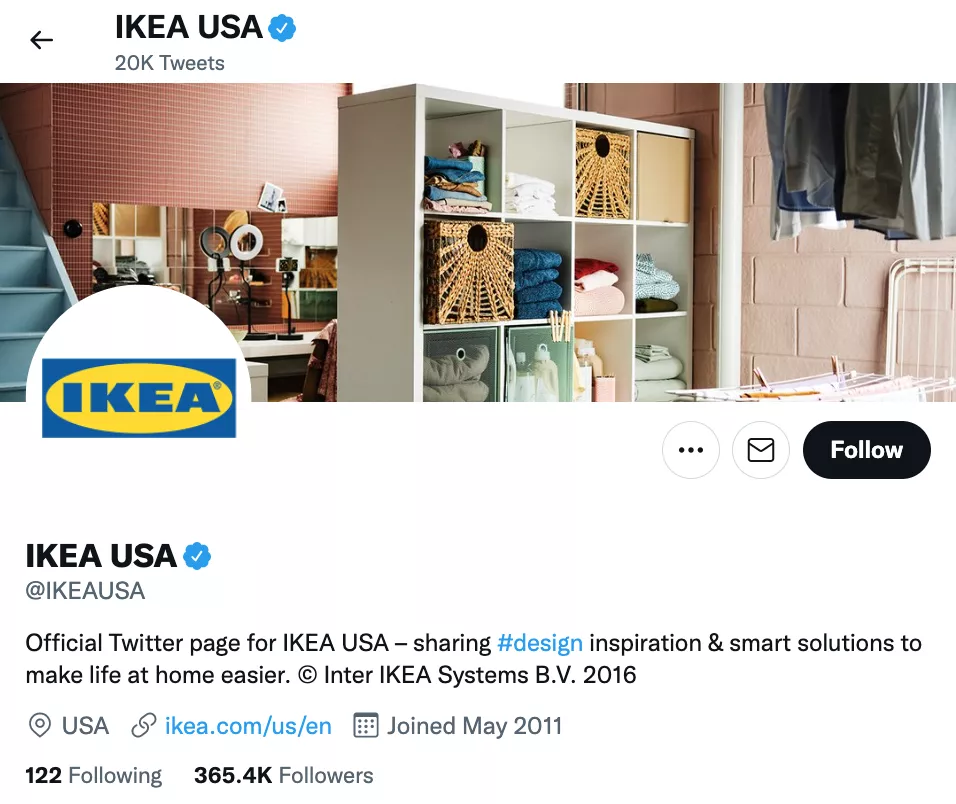 IKEA's Twitter is very cozy — just like their offline shops. With all the towels, shirts, and clothespins, the brand is creating a homey atmosphere with its banner image. No graphics or words needed — only a good quality photo. 
WHO Europe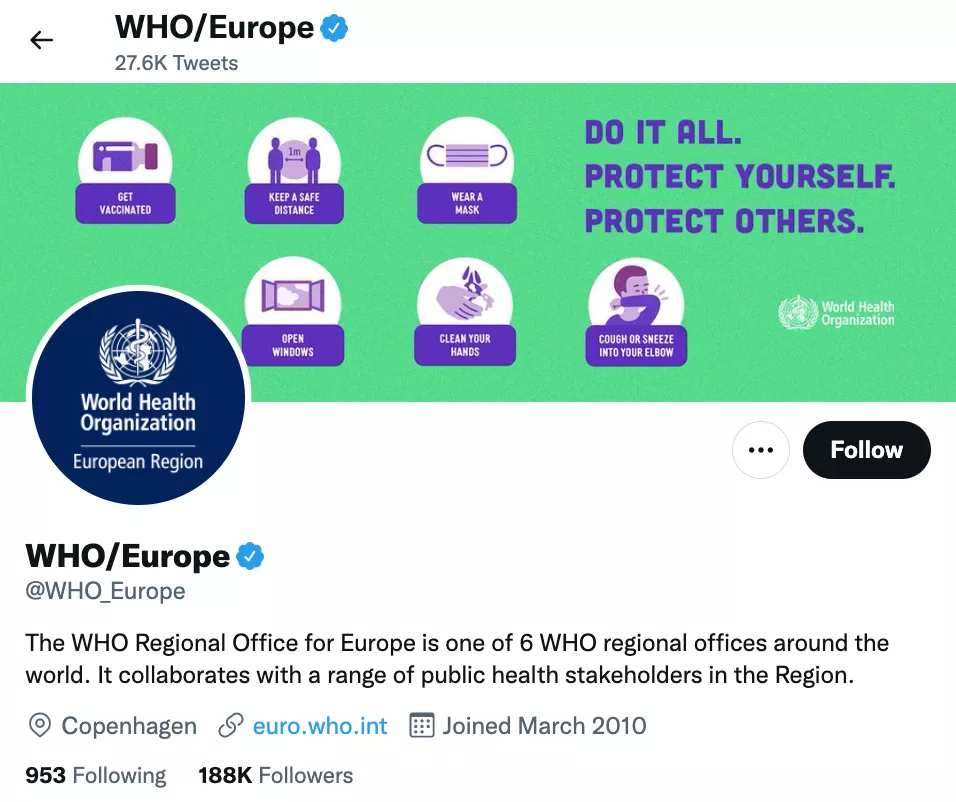 For many, COVID-19 is far behind. But the World Health Organization still reminds everyone of the importance of preventing it from spreading. For that, WHO Europe uses beautiful yet simple infographics. Once again — get vaccinated, wash your hands, and make sure your spaces are ventilated. 
Tripadvisor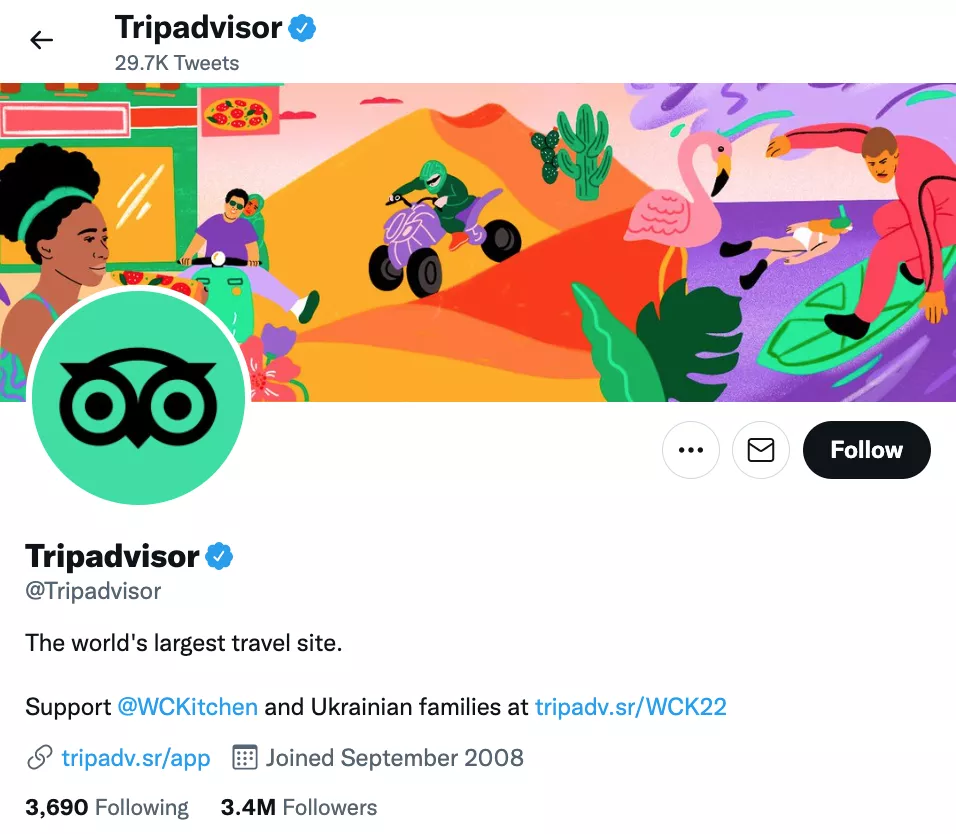 Hey ho, let's go! Tripadvisor's colorful graphics are inviting you on some awesome adventures. Note how the colors of the background are consistent with the brand's avatar. And, by the way, how many pieces of pizza can you spot? 
United Airlines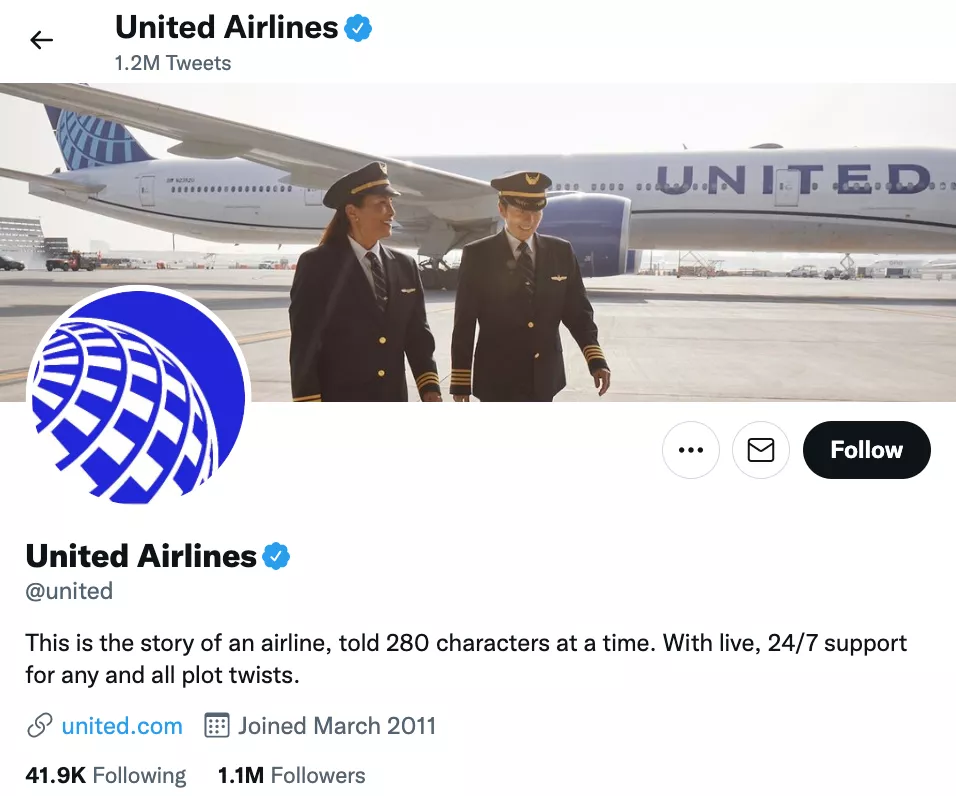 Celebrate your team! Your Twitter background can be a good place to show your team, office, or guide the followers into your daily routine. This will make your customers feel closer to you and add to your HR brand. If you have a plane — also use a plane. 
Goodable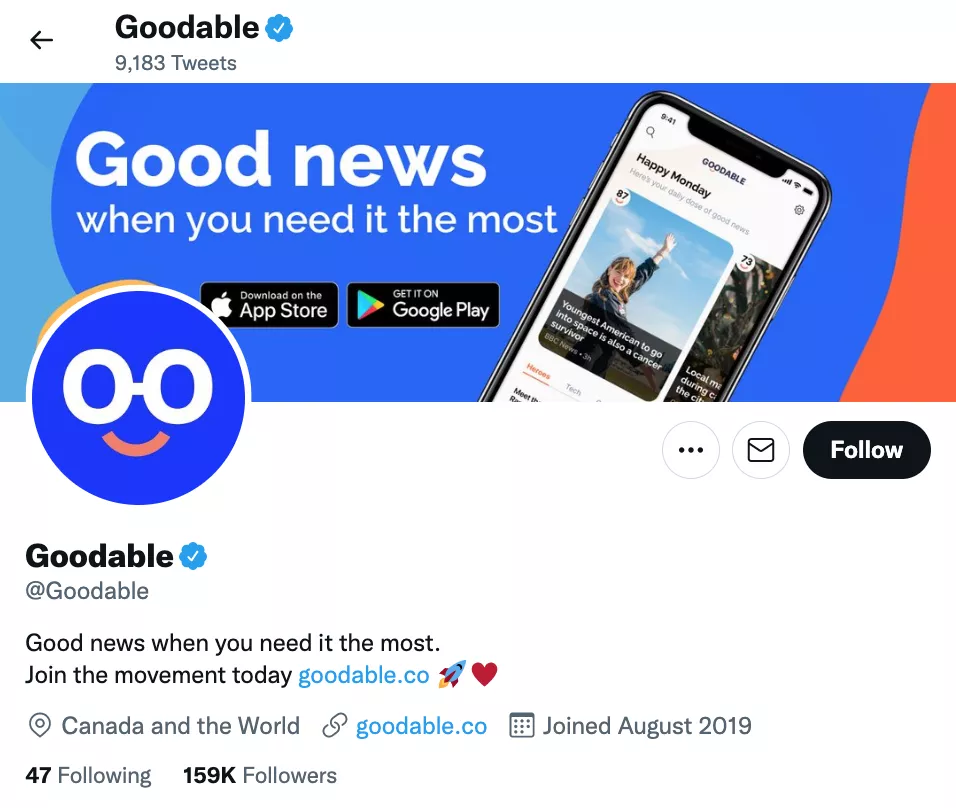 Do you have an app? Use your Twitter banner as a call to action to download it. Mockups are always a great idea, too, as you showcase your product to customers. 
Microsoft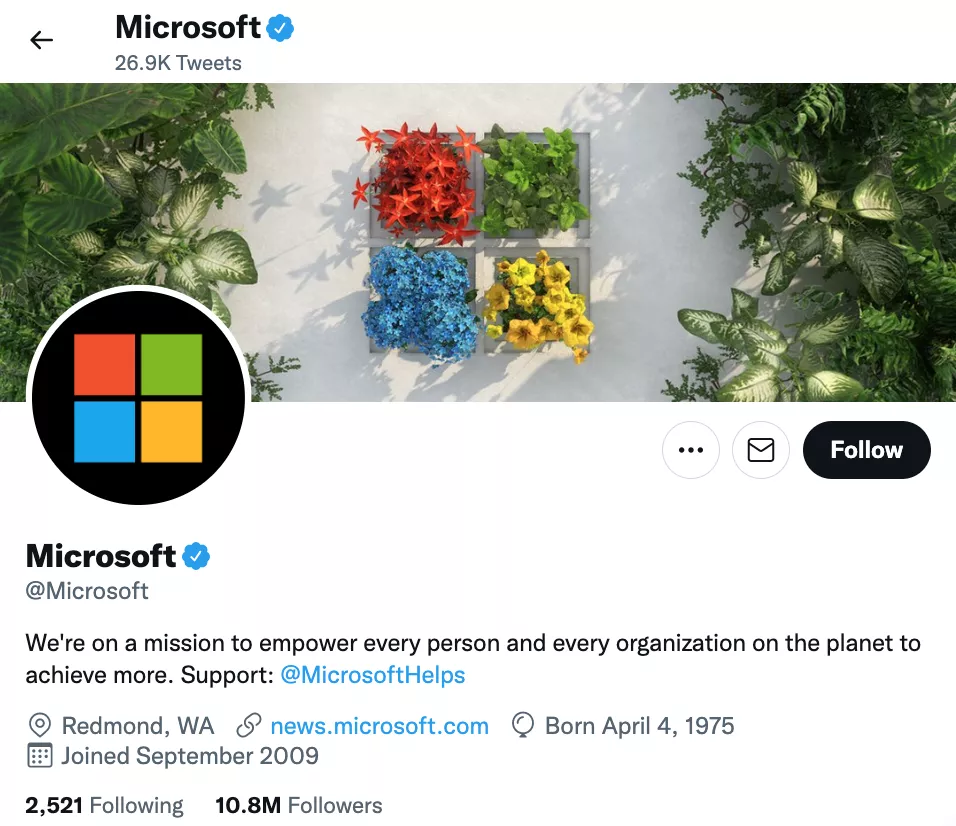 The brand is rethinking its logo with flowers, one color at a time. In case you're running a tech business, introducing mother nature notes into your communication can liven up people's feeds. If you're looking for creative ways to feature your logo — look up to Microsoft's example. 
Monobank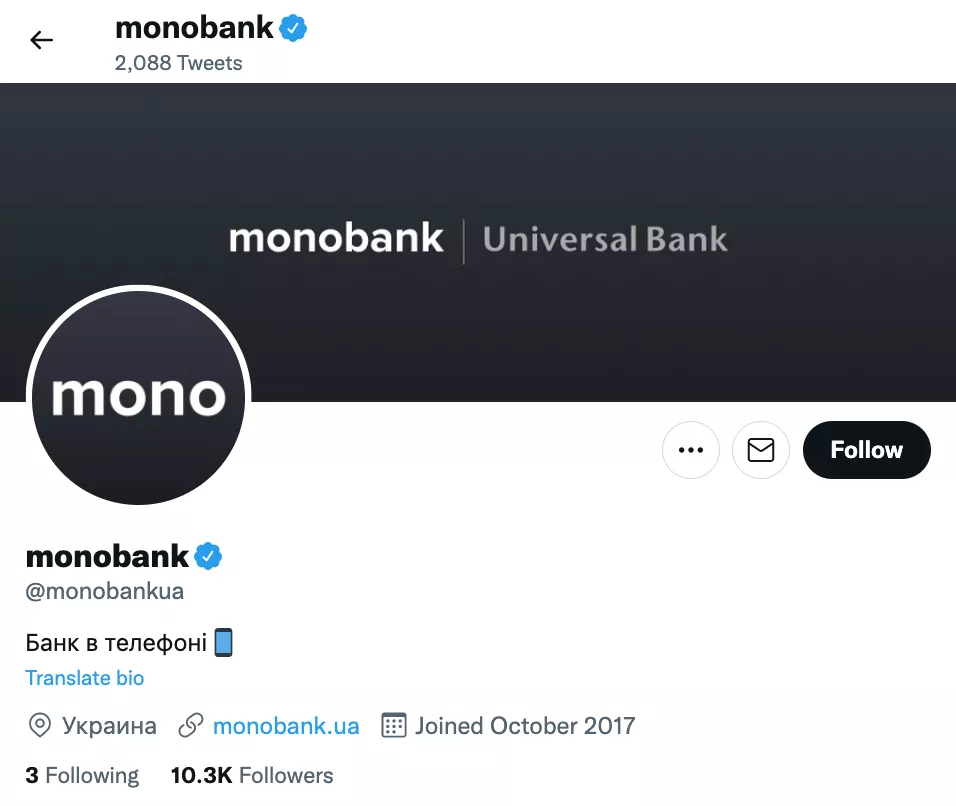 We love the minimalist black Twitter header by Monobank, a banking app. Looks like the brand needs nothing more to say — we're Monobank, that's it. If your brand's aesthetic is clean, minimalistic design, no need to force a creative header with your Twitter account. Stick to simple, sometimes it does the trick too.
Snapchat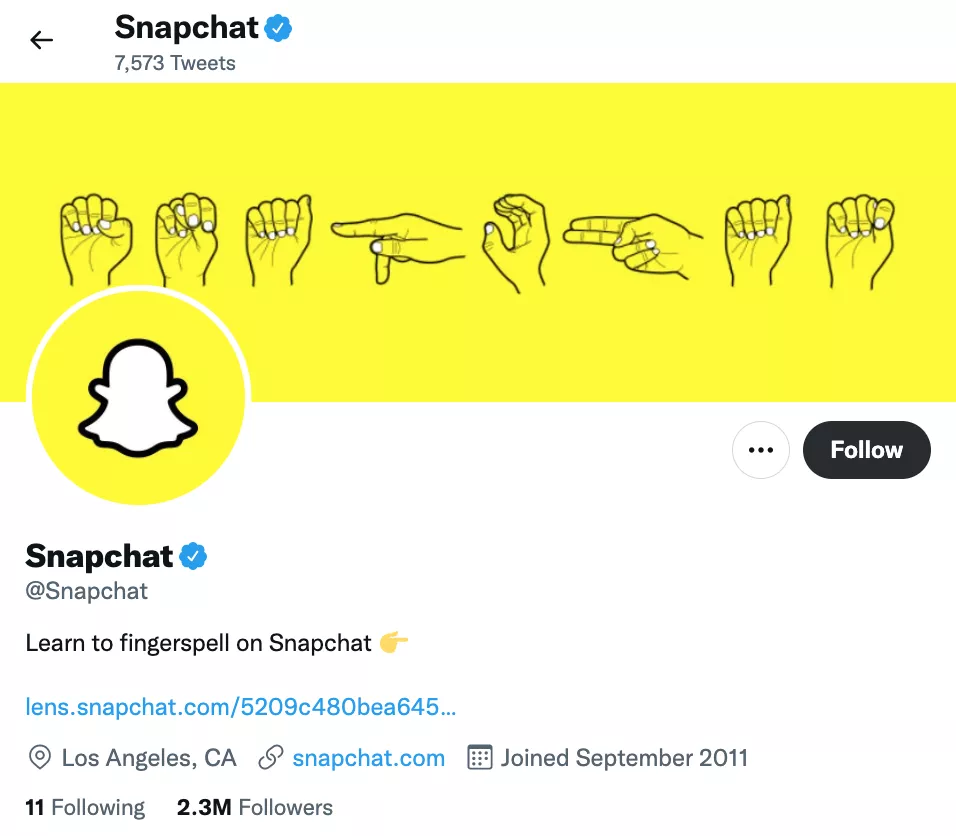 Perhaps one of the most unique backgrounds out there. The app uses its header to educate the community, calling on its followers to learn sign language. The banner aligns with the profile's bio, with the link directing to the app's feature of fingerspelling the usernames.
---
---
Apple Education
Emojis are everywhere. If your brand uses graphics, emojis are a great option to go for: simple, easy to design, and universally understandable. 
New York Times Arts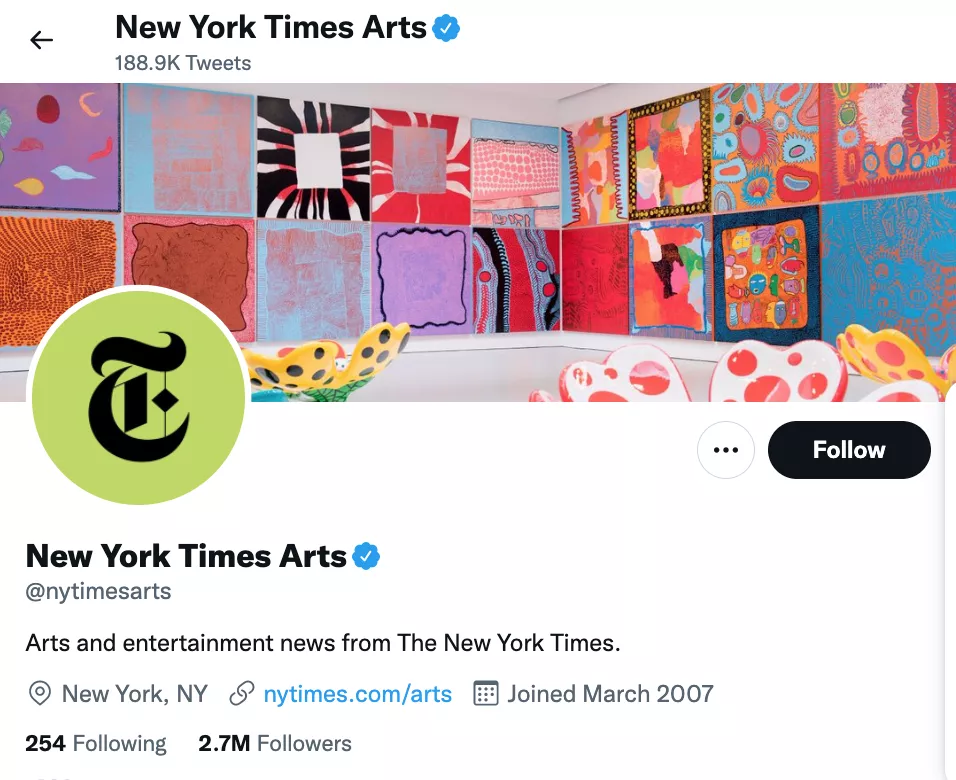 Makes you feel like you're in a gallery, right? Twitter background images can be a piece of art, too. The New York Times Arts' one is among those Twitter headers you just enjoy looking at. 
Puma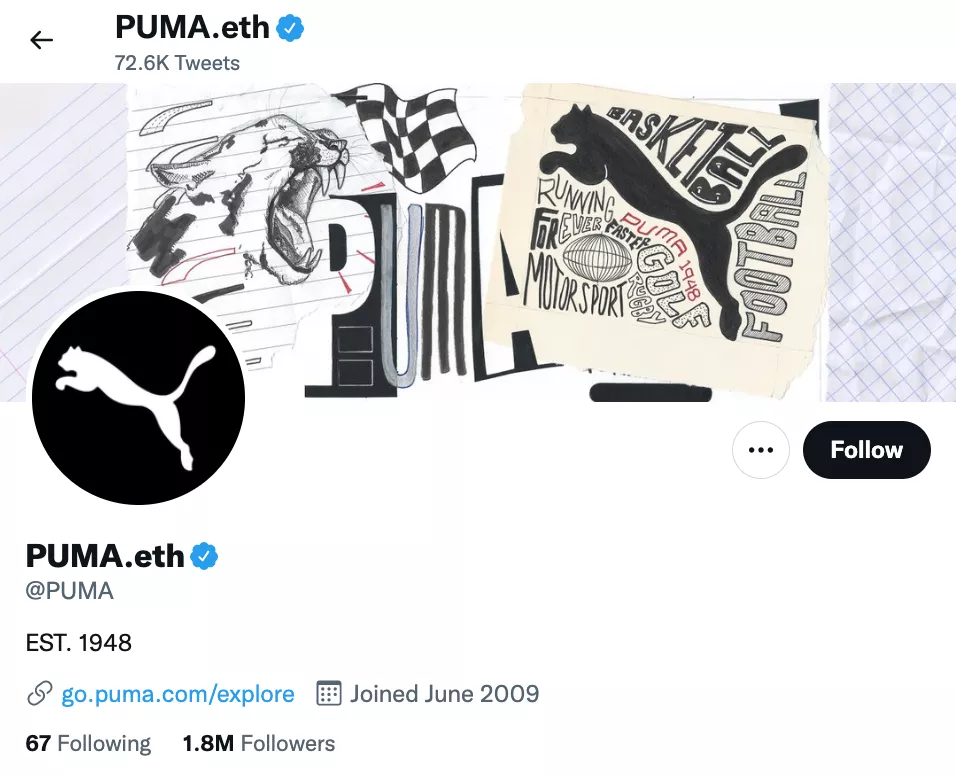 Why not mix and match for your Twitter header picture? In this beautiful banner, Puma is mixing a checkered notebook with sketches and its motto — "Forever faster". Note how the two pumas are jumping in the same direction. 
MacPaw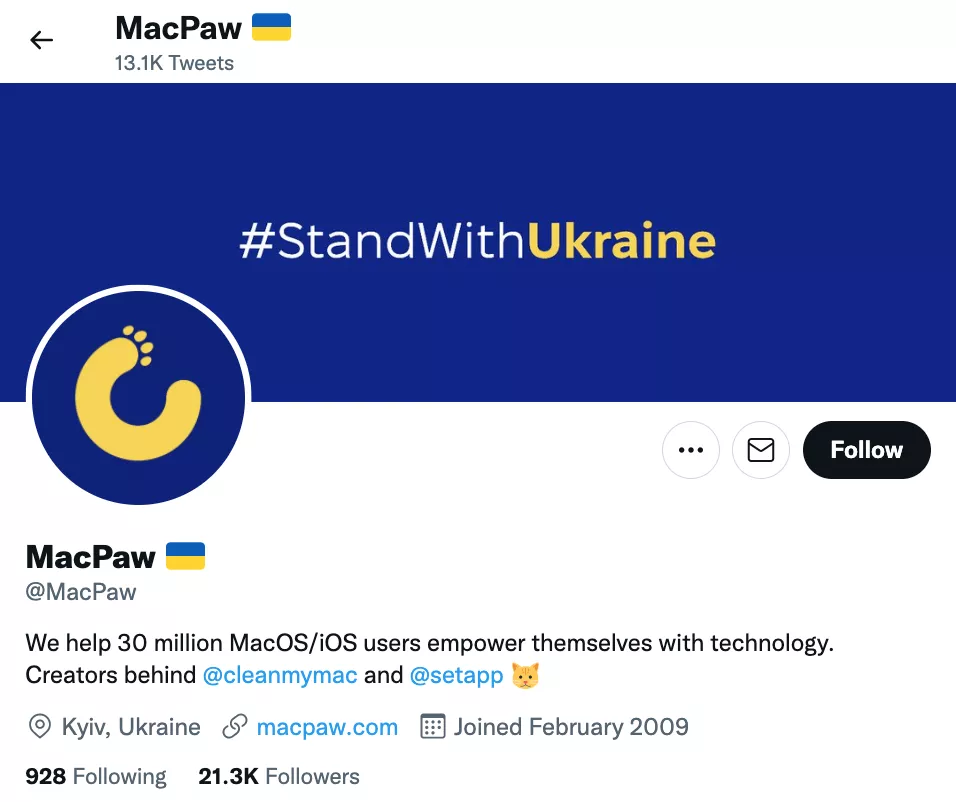 In 2022, the world has seen the horrors of the war Russia started against Ukraine. MacPaw, a Ukrainian app, is using its background image to show its stance — and that's by using the world-known #StandwithUkraine campaign. Your brand's Twitter header is a chance to communicate something to the world. If you stand up for a cause, make sure that's heard as well.
KAYAK
What a cool Twitter cover photo! KAYAK, a travel app, is showcasing the beautiful places they can take you to with their service. In case your business is visual, too, you can prepare a bunch of beautiful banner pics and change them regularly. Make sure your choice is a quality, colorful photo that aligns with your avatar in color. 
Node.js
Very often, less is more. Node.js opts for a minimalist gray color for its background image. This way, the banner allows you to focus on the profile picture and bio. We've also noticed the creative way to display the app's location with emojis.
Key takeaways: Tips on using your brand's Twitter header
Businesses use Twitter background images for a variety of purposes. Some showcase their products and services, some celebrate their teams. Some take a stance with bold messages or educate their audience. Some turn their Twitter accounts into art pieces.
We could go on with this list forever, as there are thousands of brands that are creative in their Twitter banner choices. For now, let's just recap some of the practical ideas for your business banners:
Be bold in delivering your messages to the world
Use quality photos, patterns, and other graphic elements that align with your profile avatar
Employ a minimalist approach if your want to accentuate your motto or logo
Educate your customers with infographics
Sketch, mix, and match styles
Come up with some creative ways to rethink your logo
Use your brand mascot or user-generated content
Combine your own photos with visual elements to create a one-of-a-kind background image
Start right now by creating your unique Twitter header with VistaCreate templates. See you on Twitter!