The best free modern fonts for your designs
Open up any website with free fonts and you'll be overwhelmed by the selection. How do you choose a font that aligns with your message and brand? A p...
Open up any website with free fonts and you'll be overwhelmed by the selection. How do you choose a font that aligns with your message and brand? A popular choice to opt for are modern fonts. 
Suppose you've narrowed it down to free modern fonts as well. We'll jump in to help you find the right one for your upcoming project. Here's a guide to some of the best cool fonts that you can easily find and use right away. 
Many of the fonts in this article are also available in ready-made designs on VistaCreate. Pick a template, customize it, and select the modern font you want in the dropdown menu. You can adjust any template with your copy and a free modern font to fit your designs.
What are modern fonts?
To touch on the basics, there are 5 types of fonts: serif, sans serif, slab serif, script, and decorative. Modern fonts are typically sans serif fonts, and among the easily recognizable ones are Bodoni, Helvetica, Avenir, and Futura. 
If you'd like to quickly grasp the basic principles of typography, you can do so in under a minute with our quick tutorial on typography in VistaCreate.
How to choose a modern font for your design
We've puts together a small list of the best practices for choosing a modern font for your design…
Make a list of the fonts you love
We bet you come across a font from time to time and say — "hey, this one is great!" Make it a good habit to note the best fonts you come across. This will help you train your eyes for good fonts used in graphic design and pay off when you're choosing between fonts. You can even make a moodboard of the coolest fonts you come across — check out our guideline on creating a moodboard for that. 
See what your competitors are doing
As a part of your marketing strategy, you've surely researched your competitors' approach to promoting their goods and services. Go one step further and investigate how they use fonts. Are they opting for serif or sans serif ones? Are there any good practices you can implement for your business? Maybe, they're doing a great job by simply taking some modern fonts and pairing them with retro ones? What is their top font? Put your observations into a list and see if you can derive some inspiration from them. 
Find two fonts that work well together
In most cases, you would need more than one font for your designs. It's best to follow this pattern: first, choose a primary font that you can use in your logo and core branding materials. Then, research the best pairing for it. Below, we'll list modern fonts for your usage and suggest fonts to pair them with.  
Evaluate where you need to use these fonts
Are you choosing a font for your logo? Advertising campaign? Perhaps, a business card? All of these options will require a different approach to choosing your fonts. You may, of course, be tempted to just choose cool fonts for logos, but keep in mind that your logo choice will stick with you for long. On top of everything, stay font consistent — it's best to choose 2-3 font combinations that will serve different purposes.
You might find our piece on everything you need to know about fonts useful.
14 contemporary fonts you can use for your design projects 
From grotesque to free artistic fonts, you might look at all of these typefaces and ask yourself: "oh, which one will suit my project best?" We've got you covered here — follow our list of 15 fonts to use for your logos, social media, posters, and more. 
1. Lato
This font means summer. No, literally — Lato can be translated from Polish as "summer". Designed by Lukazs Dziedzic in 2015, this typeface is one of our top recommendations among free fonts for commercial use. Lato is a simple, sans-serif font that gives you instant warmth with its lines and edges. Thanks to its soft appearance, it's pleasing to the eye and can suit almost any design purpose. 
If you're choosing among modern fonts for logos — Lato is definitely the choice. You can also use this font for your heading, main text, and other purposes. Interestingly, Lato is now used on over 11 million websites and is considered one of the most popular free creative fonts out there. 
Fonts to pair with Lato
Lato will go well with other typefaces, such as Abril Fatface, Merriweather, and Francois One.
2. Animosa
Designed by Stefano Giliberti, Animosa is a sans serif font that uses classic shapes, yet displays a viable character that can add to your brand's aspirations. Animosa is among those free typefaces that will work well for logos, quotes, posters, and other materials. 
In this font, we notice bold lines that imply movement, which makes it a great choice for brands that want to transmit the idea of change. We'd say, the font is also rather playful, so you can well use it to add boldness to your brand message. 
Fonts to pair with Animosa
Animosa will pair well with other free fonts, such as Lato or Open Sans. But you're free to experiment with pairing to find a combination that works for your brand.
3. Comfortaa
The designer of Comfortaa, Johan Aakerlund, describes it as a "rounded geometric sans-serif type design intended for large sizes". The font is essentially cute looking, which makes it a perfect choice for businesses aimed to emit positivity through selling toys, vacation tours, foods, and more. It is also our top choice as one of the best free fonts for children's books. 
Due to its overall softness, Comfortaa is quite inviting to the audience. If you decide to opt for this font, consider using it for headings, but be careful applying it to entire body text, as it can affect readability. 
Fonts to pair with Comfortaa
Comfortaa pairs well with other free typography fonts, such as Open Sans, Raleway, and Roboto.
4. Montserrat
A shout out to one of the fonts that bring us inspiration! Montserrat is a geometric sans-serif typeface created by Argentine graphic designer Julieta Ulanovsky. The inspiration for this typeface came from the posters the designer saw in the neighborhood of Montserrat in Buenos Aires. 
What makes this typeface special? First, it's quite easy to scale. Second, it offers high readability which makes it a perfect choice for longreads. 
According to its designer, the font represents a modern font alphabet that can be used in both publishing and in the corporate world. Interestingly, Montserrat is now the official font for the Government of Mexico, as it uses it in documentation, presentations, and more. 
Fonts to pair with Montserrat
Need a great font combination for this one? Montserrat pairs well with Fira Sans, Karla, and Cabin.
5. Open Sans
Looking for a simple font to use for numerous purposes? Opt for Open Sans. Created by Steve Matteson, an American designer, Open Sans is famous for its wide apertures and tall lower-case letters. 
Due to this, Open Sans can work well on screens and in printed materials. In fact, Open Sans is one of those free text fonts that can serve a wide variety of purposes. Use it for your documents as it provides great readability. Consider it for your logo to give it a modern and elegant look. It is also one of the greatest fonts for advertising and social media publications.
As for its application, Open Sans is the official font for the UK's Labor, Co-operative, and Liberal Democrat parties, as well as a font choice for many commercial brands. 
Fonts to pair with Open Sans
Open Sans will go well with Montserrat, Bitter, and Domine.
6. Manrope
Another great professional font — and it's free to use! Manrope is a modern, geometric sans-serif font that is set to win hearts. Designed by Mikhail Sharanda in 2018, the font will be a perfect choice for posters, logos, and longreads. 
Manrope is not an edgy font, meaning it will be rather inviting to the reader and create great readability. It's among those good free fonts that you can build on, and amplify its meaning by pairing it with other fonts. 
Fonts to pair with Manrope
Pair Manrope with Marcellus or Source Han Sans Korean.
7. Chivo
Chivo, or "goat" in Spanish, is a grotesque sans-serif typeface. Designed by Hector Gatti, Chivo is one of the most elegant fonts on the list. Thanks to its bold lines and overall appearance, Chivo will work well for highlights and headings. 
With this font, the purpose you give it matters. For example, Chivo Regular will work just great in longreads, while Chivo Black would be great for banners and focal points. 
Fonts to pair with Chivo
What about font combinations? Chivo pairs well with some of the fonts we mentioned above — namely, Lato.
8. Grenze
Here comes the serif font! Though Grenze looks like a font from past century scriptures, it is still a modern typeface that you can use in designs. 
Indeed, Grenze is a unique font that has a historic look to it. Created by Renata Polastri, the font implies some kind of mystique. It was initially designed to be used in magazines. So, if you're up to creating your own newspaper or, say, a poster that follow this pattern — Grenze is definitely the choice. Use this font for headings, quotes, and more. 
Fonts to pair with Grenze
Grenze will pair well with non-serif fonts — you are welcome to choose them from our list!
9. Istok Web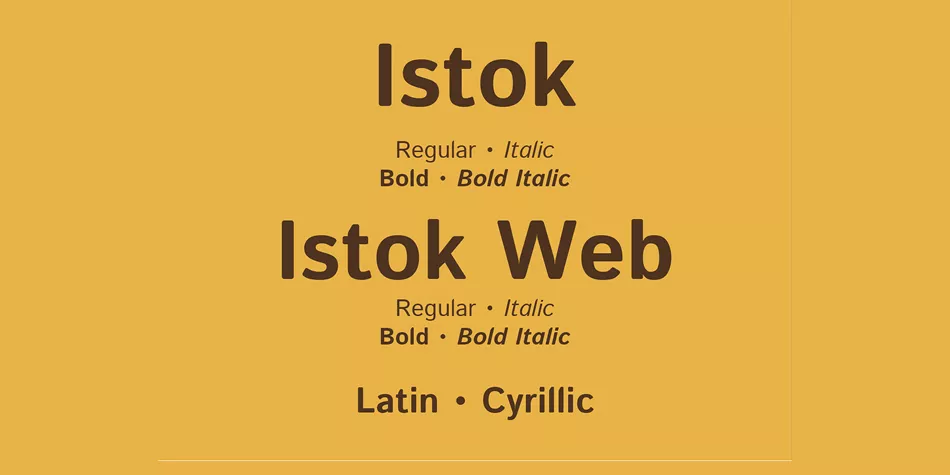 Another lovable font that is perfect in its simplicity. Created by Andrey V. Panov, Istok Web is about smooth lines and good readability. Despite it being rather simple at first glance, the font still has some playfulness to it — you just need to notice it. 
Use this font for headings, but be especially careful when applying it to your logo or long-reads. The fonts will also work well in your printed materials. 
Fonts to pair with Istok Web 
Istok Web pairs well with Nunito, Cormorant Infa, and other fonts.
9. Commissioner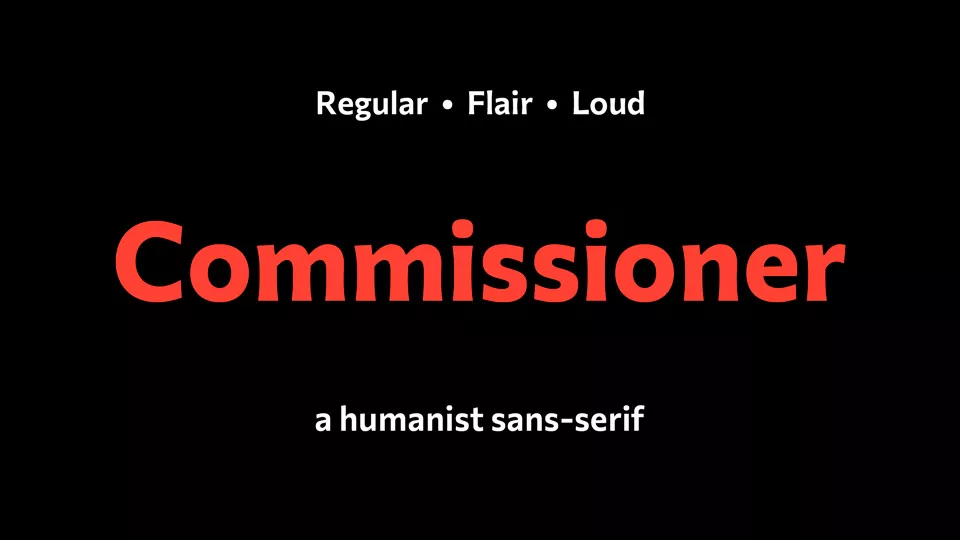 Commissioner calls itself a humanist sans-serif typeface. Designed by Kostas Bartsokas, the font is rather soft and it will bring warmth to your design projects. What we love about the Commissioner is its smooth lines that can still be perceived as rather loud depending on font's usage.
The font will best suit headlines, highlights, and focal points. Commissioner covers 54 (!) different styles, making it a versatile font that can serve a wide range of purposes. We also appreciate the dot over the letter "i" that looks almost like it has been handwritten. 
All in all, it's just a beautiful free font that will add elegance to your next design project. 
Fonts to pair with Commissioner
Pair it with other free fonts, such as Roboto and Montserrat.
10. Nunito
Nunito is a go-to option if you're choosing among sans-serif fonts. Its designer, Vernon Adams, intended to create a well-balanced font that will serve lots of design purposes. 
Nunito is known for its rounded edges, which give this typeface a rather friendly flare. Plus, it appears to be a little playful, so we suggest using this font if your brand speaks to kids or teenagers. Nunito also has a bit of a comic look to it, which makes it possible to use it in comics, posters, and (why not), memes.
Check out our selection of memes only social media marketers will understand.
Fonts to pair with Nunito
Nunito creates great contrast when paired with Lora, Open Sans, and Roboto.
11. Karla
Karla is a grotesque sans-serif typeface designed by Jonathan Pinhorn. It's rather soft, as you can notice from its lines and curves. 
Karla is a good fit for longreads and websites. We love the tiny curl (or should we say cap?) the letter "g" has — looks awesome, right?
Fonts to pair with Karla 
Pairing advice time. Karla will go well with Montserrat, Acta, Inconsolata, Optima, and ITC Woodland, as well as other fonts — always experiment!
13. Butler
Butler is a pure classic. It is inspired by fonts from the Bodoni family, which consisted of extremely thin lines. The designer behind this font is Fabian De Smet. 
Butler will make a great choice for newspapers, magazines, book covers, business cards, and some logos. You can also use this font for various office purposes, like invoices and presentations. 
Be careful if you need a modern font for print — due to its thin lines, Butler is not the best choice for printed materials.  
Fonts to pair with Butler 
One of the fonts that will make a great combination with Butler is Roboto.
14. Raleway
Matt McInerney is the person behind this iconic font. We just love Raleway. It's a sans-serif typeface which appears to be elegant, modern, and classy. 
Raleway is good for long reads, as well as slogans and printed materials. You might think it's quite similar to some of the other fonts on this list, but… Note how graciously the lines in "W" intersect. The Italic version of the font is dynamic, making it a great choice if you want to add some movement to your static designs. 
Fonts to pair with Raleway
What about pairing? Raleway will pair well with Merriweather, Cabin, Roboto, PT Sans, and Open Sans.
VistaCreate Styles: How to find a great font combination in minutes
In VistaCreate, we have dozens of free fonts that you can use for your projects — whether you're creating a simple social media post or designing your own logo in minutes. 
What is VistaCreate's Styles feature and how does it work?
VistaCreate offers thousands of ready-made templates. You're free to tweak any design objects on your artboard, and play with fonts and font pairings. The Styles feature helps you make the right choices when pairing fonts: you'll find font pairings that you can simply click on and apply to your templates. Hit "Shuffle" and watch VistaCreate offer you the best font pairing options for your designs.
And yes, all the modern fonts in VistaCreate are absolutely free. Create a design with a modern font and download it to post on social media. 
Loved Montserrat, Nunito, or Lato? You can find all of these fonts in our library — so head over to VistaCreate and start designing right away. 
You can find more on how to use our Styles feature to create on-brand designs here. 
How about some more reading? Check out what we previously published on fonts and related topics: