The 10 best Christmas marketing campaigns of 2022
Christmas 2022 is officially here, which means no more last-minute festive campaigns — marketers from around the world can exhale, enjoy the results ...
Christmas 2022 is officially here, which means no more last-minute festive campaigns — marketers from around the world can exhale, enjoy the results of their work, and go off on their well-deserved vacations.
In the meantime, we'll look back and recognize the best Christmas marketing campaigns of 2022. 
Read this article till the end to find out how print marketing is making a huge comeback this holiday season, what the 21st-century Santa Claus looks like, and why Katy Perry is the Holiday Hero.
Merry Spritzmas Cards — Aperol Spritz
To honor the festive season of 2022 and "encourage spontaneous get-togethers outside of the Christmas rush," Aperol Spritz launched a pretty unusual campaign, Merry Spritzmas Cards. 
In collaboration with a talented Bristol-based illustrator, Bett Norris, Aperol Spritz designed three vibrant branded postcards in the signature Aperol Spritz bright orange color. 
Each card retails for £5 and comes with a complementary pair of Aperol Spritz at any All Bar One across England and Wales for the sender and recipient to enjoy (from January 2023 through February 2023).
While the festive season is a swirl of social events, we know that the sheer volume of pre-planned arrangements and last-minute admin can be overwhelming.

With reconnecting with loved ones so high on the agenda this Christmas, we want everyone to reclaim a little bit of spontaneity throughout the festive period and enjoy some quality time together.

– Loris Contro, Campari Group UK Italian Icons Brand Ambassador
To get more eyes on the Spritzmas Cards campaign, the brand took this initiative to social media. In a series of colorful posts, Aperol Spritz shared campaign details and revealed the three festive postcard designs available for purchase.
Why was this Christmas campaign good? There are three reasons why this Christmas campaign was a success: 
The postcard design is stunning; it's a great Christmas gift for both a brand advocate and a regular person. 
The Christmas campaign offer is an absolute bargain! For just £5 you get a lovely card and not one, but two drinks. What a steal!
Aperol Spritz did good research and understood the problem their demographic faces — lack of free time to reconnect with loved ones over Christmas. 
Finally, the cherry on top is the social cause this Christmas campaign 2022 supports: "proceeds from the sale of each Merry Spritzmas card will go to hospitality charity The Drinks Trust, providing support to the hospitality workforce, both past and present, as the cost-of-living crisis continues."
Marketing takeaway: Don't underestimate the power a great postcard holds. No matter how digitized the world has become recently, people still love a good ol' tangible postcard. Especially on Christmas. Especially when it doubles as a free drink!  
➡️ Learn how printed Christmas postcards can elevate your Christmas marketing campaign in our article. 
Drops of Advice: Be Wildly Responsible — Smirnoff
Another alcoholic beverage brand that did a great job this Christmas season is Smirnoff. However, their vision of a 2022 Christmas marketing campaign was the polar opposite of Aperol Spritz's.
Instead of encouraging people to drink more, Smirnoff decided to teach their audience how to drink… Not less, just more responsibly over the festive season. 
To spread words of wisdom and educate their audience about safe drinking, Smirnoff partnered with Diageo and created the Drops of Advice: Be Wildly Responsible campaign. 
The six "drops of advice" include:
'When drinking, food is your friend'
'Avoid top ups'
'Dance freely, drink responsibly'
'Keep an eye on your friends'
'Stay hydrated'
'It's okay to call it a night'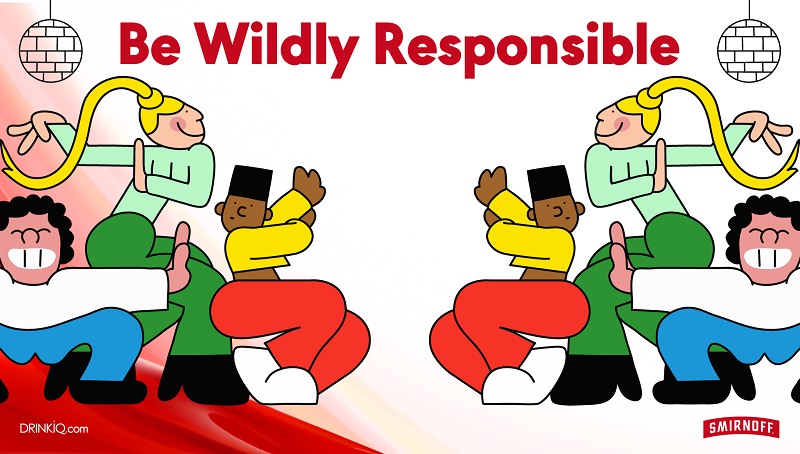 I'm so proud to see Smirnoff at the helm of this season's Drops of Advice campaign as the sponsor of our ongoing responsible drinking commitments. We know the holidays are an important time for people to get together and enjoy the good times and we want to ensure we're encouraging people to do that in responsible ways while maintaining the fun, vibrant attitude we're famous for – encouraging our consumers to be wildly responsible.

Stephanie Jacoby, Global Smirnoff Senior Vice President
Why is this Christmas campaign good? From the idea to execution, everything is great about this 2022 Christmas campaign. 
Smirnoff understands the importance of educating their audience about responsible drinking and does it in style. The animations created by Igor Bastidas are fun, visually appealing, and reflect all the current design trends.
I wanted to capture the energy of a diverse group of people who are making the right decision to moderate their drinking in a wholly original and enthusiastic way that is also "Wildly Responsible. In my work, I choose to be disruptive by using simple and straight narratives, and I think that it is reflected in these videos in an entertaining way.

Igor Bastidas, animator
Marketing takeaway: To make sure your Christmas marketing campaign makes the impact you want, don't limit yourself to just one format. For instance, Smirnoff spread their "drops of wisdom" through a series of animations online, a print campaign, and pop-up 'Be Wildly Responsible' bars worldwide. 
Holiday Hero — LEGO
This year, LEGO went all out and — for the first time ever — featured a celebrity in their Christmas campaign. 
Needless to say, it was all worth it. The Holiday Hero campaign was a success. But you knew that already. If it was a flop, it wouldn't have ended up on the list of the best Christmas campaigns of 2022. 
LEGO took an unexpected route and ditched the traditional sights of Christmas trees, ornaments, and snowy landscapes for something less picture-perfect… A DIY vehicle that delivers gifts, while Kary Perry sings her hit song Firework riding atop it! 
Actually, never mind, it is picture-perfect.
But more importantly, the Christmas video delivers an important message: with LEGO, anything is possible — it allows you to "build a playful holiday and rebuild the world".
At the Lego Group, children are our role models – they inspire us with their creativity, curiosity and imagination, so who better to turn to for our holiday campaign? Our new campaign is a celebration of the creative power and optimism that children possess. They see endless possibilities for play and show us the difference play can make to the world as they rebuild it for the better. We want to inspire people of all ages to prioritize play over perfection and unleash a childlike joy this holiday season.

— Julia Goldin, Chief Product and Marketing Officer at LEGO
Why was this Christmas campaign good? It was fun to watch —  you couldn't predict what was going to happen next. Katy Perry, Iron Man, Rapunzel? Holiday Hero had it all!
Bonus points for using thepop-hit Firework. Despite not being a Christmas tune, it's truly a classic. 
Marketing takeaway: Don't be afraid to take a different approach and stand out from the competition. And if you have the budget, secure a celebrity to star in your campaign.
But if attracting an A-list celebrity is a little out of your Christmas marketing budget, don't worry. As we're shifting further into the Metaverse, virtual influencers are becoming increasingly more popular — learn more about virtual influencer marketing in our article. 
Since we've already touched on the subject of 2022 Christmas campaigns that featured celebrities, next up is…
Have Your Elf a Merry Christmas — Asda
Whether or not you're a Christmas film connoisseur, the sight of Will Ferrell dressed as a Christmas elf should be familiar. Elf (2003) is up there with Home Alone and Fred Claus on the list of the most famous holiday movies!
For many people, this isn't just nostalgia. It's the epitome of winter holidays. So, it's only fair that the Have Your Elf a Merry Christmas commercial, where Will Ferrell reprised his role in Elf to become Asda's newest seasonal recruit, broke the Internet this year.
Like Buddy, we absolutely love Christmas – so we're thrilled to welcome him to our team. We know this has been a tough year for so many people, which is why we want to create some little moments of joy for families this year with our Christmas campaign, and more importantly, our amazing products. We hope that with a little bit of help from Buddy, our joy-filled Christmas offering will create some festive magic and help give families a Christmas to remember together.

Sam Dickson, Acting Chief Customer Officer at Asda
Why was this Christmas campaign good? It was effortlessly funny, nostalgic, and very kind — exactly what Christmas should feel like. Besides, it was good to see Will Ferrell dressed as a Christmas elf again. 
Marketing takeaway: Try to capture the true spirit of Christmas in your marketing campaign. Then, it has all the chances of becoming as iconic as this Asda commercial.
It Feels Good to Share — Walkers
Christmas holidays are filled with joy, excitement, and festive get-togethers with your family and your loved ones.
But they're also filled with unresolved problems that people can't quite talk about because it's "not what Christmas is about". 
Walkers noticed this and decided to dedicate their 2022 Christmas campaign to mental health. 
In a short commercial, a man shows up at a family function looking visibly upset. No, literally, there's a literal inflatable emoji following him from room to room showcasing how he really feels about everything.
He puts on his happiest face, but it's all play-pretend. Unfortunately, his family members are too busy celebrating to notice something isn't quite right. 
Everything changes when he enters the room to grab a bag of crisps and another man asks him how he really is. 
"This Christmas, let's talk more, because it's good to share… Just not your crisps ;)"
Why was this Christmas campaign good? In the 2022 Christmas commercial, Walkers isn't necessarily at the center of attention — the actual product, Walkers crisps, only appears on the screen towards the end of the ad. Nonetheless, the brand still sees results as they've managed to tell a heartwarming story and make an emotional connection with the viewer prior to that. Great move!
Another great thing about this campaign is that it looks at Christmas differently. 
It is during Christmas, the official "happiest time of the year," when people can feel particularly vulnerable and lonely.
And that's okay. 
You shouldn't keep everything to yourself simply because you feel like you're bringing everyone's mood down by sharing what's on your mind. 
More people need to realize and normalize that, so kudos to Walkers for spreading awareness. 
➡️ Learn how to avoid emotional burnout if you are a manager in our article.
Marketing takeaway: Your product doesn't have to be the center of attention. As long as you establish a connection with the audience, it'll still stick. 
But if you do want to put your product in the spotlight during Christmas, it's fine, too. Samsung did, and the campaign turned out to be amazing!
Quick Share the holidays with Galaxy — Samsung
Sharing is caring, we've already established that. 
So, to celebrate Christmas 2022, Samsung released a short video ad showcasing its phone's star feature, Quick Share. 
The short video tells the story of a little girl who gets bored at the family Christmas party and wants to entertain herself. She crawls through the crowd of adults and looks out of the window. In the building across the street, she sees a young boy whom she photographs on her Samsung phone, and Quick Shares the photo. 
The boy draws on the photo and Quick Shares it back to the girl. 
What a moving story. No, literally, the houses where the two kids live start moving, drawing in closer to each other. 
Why was this Christmas campaign good? Samsung managed to tell a great story. 
Another thing Samsung fans loved about this campaign is the music used in the ad. For the 2022 Christmas campaign, Samsung included a beautiful cover of an Elvis Presley song, instantly elevating its vibe.
Marketing takeaway: Use the Christmas campaigns to show off your product's star feature. 
Secret Santa — Cadbury
Thought we're done here? Nope, Christmas is all about sharing, whatever it means to you. 
Yet another brand taps into Christmas's reputation as "the season to give" in its 2022 Christmas campaign. To celebrate the winter holidays, Cadbury invites its audience to share love (in the form of chocolate) with the people around them. 
This year, Cadbury launched a Cadbury Secret Santa Postal Service, allowing up to 120,000 people around the UK to send a free Cadbury chocolate to their loved ones. 
The mechanism is very straightforward: anyone who wants to send a Christmas gift to someone special for free, needs to find one of the campaign posters scattered around the UK, scan the QR code, and choose the bar they want to share. 
Alongside the posters, the campaign ran across UK TV, video-on-demand (VoD), social, print, radio, and digital. 
Why was this Christmas campaign good? Cadbury gamified their Christmas campaign and created an amazing phygital experience to celebrate winter holidays in 2022. Great move!
To make the experience even more inclusive, Cadbury gave a chance to send an anonymous Cadbury gift, even to those who didn't find a Secret Santa poster, via their Secret Santa Shop. 
Marketing takeaway: Blend the real world and the digital world together in your Christmas marketing — it'll feel even more magical! 
The Beginner — John Lewis
Why was this Christmas campaign good? It's difficult for a John Lewis Christmas campaign to be bad. At the end of the day, John Lewis is the king of Christmas, and every year, millions of people anticipate their holiday campaign.
This Christmas is no exception. The Beginner is a wonderful example of an engaging campaign that draws attention to an important cause:
"In a challenging year, we felt it was important to demonstrate that it's what we do that matters most. We are proud to use our Christmas advert as a way to generate conversation and action around an often overlooked issue."
Marketing takeaway: Your Christmas campaign should tell a story, preferably a meaningful one. Then, it has all the chances of receiving the attention it deserves and going viral.
Santa's gift: The Audi Grandsphere Concept — Audi
What kind of best Christmas campaigns list would this be without at least one commercial featuring Santa? 
This year, this spot was taken by Audi. 
With a few nuances, of course. Being a cutting-edge brand, Audi decided to give Santa a makeover — instead of using a traditional image of Grandfather Christmas, we saw a North Pole businessman Santa.
On Christmas Eve, his helper takes him to a highly-protected vault to see a brand new sleigh — Audi Grandsphere. A car that drives without a driver:
"Welcome to the future, Mr. Claus."
Even though the car shown in the ad is merely a concept, it's still quite a spectacle — Audi fans were exhilarated to get this sight!
Why was this Christmas campaign good? Audi knows their target audience extremely well: they understand their wishes, their preferences, and their needs. And they delivered exactly what their audience anticipated — a concept of a new hi-tech car. 
Besides, it was interesting to see a modern Santa, he certainly looks good in his suit!
Marketing takeaway: No matter what you do, you need to remember to stay on brand in your Christmas marketing campaign.
#JoyForAll — Boots
The 2022 Christmas campaign by Boots follows a woman who finds a pair of magic glasses on the bus that lets her see the hidden 'joy' all around her. She then uses them to pick gifts the people around her would enjoy. So, when it comes to a Christmas gift exchange, everyone is genuinely happy with their presents.
To ensure the festive campaign hits all the right spots, Boots teamed up with marketing research company System 1 and tested all parts of the creative — from the storyboard to the edit — with customers.
Overall, for the 2022 Christmas campaign, Boots has increased its use of first-party data by 33%. 
To make the ad experience even more targeted, Boots has also partnered with TikTok, becoming the first UK retailer to leverage the benefits of the new interactive TikTok ad format, TikTok Story Selection. 
It [TikTok Story Selection] gives you a creative that is more tailored to the things you want to see and the thing you want to shop, and it really draws you in.

Peter Markey, CMO at Boots 
Scenes you can select include a colleague in the bath using Boots' Soap & Glory, her drag queen cousin using a Dyson blow dryer and her dad's personalized dog pillows. 
➡️  Learn more about growing your brand on TikTok in our guide to TikTok marketing. 
Furthermore, Boots also partnered with Meta to launch an Augmented Reality filter that helps with choosing the right Boots gift for your loved ones. 
Why was this Christmas campaign good? Boots' campaign was extremely successful thanks to the brand's decision to be as data-driven as possible — they managed to craft a campaign that's easy to understand, engaging, and looks good!
Besides, their partnerships with TikTok and Meta made the experience even more targeted, ensuring their target audience thoroughly enjoyed the campaign. 
Marketing takeaway: Personalize your Christmas marketing to make it more impactful. Keep up with the latest trends and make good use of the new functionality social media offers. 
---
That's it for now!
Christmas 2022 was a blast. But we all know we live in exciting times, so we expect Christmas 2023 to be even more impressive.
Check out our Christmas marketing ideas to make sure your business ends up on the list of the best Christmas campaigns next year.