Most of the time, people get annoyed at commercial breaks on TV and start to frantically change channels as soon as they see an ad.
But there's one night a year when they don't. Super Bowl night.
Every February, millions of people worldwide become glued to their TVs, anticipating various brands' elaborate special edition ads.
In turn, brands deliver their best performance and go all out to get a share of the audience's undivided attention.
Super Bowl 2023 was no different. In fact, this year, Fox has officially sold out all of its advertising inventory for Super Bowl LVII, with record-breaking prices surpassing $7 million for a 30-second spot.
Even if your business can't afford to pay $7M for half a minute of airtime, it's still worth keeping up with what appears on the screen.
In this article, we've collected the ten best Super Bowl LVII ads, deconstructed them, and outlined the lessons they teach entrepreneurs.
Tubi 2023 Super Bowl ad: Interface Interruption
For this year's Super Bowl season, Tubi — a free, ad-supported video streaming service — pulled the biggest prank of the year, making millions of people think they've accidentally switched over to the streaming platform during the big game.
During the fourth quarter of the game, Fox Sports announcers Kevin Burkhardt and Greg Olsen reappeared on screen as if they had returned from a commercial break. A few seconds later, however, the "game" got interrupted by an "invisible hand" pulling up a Tubi menu, selecting a film, and clicking the Play button.
No, you didn't sit on the remote. But on Super Bowl Sunday, we fooled audiences into thinking they did.

Tubi
Why is this commercial on the list of the best Super Bowl 2023 ads?
The main goal of any commercial is to evoke emotions in the audience and keep their attention on the screen. Tubi's Superbowl Interface Interruption ad did just that.
Even though the emotion wasn't necessarily pleasant at first (lots of people got mad at the brand for tricking them into thinking they accidentally switched the channel, stirring some serious family drama as a result), the majority of people who fell victim to Tubi's trompe l'oeil found it funny at the end of the day.
Good experience or bad, the Tubi commercial had people flocking to social media to share their thoughts on it. Some were even quick to make memes to mock the situation:
As a result, Tubi got plenty of exposure and increased brand awareness manyfold. A prime example of a new-age guerrilla marketing campaign!

However, just like with any other guerrilla marketing campaign, you need to be extremely careful to not do any harm.
No matter how effective in terms of generating buzz online, Tubi's Interface Interruption commercial received quite a lot of criticism, too. The brand failed to account for the fact that domestic violence rates are already incredibly high during big sports games, and a prank like that could cause even more incidents across the country.
Key takeaways: To stand out from the competition, you need to opt for unconventional ideas. At the same time, however, you absolutely must consider the implications of your guerrilla campaign.
Rakuten 2023 Super Bowl ad: Not So Clueless
Clueless is, perhaps, one of the few iconic 90s movies that has yet to get a modern reboot or a sequel. It stands alone in all its mid-90s glory — which, to be fair, isn't a bad thing at all! We wouldn't want anyone to replace Alicia Silverstone!
However, from time to time, we — devoted fans of this coming-of-age teen comedy — want to see what the cast of Clueless has been up to. It's nostalgic!
And 90s nostalgia is exactly what Rakuten tapped into in its 2023 Super Bowl commercial Not So Clueless.
In the minute-long ad, we see the return of Alicia Silverstone as Cher and Elisa Donovan as Amber to participate in a high school debate with an eloquent topic, "Economics."
In the manner intrinsic to Cher from Clueless and Cher from Clueless only, Alicia Silverstone's character explains the perks of shopping with Rakuten, an app that lets you get cashback when you shop.
Why is this commercial on the list of the best Super Bowl 2023 ads?
Rakuten couldn't have chosen a better person to talk about shopping than the shopping guru, Cher Horowitz. In the past, she was pretty clueless about cost-effective shopping, but then she learned that she could save on pretty much anything with Rakuten. In the words of the legend herself, "As if!"
Rakuten managed to masterfully capture the essence of Alicia Silverstone's character and adapt it to their product without it feeling forced. Besides, they also blessed us with the sights of the movie's original locations, like Cher's iconic bedroom with a spinning wardrobe and the lawn in front of her massive mansion.
And it was far from being whatever!
Key takeaways: You can easily appeal to your target audience by promoting your product with the help of an iconic pop culture moment. But only if it feels natural to do so.
PopCorners 2023 Super Bowl ad: Breaking Good
Rakuten wasn't the only brand that decided to utilize a well-known film in its ad. One of the best-received Super Bowl 2023 commercials is PopCorners' call back to one of the best television shows of all time, Breaking Bad.
To spread awareness about their "air popped, not fried" crisps and announce the release of a new seventh flavor, PopCorners recreates the show's, perhaps, most iconic scene — Walter White's and Jesse Pinkman's first score in the drug game with meth kingpin Tuco Salamanca.
The only difference is that in Popcorners' Breaking Good, the well-renowned scene gets a much more innocent, wholesome spin. The "supply" in question is just PopCorners crisps made from "basic ingredients."
Why is this commercial on the list of the best Super Bowl 2023 ads?
Super Bowl is a huge deal, and so was Breaking Bad. This makes the two a great match for each other: Breaking Bad was just the right iconic pop culture moment to reference in a Super Bowl ad.
Popcorners played their cards right, and the commercial instantly went viral on social media. Both fans of the show and the game's fans were head over heels about it.
And there's a good reason for this. From bringing in the cast — Bryan Cranston, Aaron Paul, and Raymond Cruz, — to reciting the lines from the scene (although slightly amended to be PG-13-rated and relevant to the product at hand), to using the actual RV from the show — Popcorners got it all down to a T!
And the fact that the actors had a blast while filming the commercial only made it better!
In the seven years that we were doing 'Breaking Bad' from the beginning of the pilot to the end, it was a very intense show. So there wasn't a lot of room to just have fun and smile a lot and laugh a lot during shooting, because you're so intense on those characters, that this change was so welcomed to us.

Bryan Cranston
Key takeaways: Sometimes, to get attention from the audience, you need to go big. But don't just copy an iconic moment word-for-word; make sure it's in line with your brand.
M&M's 2023 Super Bowl ad: The Spokescandies Saga
To someone unfamiliar with the whole M&M's spokescandies saga, this Super Bowl 2023 ad might seem strange, to say the least.
Maya Rudolph? Ma&Yas candies? The Red M&M candy pleading for help? Clam bites? People looking like they're about to throw up? What's going on?!
Wait, actually, the last one is understandable. If we were offered a "chewy, chunky, candy-coated clam," we'd probably feel nauseous, too!
But what about the rest of it?
Don't worry, once you know the context and understand exactly what's happening, you'll see the genius of this ad, too. So…
Why is this commercial on the list of the best Super Bowl 2023 ads?
This bizarre video isn't a standalone commercial. In fact, it's part of a months-long campaign run by M&Ms.
So, let's hop into an imaginary time machine and figure out the backstory for this ocean-flavored frenzy.
The story starts roughly a year ago when Mars Wrigley decided to rebrand some of its signature mascots to make them more inclusive and better fitting for the "more dynamic, progressive world."
As a part of these changes, the brand redesigned some of its characters — introduced more diverse shapes of the spokescandies, swapped their heels for sneakers, made their legs shorter, etc. — and created weirdly elaborate backstories for others. All to make them appear less sexy.
The change, however, didn't receive a warm welcome from the general public.
Feminists didn't receive it well because "being hot isn't a problem unto itself," while the far-right conservatives condemned the brand for being "woke."
And that's where the plot thickens.
As a response to the controversies, the brand decided to… 'Indefinitely' replace the spokescandies with the comedian Maya Rudolph.
The brand then proceeded to publish a series of social media posts, covering the subsequent fate of the mascots… Here, for example, the Green M&M models some sneakers:
But M&M's retirement didn't last long. In fact, it was all a stunt for the Super Bowl.
On the day of the big game, M&M's occupied not one but two ad spots. After the bizarre Ma&Yas commercial, the brand hit the audience with another curveball, the "M&M's spokescandies press conference," where the brand announced its mascots were back for good.
That's about it. Pretty epic, whatcha think?
Key takeaways: Some campaigns might take ages to bring to life. If you want max publicity, you need a well-planned campaign that keeps the conversations around your brand going.
Doritos 2023 Super Bowl ad: Jack's New Angle
Every year, Doritos goes all out for the Super Bowl. 2023 is no exception to the rule.
For the 2023 Super Bowl, the brand prepared an energetic video commercial, which features none other than the six-time Grammy-nominated rap superstar, Jack Harlow.
The ad starts with Harlow listening back to his new song in the studio and not liking it. He's longing for "something new." And he quickly finds this new something: the camera first shifts to a woman eating a single Dorito crisp and then focuses on the triangle behind it.
Jack Harlow decides to base his new song around the sound of the triangle, and the crowd goes absolutely wild (in a good way) when they hear it at a concert! And that… That sets off a global triangle fever. Ting, ting, ting!
All to announce the launch of a new Doritos flavor, Sweet & Tangy BBQ — "Try another Angle!"
Why is this commercial on the list of the best Super Bowl 2023 ads?
Although not as complicated and lengthy as the M&M's campaign, Doritos' 2023 Super Bowl commercial is also a multi-part story.
Long before February 12 — the day of the Super Bowl in 2023 — Doritos launched a TikTok casting, calling all creatives to come up with a bold and energetic "triangle-inspired dance on TikTok" and win a chance to appear in the brand's Super Bowl commercial.
All people had to do to submit a dance was upload the video on TikTok, add hashtags "#DoritosTriangleTryout" and "#entry," and tag the brand in the caption.
Doritos also generated anticipation for the ad by doing a lot of teasing on social media. For instance, on January 9, the brand shared this Tweet on its official account: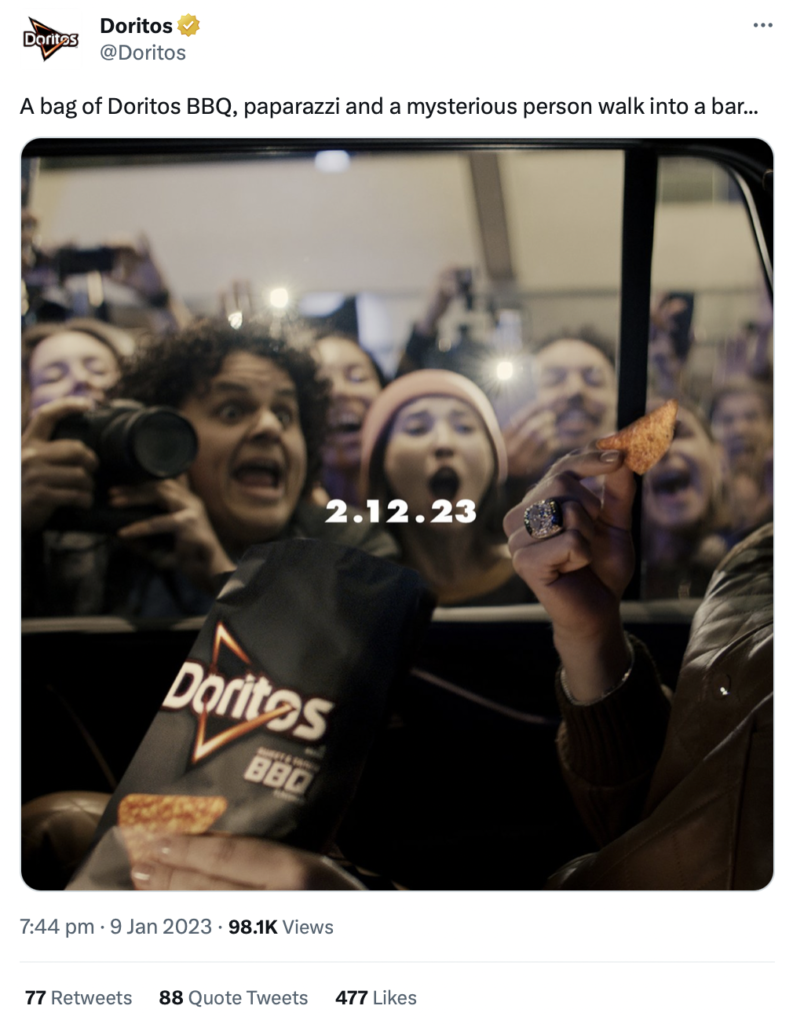 Jack Harlow's fans immediately recognized who the "mysterious person" in question was and were absolutely delighted, further hyping up the campaign.
If you're wondering how they knew it, the ring in the shot and the shot itself were a dead giveaway. Here's the album cover Doritos references — see for yourself!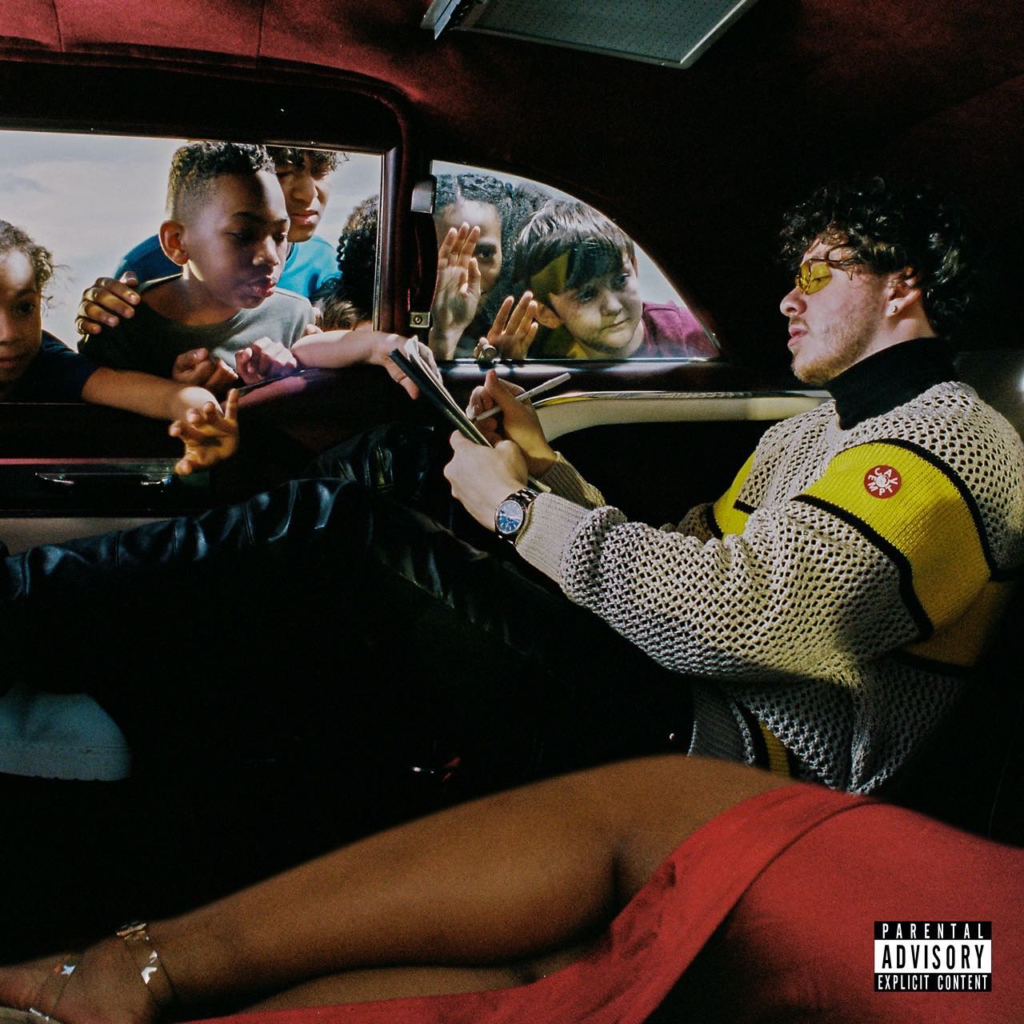 Jack Harlow's That's What They All Say album cover; source — Jack Harlow's Twitter account.
Finally, Doritos didn't limit themselves to one superstar in the commercial. Toward the end of it, we get an unexpected Elton John cameo!
Key takeaways: Don't underestimate the power of a good UGC contest on social media to make a campaign go viral. And if you can get your hands on a Grammy-nominated artist to back your campaign… That would be quite awesome, too!
Hellmann's 2023 Super Bowl ad: Who's In The Fridge?
Hellmann's is yet another brand that got quite a cast for its 30-second-long Super Bowl 2023 commercial: Brie Larson, Jon Hamm, and Pete Davidson! All three of them find themselves in a pretty unusual situation.
Brie Larson and Jon Hamm — Brie and Hamm — get stuck in a fridge. Together with Hellmann's, they're dinner! At the end of the day, "with Hellmann's, all these leftovers can be anything."
The conversation between the two gets interrupted when Pete Davidson opens the door of the fridge to "eat them."
Why is this commercial on the list of the best Super Bowl 2023 ads?
It's funny, it's creative, and it tackles an important issue of food waste — what's not to love?!
The creatives behind the Hellmann's commercial managed to come up with a witty pun — leveraging Brie Larson and Jon Hamm's names — that makes the campaign memorable.
They also added a bit of situational marketing to top it off: Pete Davidson was, in fact, everywhere throughout the year!
And, finally, they ended it on a high note with an environmentally friendly, socially conscious tagline: "Make Taste, Not Waste."
Key takeaways: Nothing beats a clever pun! And social responsibility! And poking fun at current pop culture trends!
Learn more about social entrepreneurship and how it's changing the business landscape in our article. Then, make sure to check out VistaCreate's collection of free design templates that focus on environmental problems!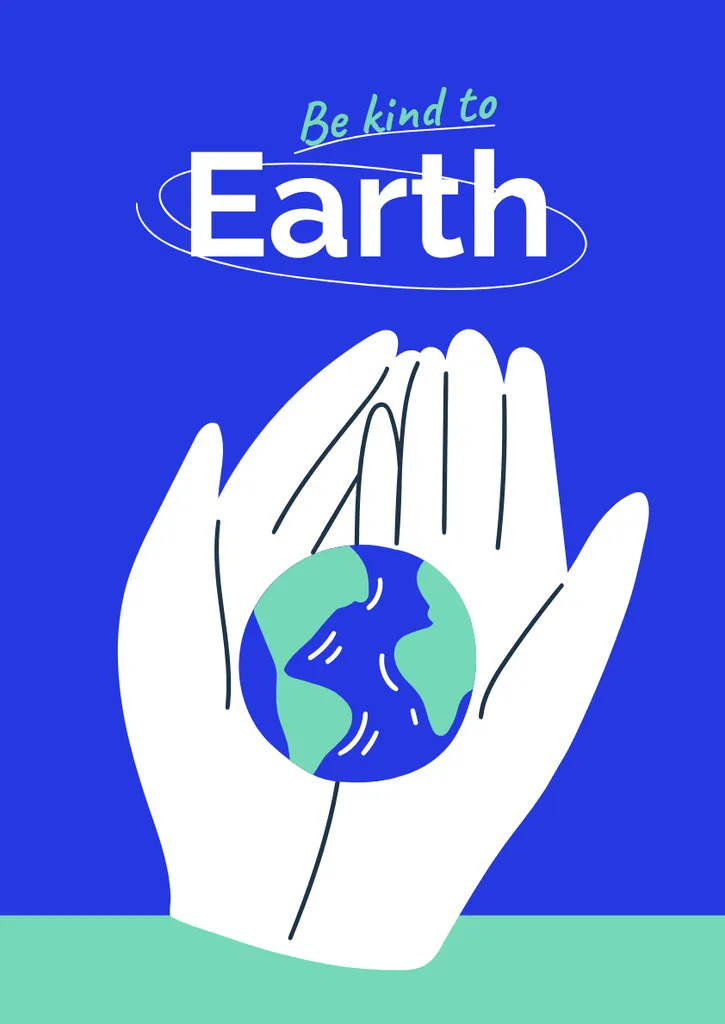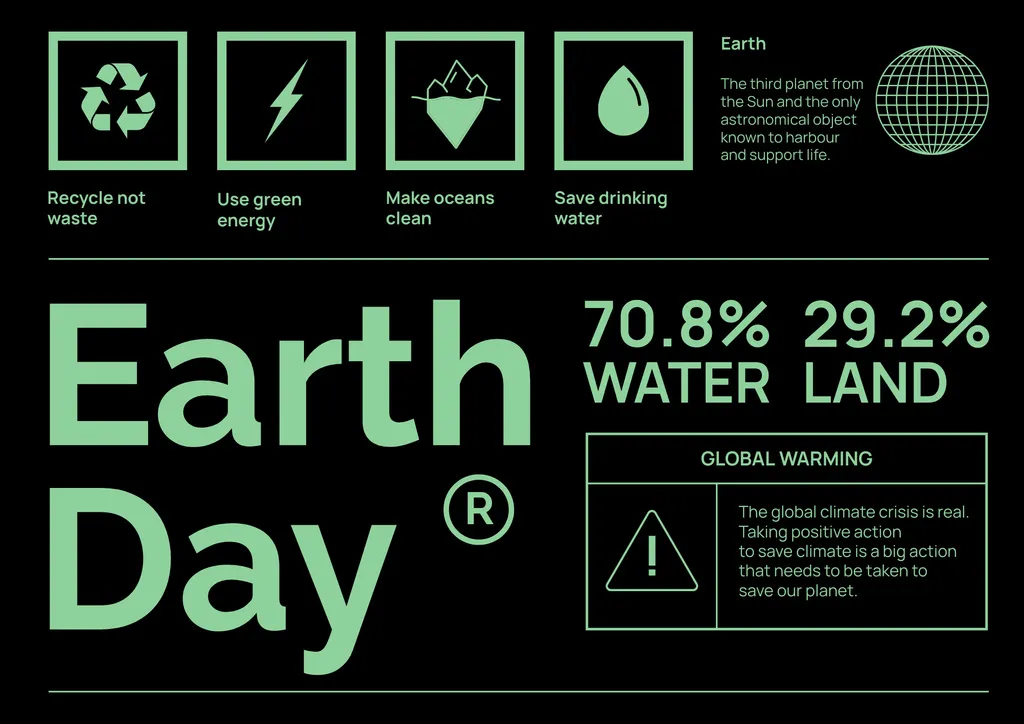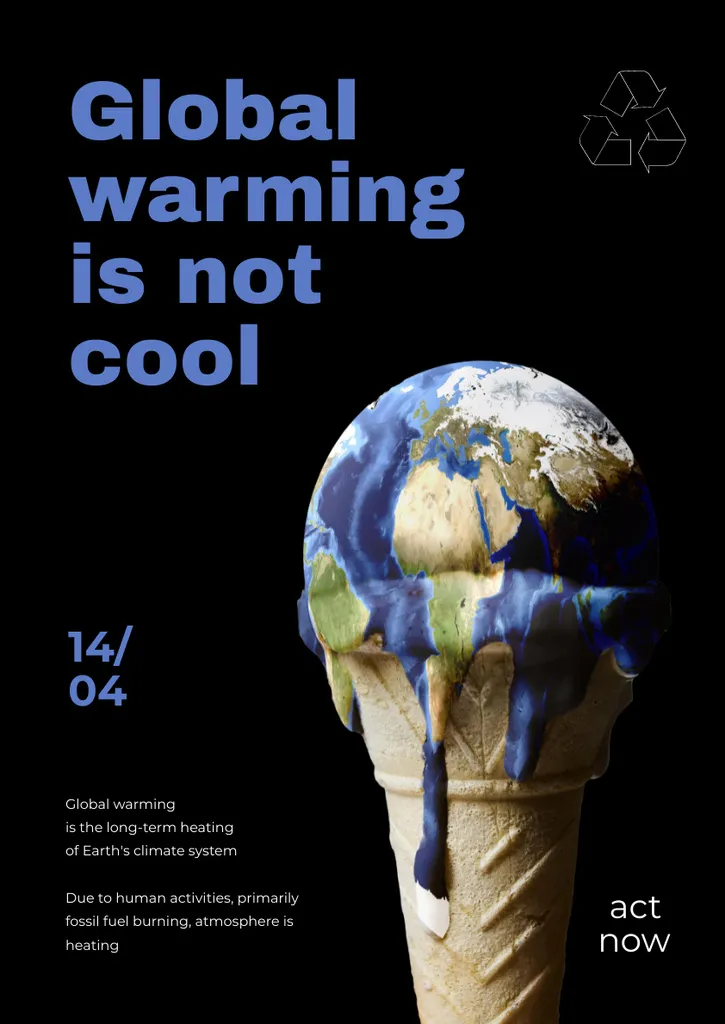 Dialpad 2023 Super Bowl ad: The Good AI
Perhaps, not as outlandish as some other examples on this list of the best Super Bowl 2023 commercials, but this Dialpad ad gets the job done just right!
In fact, Dialpad doesn't waste any time. From the first second of the commercial, we learn everything there is to know about the product and its benefits: what it does, what it doesn't do, and how it can be of use to humans.
"Dialpad AI for customer service, sales, and team collaboration."
Why is this commercial on the list of the best Super Bowl 2023 ads?
Simple yet effective, this ad does exactly what the advertisement should do — sell the product to its target audience. And it does it in a pretty entertaining way, with dynamic visuals, convincing narration, and even a reference to Matrix, the movie.
It's also important to note that Dialpad addresses the fears many people have when they hear anything about Artificial Intelligence. Dialpad is "not that AI" — *in a slightly worried, muffled voice* — no robot takeovers in the viable future!
Key takeaways: Even though creativity is key to standing out from the crowd, sometimes you should keep things simple and just get straight to the point. When your product is good, its features do the selling!
The Farmer's Dog 2023 Super Bowl ad: Forever
In just a minute of their Super Bowl 2023 commercial, The Farmer's Dog, a dog food brand, manages to tell us a touching story of two kindred souls — a girl and her puppy that grow up together.
At the very beginning of the video, we see a little girl whispering, "I'll always take care of you," to a tiny pupper. And she delivers on her promise!
As frames change, we see the two of them spend time with each other, doing all kinds of different things: walking down the street, soaking up the sun on the beach, saying a temporary goodbye to each other when the girl leaves for college, and a happy "hello" when she returns home with a fiance.
The ad finishes with now four of them — the senior dog and the all-grown-up girl, her husband, and her little baby — laying in bed together.
As the girl hums, "I'm gonna love you forever," while looking at the face of her now gray-haired dog, she remembers all the happy moments they've shared.
"Nothing matters more than more years together."
Why is this commercial on the list of the best Super Bowl 2023 ads?
This Super Bowl 2023 advertisement offers something a lot of others don't — strong storytelling and an appeal to the viewer's emotions.
Not sure about you, but following the story of a pure lifelong friendship between a dog and its owner made me tear up a little. And that is an indicator of a good ad that gets you.
Key takeaways: Appeal to the target audience's emotions and place your bets on powerful storytelling. After all, stories sell!
YouTube 2023 Super Bowl ad: Football cat — NFL Sunday Ticket is coming soon to YouTube TV
Since we've already touched on the subject of cute animals, here's another example of a Super Bowl 2023 ad that features a pet. Well, actually… It's the only thing that it features.
No, really, all that happens in this YouTube commercial announcing that NFL Sunday Ticket is coming to YouTube is… An orange cat in a t-shirt plays the keyboard.
And yet… It looks epic!
Because it's not just any orange cat, it's the orange keyboard cat that was at the origins of YouTube. It's Internet history!
Why is this commercial on the list of the best Super Bowl 2023 ads?
Memes always do well, especially when they're worldwide known and loved cat memes.
But that's not the only reason why this commercial made its way onto the list of the best Super Bowl 2023 ads.
Another thing that made this commercial so great is that YouTube addressed the problem NFL fans had with the current streaming service and promised an easy solution.
And, well, yes, the cat — so nostalgic!
Key takeaways: Know exactly who your target audience is and what they like. Then, use this knowledge to your advantage.
An honorary mention: Fenty Beauty
Technically, it would be unfair to list Fenty Beauty along with the rest of the brands in this article. The difference between them is pretty major: while everyone else paid up to $7M to get their ad shown during the game, Fenty Beauty found its way into the spotlight for… Free!
Well, almost.
The price was Rihanna's Super Bowl Halftime Show performance. In case you didn't know, performers don't get paid for the show.
Mid-performance, the singer paid homage to her cosmetics brand and took a second-long break to touch up her makeup with the Fenty Beauty Invisimatte powder.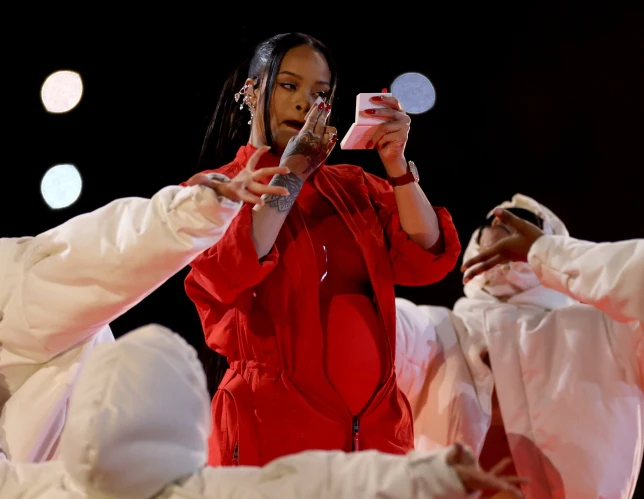 Source: EPA
This was enough to earn Fenty Beauty $5M in media impact value at the Super Bowl — following the promotion, Google searches for Fenty Beauty rose by a whopping 833%! It was the topic of the night.
Why is this commercial on the list of the best Super Bowl 2023 ads?
Even though Rihanna hasn't blessed us with new albums since 2016, she surely has been up and running being an excellent entrepreneur. The appearance of Fenty Beauty during the Halftime show is the infallible proof of that.
But it wasn't the only thing that Fenty Beauty did to ensure maximum results. They also launched limited edition products just to celebrate Rihanna's performance, shared breakdowns of Rihanna's looks on the website, and engaged with their community online.
Key takeaways: Take every opportunity you can to promote your brand.
---
We understand that the majority of small businesses don't have the budget to buy a Super Bowl commercial slot. But it shouldn't stop you from conquering the world!
Even if you don't have access to the big screens, you most definitely have access to billions of small smartphone screens across the world. And that is an invaluable asset to have!
Learn everything you need to know about effective social media marketing in our article, and create ads that make an impact using VistaCreate!