7 art movements every designer should know & ideas you can use for your business
If you work with design, you're already familiar with the most popular styles and can easily determine their otherness. But are they really that diff...
If you work with design, you're already familiar with the most popular styles and can easily determine their otherness. But are they really that different? Even if it doesn't seem obvious, all art movements are interconnected. In fact, every art movement in design that influenced today's visual culture was the basis for all the next ones. For example, 20-century Surrealism stands on the shoulders of the Gothic movement of the 13th century and the Renaissance movement of the 15th; it appeals to their themes, colors, and composition. 
In the same way, all the designs you create today are shaping the artworks of future generations. That's why modern designers and creators must know where their design originates from, and what kind of visual aesthetics they lay down for works of other artists. Also, being able to use various design styles gives you more creative freedom, allowing you to mix and match different elements to create your own recognizable style.
Naturally, we can't analyze all art movements in design in this article — each art movement deserves a whole doctoral thesis (and there are already hundreds of them!) — but we'll explore some of the key styles of the 20th century that led to modern design trends. We will hit the high points of these styles and explain their main features to save your time. This way, you will be able to expand your artistic skills and create graphic design projects influenced by them.
Without further ado, let's get into it!
#1 — Art Nouveau
The Art Nouveau movement arose in the late 19th and early 20th centuries, and penetrated all spheres of human life – architecture, interior and furniture design, fashion, jewelry, textiles, and graphic design. With new printing technologies, particularly lithography, artists could experiment freely with their graphic artworks and create color posters for mass production. 
This circumstance prompted businessmen to use graphic designs for advertising their products and services. This way, many artists became graphic designers and commercial illustrators working for businesses, and covering all their marketing needs by making ad posters, postcards, packaging, etc.
In the Art Nouveau era, the glorification of beauty and sensuality came to the fore. For example, Czech graphic artist Alfons Mucha has significantly influenced the movement thanks to his recognizable style of depicting women as goddesses surrounded by flowers and plants.
Key features of Art Nouveau:
Ornamentalism
Pastel color palette
Smooth curvy lines
Natural motifs (plants, flowers, birds, animals)
Femininity
Natural sensuality
👨🏻‍🎨Artists/designers who defined the movement: Jules Chéret, Alfons Mucha, Eugène Grasset, Gustav Klimt, Koloman Moser, Otto Eckmann
Examples of Art Nouveau art
How to use principles of Art Nouveau for modern businesses
It is unnecessary to copy Art Nouveau's artworks in detail for modern graphic design projects. Better focus on its main concept: sensuality. This way, you will see that this style is perfect for women's fashion, beauty salons, perfumes, and cosmetics.
For such businesses, you can safely borrow the idea of the deification of female images from Art Nouveau. As for their iconic floral and animalistic elements, they work great for printables – business cards, calendars, posters, flyers, catalogs, packaging, etc.
Graphic elements to use:
Fluid curvy lines
Female figures
Pattern drawing
Flora and fauna patterns
Look at these VistaCreate templates for inspiration: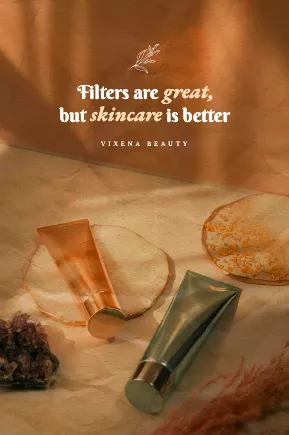 #2 — Bauhaus
Founded in 1919 by Walter Gropius, Bauhaus (literally 'building house' in German) was an art school for architects and designers. The design impact of the school and its specialists was so great, that the very word Bauhaus became the definition of one of the most significant art movements of the 20th century. 
The key principle of the school is to unite aesthetics with everyday function for all projects — from architectural, interior, and product design to fashion, pottery, graphic design, etc.    
Bauhaus graphic designers explored photography, collage, and typography, applying their knowledge in color science, font psychology, and graphic design layouts. Their innovative approach became a foundation for all future art styles, and we use their principles in modern design without even realizing it.
Key features of Bauhaus design:
Less ornamentalism
Big forms
Clean lines
Geometrical shapes
Simplicity
The "Form follows function" approach
👨🏻‍🎨Artists/designers who defined the movement: Paul Klee, Wassily Kandinsky, László Moholy-Nagy, Walter Gropius, Herbert Bayer
Examples of Bauhaus art
How to use principles of Bauhaus for modern businesses
Bauhaus style is quite versatile and it can be used for any industry — restaurants and bars, interior and architectural bureaus, real estate agencies, furniture showrooms, etc. Use it to add a "vintage" vibe to your designs for eye-catching posters, flyers, catalogs, and business cards.
Graphic elements to use:
Simple geometric shapes
Limited color palettes 
Bright accents
Grids
Fonts, fonts, fonts (learn more in our typography basics)
Collage with various cut-out elements
Here are some of our Bauhaus-inspired templates:
#3 — Suprematism
Officially, Suprematism was born during the First World War with Kazimir Malevich's designs for Victory Over the Sun, a Futurist opera performed in St. Petersburg in 1913.
Basically, Suprematism is not about visual style; it's a philosophy that celebrates "the supremacy of pure artistic feeling" over the realistic depiction of objects. Suprematism principles liberated artists from limitations that pre-determined the ideal structure of life and art. 
Malevich, the patriarch of the art movement, said: "Under Suprematism, I understand the primacy of pure feeling in creative art. To the Suprematist, the visual phenomena of the objective world are, in themselves, meaningless; the significant thing is feeling, as such, quite apart from the environment in which it is called forth".
Suprematism emerged almost simultaneously with Bauhaus and Constructivism, giving these two art movements a more profound philosophical background for their art and design projects.
Key features of Suprematism:
Simplicity
Reduction 
Abstraction
Limited range of colors
No decorativeness
Celebrating feelings over the environment in which they are called forth.
👨🏻‍🎨Artists/designers who defined the movement: Kazimir Malevich, El Lissitzky Alexandra Ekster, Nadezhda Udaltsova, Lyubov Popova
Examples of Suprematism art
How to use principles of Suprematism for modern businesses
Although Suprematism was not meant to be a commercial design style, its elements can inspire different industries: print and online media, architectural and design bureaus, construction companies, financial firms, banks, libraries, educational and art institutions, etc. Apply its graphic components for logos, book covers, print collateral, and merchandise items.
Graphic elements to use:
Simple geometric shapes: squares, circles, rectangles, triangles
One-two color scheme
Basic colors
Lines and grids
Emptiness
Here are some of VistaCreate's Suprematism-inspired templates:
#4 — Art Deco
Art Deco emerged in France in the 1930s as a style of glamor and true elegance. It conquered the whole world in just a few years and remained the main art movement in decorative arts and architecture until the 1950s. You can see Art Deco in architecture, interior design, fashion, theater costumes, print media, posters, etc. 
The Art Deco movement in design was heavily influenced by Cubism's bold geometric forms and simple composition. It also borrowed color schemes of Fauvism, an art movement of the early 1900-s, famous for its bright color palettes. 
Emerging in the 1920s and 1930s, Art Deco celebrated industrialization and innovations to such an extent that some called it the near–fetishization of the machine. It is from industrialization aesthetics that Art Deco got its iconic sleek geometry.
Key features of the Art Deco movement:
Cubist forms
Smooth, polished lines
Rich colors 
Gatsby-esque luxury
Exotic influences
👨🏻‍🎨 Artists/designers who defined the movement: Léon Bakst,Paul Colin,William Van Alen, Émile-Jacques Ruhlmann
Examples of Art Deco art
How to use principles of Art Deco for modern businesses
Since Art Deco is all about innovations and discreet glamor, you can use it for top-notch restaurants, clinics, showrooms, real estate, and law firms; anywhere you need to show status and style. The Art Deco design style goes perfectly with event posters and invitations, luxury business cards, catalogs, envelopes and other printables, especially when printed with gold foil.
Graphic elements to use:
Elegant color combinations according to color basics 
Serif fonts
Luxurious gold, silver, and bronze colors
Juxtaposition of bold and thin lines
Just a splash of exotic patterns
Here are some of VistaCreate's Art Deco templates:
#5 — Dadaism
Dadaism was born in Europe in the early 20th century and drew upon several European artistic movements, including Cubism and Expressionism. Dadaism mocked conventional fine art and even the concept of art itself, bringing visual images to absurdity and creating "anti-art".
Marcel Duchamp, one of the founding fathers of Dadaism, was the first one to use ready-made objects for his art pieces. His famous L.H.O.O.Q. known as 'Mona Lisa with mustache'  is a legendary artwork that embodies the main principles of Dada – questioning and provocation. Thanks to its rebellious spirit and humor, the Dada art movement in design still has a lot of followers. Basically, Dadaism became the father of modern meme culture. 
Key features of Dadaism:
Collage, montage, assemblage
Use of readymades and found objects
Political critique and statements
Absurdity, nonsense
Provocation 
Sarcasm
👨🏻‍🎨 Artists/designers who defined the movement: Marcel Duchamp, Francis Picabia, George Grosz, Otto Dix, Max Ernst, Kurt Schwitters
Examples of Dadaism art
How to use principles of Dada for modern businesses
Use Dada wisely and only in companies that celebrate sarcasm and absurdity, because these designs might look more like memes. But if this is what you need, then go for Dada, an endless source of inspiration! Use it for posters, invitations, memes, and social media content.
Take an idea that is already "at the edge", twist it more, add psychedelia and even cringe – and you get the perfect Dada art piece. Choose trendy colors and use recognizable images to make your design look more relevant. 
Graphic elements to use:
Contrasting colors
Cringy characters
Incompatible fonts
Surreal images
Collage technique
Crazy design layout
Some Dada-like VistaCreate templates to inspire you and get you started:
#6 — Pop Art
Pop art appeared in the United Kingdom and the USA in the 1950s on the basis of the proto-pop art movement that used the imagery of commercial products and ads. The original concept of Pop Art was to create new art by drawing inspiration from mass culture. As the opposite of traditional fine art, these new artists openly glorified commercial culture and borrowed from it.
One of the most famous pop art pieces is Gold Marilyn Monroe made by Andy Warhol in 1962. The central image of a Hollywood star on a gold background reminds us of the religious tradition of painted icons. Could there be a better way to reflect on people's obsession with celebrities? As you've noticed, using ready-made images of famous people and objects in Pop Art is rooted in Dada with their collages and sculptures.
Key features of Pop Art:
Super bold colors
Celebrating popular mass culture
Sexuality
Sarcasm and parody
Rebellious spirit
Low cost and mass-production 
👨🏻‍🎨 Artists/designers who defined the movement: Eduardo Paolozzi, Roy Lichtenstein, Andy Warhol, Tom Wesselmann,  David Hockney
Examples of Pop Art art
How to use principles of Pop Art for modern businesses
When adopting Pop Art for businesses, keep in mind that it should be a tongue-in-cheek case. So, if you are working on the design for investment broker's business cards, it would be better to opt for more classic design styles like Art Deco. Pop Art is a better fit for something cultural and informal like radio stations, podcasts, music clubs, bars, etc. 
However, banks and universities often use Pop Art graphics to interest a younger audience with their offers. The most common use for Pop Art is probably social media content and ads, print posters, and party invitations.
Graphic elements to use:
Contrasting and neon colors
Bold borders and fonts
Psychedelic symbols and characters
Artifacts of mass culture 
Comic elements and characters 
Look at our Pop Art templates for some inspiration:
#7 — Minimalism
Minimalism emerged in the 20th century and is still going strong, even after 100 years. The name of this art movement in design speaks for itself. Its central thesis, "Less is more," was formulated by the architect Mies Van Der Rohe, one of the patriarchs of Modernism in architecture and design. 
You've probably noticed that Bauhaus and Minimalism have a lot in common; in fact, these styles were shaped simultaneously by the same people (Mies Van Der Rohe was the last principal of the Bauhaus school). However, Minimalism can hardly be attributed to European design of the 20th century only. Some sources name American culture of the 1960s a cradle of the Minimalism art movement in design. 
You can find the deep roots of Minimalism as a life principle in traditional Chinese and Japanese art through simplicity and restraint. Basically, Minimalism doesn't belong to just one culture; it takes different shapes and forms worldwide. Minimalism is a global heritage with a massive message behind it.
Key features of Minimalism:
Restrained color scheme
Minimum details
Observation
Conceptualism
Austerity
"Less is more" principle
👨🏻‍🎨Artists/designers who defined the movement: Ludwig Mies Van Der Rohe, Yves Klein, Kazimir Malevich, Donald Judd
Examples of Minimalism art
How to use principles of Minimalism for modern businesses
Minimalism is universal and can be used for all businesses and any marketing materials. It teaches your customers to read between the lines and think more deeply about your brand's message. To enhance it even more, combine Minimalism in design with thoughtful copywriting.
Minimalism is full of meanings, so you can adopt its principles to create a brand identity for academic institutions, clinics, media holdings, real estate and construction companies, etc.
Graphic elements to use:
One-two color scheme 
Simple sans serif fonts
Massive, basic geometric forms
Blank space, emptiness
Well-thought-out design layout
Check out our Minimalism-influenced templates:
So what now?
Surely, learning the basics of these art movements didn't turn you into an expert in art history. And it wasn't our goal to make you one. We wanted to introduce you to the most influential design styles with only one purpose — to inspire you to create your own designs!
Looking back on history, have you noticed that only the most daring and revolutionary thinking creators managed to change this world? We believe that you are one of them, too!
It doesn't matter how weird your experiments are.
Celebrate art in its diversity.