20 Free Pinterest Graphics Templates
You know that moment when you find the perfect image to pin to one of your boards on Pinterest? We can all agree that Pinterest has a certain aesthet...
You know that moment when you find the perfect image to pin to one of your boards on Pinterest? We can all agree that Pinterest has a certain aesthetic and that some pictures are just Pinterest-perfect. That being said, sometimes you can create your own graphics to attract users to your blog or website content.
VistaCreate's versatile Pinterest graphics will give you ideas for curating your Pinterest boards and making your page look cohesive. You can choose your free design Pinterest templates from the list below and customize them to work for your projects. There are dozens of other templates in each category, so don't forget to check those out!
Pinterest templates list
1. Beauty Pinterest templates
When planning a social media marketing strategy for a beauty business, The beauty industry is among the most avid users of Pinterest, and there's a good reason for this. Pinterest is a social media platform heavily focused on visual content, and beauty businesses provide services aimed at elevating people's aesthetics. It's practically a match made in heaven!
Here are a few ideas for Pinterest pins that a beauty business could benefit from…
Compare before and after using your products or services — these Pinterest pins are great for adding credibility to your business and showing your audience you're the real deal.
Share valuable tips for an at-home routine — provide extra value to your audience by sharing your expert tips and tricks.
Put together a list of the best products for different occasions — there are Pin templates that let you share your must-have combos for different purposes.
➡️ For more Pinterest templates and ideas for your beauty business, check out our solutions for beauty businesses.
2. Fashion & Style Pinterest templates
If you're looking for free Pinterest templates to elevate your fashion business' Pinterest marketing strategy, look no further — we've got the best selection of free Pinterest templates for this niche.
Here are some pins you can share on your business Pinterest boards:
Styling tips
Lookbooks
Different outfits pop culture characters would wear
Fashion trends and anti-trends, trend predictions
Answers to questions
Reviews
For example, if you decide to show off your fashionable customers, you can customize the following Pinterest post template: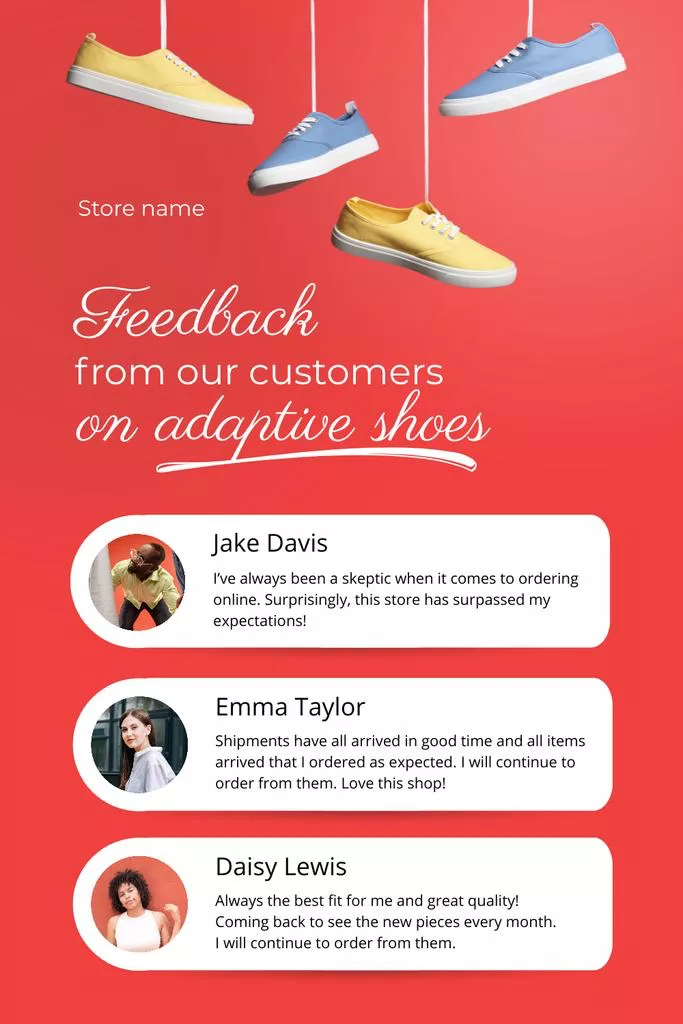 3. Healthcare & Medical Pinterest templates
You would be surprised to learn how many customers take it to Pinterest when looking up a medical question. For example, users may search benefits of vaccination, doctor reviews, information about different procedures, etc. So, as a business in the healthcare and medical industry, you need to consider developing your Pinterest boards — there's an apparent need for Pinterest pin templates.
Here's an example of Pinterest templates medical businesses can use:
4. Food & Drinks Pinterest templates
When it comes to businesses that produce food and drinks, the Pinterest templates options are limitless. You can…
Share aesthetic photos of your beverages and meals
Share recipes
Create a must-eat meal out of your foods and beverages
Fantasize which foods different film and book characters would enjoy
Recreate iconic meals from pop culture
Here's an example of a Pinterest pin design you can customize to fit your specific business needs:
5. Education & Science free Pinterest templates
Pinterest pins is a great format for businesses in the education and science industry, simply because there are lots of different types of content these companies can share:
Tips and tricks to tease your students — Search for pin templates that allow to share lots of text
Lists of X best resources — Ideally, you should opt for Pinterest designs that resemble checklists
Reviews from your past students
Fun facts
Classroom photo gallery
Students' achievements and milestones
Inspirational quotes
Here's a template you can nick:
6. Technology free Pinterest templates
When looking for free Pinterest templates to promote your cutting-edge technology, you need to think about the aesthetics of your service or product. Your business's Unique Selling Point needs to be apparent in the design of your Pinterest pin:
If you're trying to promote software with the help of Pinterest, look for Pinterest templates that feature a mockup of a device used to access the software
If you're producing a Pinterest pin to promote a new product, showcase its best features
Remember that it's more than your imagery that affects Pinterest users and their perception of your pin. Think through the color palette of your publication, choose appropriate fonts, and ensure you understand the hidden connotations of the symbols you use.
Here's an example of a Pinterest pin template that follows all these rules and looks stylish and modern:
7. Industrial Pinterest templates
Are you looking to inform people about the benefits of your architectural project? Do you want to influence your audience to consume less non-renewable energy? Are you trying to convince your Pinterest followers to explore your construction solutions?
No matter what goal you're trying to fulfill, you'll benefit from using our free Pinterest templates. Break down complex concepts and explain complicated things with straightforward visuals:
8. Home Stuff
People looking to revamp their homes are among the most active Pinterest users: they snoop around trying to find items to decorate their homes, explore different interior design styles, and put together Pinterest boards to finalize their vision.
Often, these people are super easy to convert — they use Pinterest both as a search engine and a shopping list. So, as a home decor manufacturer or retailer, you want to have a strong connection with them. Having a Pinterest board template is an ideal solution in your case:
Showcase your products
Add renders of interior design
Come up with unconventional uses for your products
9. Real Estate & Building
Looking to spice up your digital marketing as a real estate agent? Pinterest might be just the platform for you:
Share new listings
Do virtual property tours
Educate potential renters and buyers about the neighborhoods you rep
Share local events
Share tips for first-time homeowners
➡️ For more real estate marketing ideas, free Pinterest templates, and ready-made solutions, check out VistaCreate's solutions for real estate businesses.
10. Business & Finance
Pinterest can bring your Finance company many new customers if you use the Pinterest pin board space to educate your target audience on the importance of investing, managing their finances, and taking care of their credit scores.
11. Transportation
Offer moving services? Own a taxi park? Help people to get from point A to point B in any other way? Then, you need to establish your brand presence on Pinterest; we have just the right Pinterest templates to help you:
12. Cities & Places
Local guides can make the most out of Pinterest and share interesting information about their areas online:
Hidden spots
Reviews
Off-the-beaten-track destinations
Locals' favorite locations
Alternative maps
Make sure to optimize your Pinterest pins for search and add geographical keywords — then, your posts will get more traction from the intended audience.
13. Travels & Vacations
A lot of people create Pinterest boards to plan their vacations, especially if they're traveling to an exotic destination. Take advantage of that with our free Pinterest templates:
Share tips on packing light
Compile lists of must-have items for the flight
Create checklists for specific destinations
Showcase landmarks
Share tour information
➡️ For more social media marketing ideas for your travel business, check out our solutions for travel companies.
14. Leisure & Entertainment
Leisure and entertainment Pinterest templates can take many forms and shapes — use pins to share your vision for the party vibe, give a sneak peek of the event location, give dress code details, or just promote your event!
15. Holidays & Celebration
Take your celebration online and publish holiday-specific pins on Pinterest. Go to our Pinterest graphic templates library to search for specific holiday templates or customize this one:
16. Sport & Extreme
Highlight the scores of recent sports matches, offer infographics covering the career of successful sportspeople, or simply explain the rules of different games — Pinterest is where all of these ideas will be equally effective.
Here's a free Pinterest template to get you started:
17. Arts & Handcraft
When it comes to Pinterest pins promoting artsy content, you can get… Artsy! Experiment with different Pinterest design templates and draw inspiration from various art movements.
18. Nature & Wildlife
19. Pets
There are lots of Pinterest pin ideas related to pets:
Share tips for traveling with pets
Best pet grooming methods
Pet clothing trends
Tips and tricks for building pet's nutrition
20. Social Activity & Charity
Browse more designs to find the best one to design a pin or use templates to create ads.